Catholic priest Guyo Waqo to hang for killing bishop Luigi Locati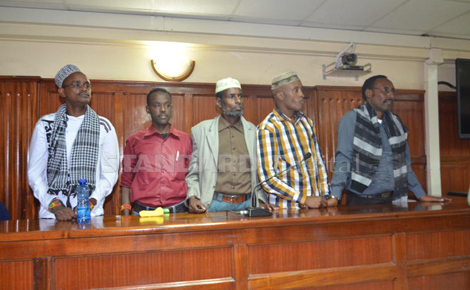 FROM RIGHT: Former Catholic priest Father Guyo Waqo Malley,Mohammed Molu Bagajo, Aden Ibrahim Mohamed, Mahati Ali Halake and Diqa Wario at the Milimani Law Courts where they were sentenced to death for the murder of Isiolo Catholic Bishop Luigi Locati in 2005. [PHOTO.FIDELIS KABUNYI/STANDARD]
NAIROBI, KENYA: A Catholic priest has been sentenced to hang after he was convicted of the murder of an Italian bishop in Isiolo nine years ago.
The High Court sent Father Guyo Waqo Malley and four others — Mohamed Molu, Aden Ibrahim Mohamed, Mahati Ali Halake and Roba Balla Bariche — to the gallows for planning and murdering Bishop Luigi Locati on July 14, 2005.
The sentencing was the culmination of an eight-year trial that saw a number of judges handle the matter.
"The defence has proved beyond any reasonable doubt that the accused murdered the bishop. It was inhuman for the accused to kill an elderly and harmless man of the cloth in such a brutal manner," said Justice Fred Ochieng.
The judge observed that Guyo's mother died after learning that her son had been found guilty of executing the 77-year-old bishop, and expressed his sympathy, but maintained that the law must be followed.
In mitigation, the defence pleaded for leniency, arguing that the accused had already spent nine years in remand prison.
One of the accused, Bola Wario, was, however, acquitted. The judge said the matter for determination was whether Wario was aware that the gun he had hired out was meant for the bishop's execution.
The judge said the accused did not know that the rifle would be used to kill Locati as he had been informed it was being hired for hunting.
Ochieng added that it was clear Wario was not at the scene when the attack took place, although he did not deny supplying the gun.
Father Guyo, noted the judge, helped to finance the acquisition of firearms, plan, recruit people to execute the bishop and also store and transport the guns ahead of the attack.
PURCHASED RIFLE
The judge added that there was sufficient evidence that the second accused, Molu, took part in one of the meetings and also attacked the bishop on the fateful day while armed with a rungu (club).
The third accused, Ibrahim, was recruited to kill Locati and also purchased a G3 rifle, which he was arrested with at the scene of the crime. Halake took part in the planning and acquisition of guns and was also paid by Guyo.
Bariche, the judge noted, was directly involved in the bishop's murder as he was the link between Guyo and the others in planning and executing the mission.
The Italy-born bishop was in charge of Isiolo Diocese and was gunned down while walking to his house with a guard.
Guyo and the five others were accused of having conspired to kill the elderly bishop in order to seize control of the church funds, which were under the bishop's control.
A police officer who investigated the incident, Mohammed Amin, told the court he had established there was bad blood between Guyo and Locati.
Amin said Locati had instructed Guyo to stop soliciting for donor funds, which did not go down well with Guyo.
The E-Sir fever that will never fade
ir's bright future was drained in the tunnels at the peak of his career. On Sunday, March 16, 2003, E-sir died in a tragic road accident along Nakuru – Nairobi Highway on his way back to Nairobi after performing at a Nakuru concert to help promote his album. In the same car was a fellow artiste and member of the same record label, Nameless – whose real name is David Mathenge. His death dealt a major blow to the Kenyan Music Industry as it came when much was expected of him by his