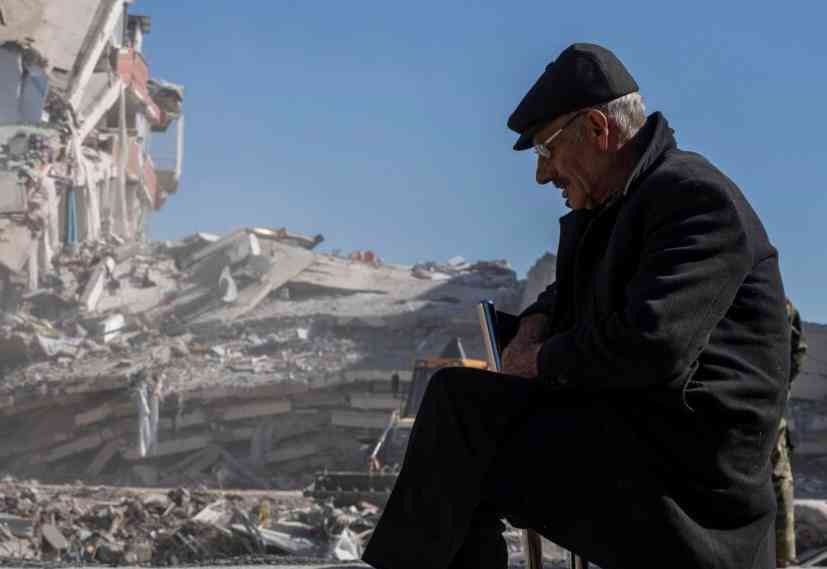 Rescue crews in Turkey and Syria raced against time Thursday and a lack of equipment to find survivors buried in the rubble of buildings toppled by powerful earthquakes that struck the region Monday and left more than 20,000 people dead so far.
The country's disaster management agency said Thursday that about 110,000 personnel are involved in rescue efforts and 5,500 vehicles such as tractors, cranes, bulldozers and excavators have been shipped to assist the country reeling from the earthquake.
Turkish President Recep Tayyip Erdogan visited the area near the quake's epicenter close to the city of Gaziantep and the Turkey-Syria border.
He faced the mounting frustration of survivors looking for their loved ones or for aid from the government by acknowledging problems with the emergency response to Monday's 7.8 magnitude quake.
"It is not possible to be prepared for such a disaster," Erdogan said. "We will not leave any of our citizens uncared for." He pointed to the winter weather and how the earthquake had destroyed the runway at Hatay's airport as things that disrupted the response.
In Hatay, Erdal Kahilogullari, whose wife and two children were under the rubble of a collapsed building, shared his frustration with VOA's Turkish Service. More than 3,300 people died in Hatay province.
"OK, everyone is a human being. But aren't 80 provinces enough? How can 80 provinces not help 10 provinces? Being 10 hours late is OK, but being late for two days to help? We don't even have water," he said, referring to the provinces of Turkey.
Rescuers were still finding people alive but were unable to reach them without the needed equipment and expertise, even as they could hear cries for help.
"I hear voices saying, 'Daddy, save me,'" Kahilogullari said. "How could I not struggle here? I am desperate. I cannot do anything. I'm just waiting here. Walk there, come back here."
Search sites also have been the scene of some celebrations as people are found alive and taken away for medical care. But uncovering the rubble has also meant frequent increases in the number of casualties.
Officials in Turkey said more than 17,000 people were killed and more than 63,000 others were injured.
In Syria, where there have been similar complaints of slow response, at least 2,530 have died, according to figures from the Damascus government and rescue groups.
The earthquake is now the world's deadliest seismic event since a 2011 earthquake and tsunami that killed nearly 20,000 people in Japan.
Erdogan declared seven days of national mourning and a three-month state of emergency in 10 provinces directly affected by the quake.
Search teams and emergency aid from throughout the world poured into Turkey and Syria as rescue workers dug through the rubble in a desperate search for survivors. Some voices that had been crying out for help fell silent.
"We could hear their voices, they were calling for help," said Ali Silo, whose two relatives could not be saved in the Turkish town of Nurdagi.
More than 8,000 people have been pulled from the debris in Turkey, Vice President Fuat Oktay said, and about 380,000 have taken refuge in government shelters or hotels. They huddled in shopping malls, stadiums, mosques and community centers, while others spent the night outside wrapped in blankets gathering around fires.
The earthquake struck a region enveloped on both sides of the border by more than a decade of civil war in Syria. On the Syrian side, the swath affected is divided between government-held territory and the country's last opposition-held enclave, which is surrounded by Russian-backed government forces. Turkey, meanwhile, is home to millions of refugees from the conflict.
'A crisis on top of a crisis'
The U.N. resident coordinator for Syria said Wednesday that 10.9 million people have been affected across the country by the earthquake. Before the quake, there were already 15.3 million in need of humanitarian assistance in the country, due to more than a decade of civil war.
"So, it's a crisis on top of a crisis," El-Mostafa Benlamlih told reporters at the United Nations in New York during a video briefing from Damascus.
He said in Aleppo alone, they estimate a third of homes have been damaged or destroyed, displacing around 100,000 people.
Humanitarians are coping with a shortage of fuel for their operations, as well as freezing temperatures and damaged roads and infrastructure.
The World Food Program has prepositioned food stocks in the area, which Benlamlih said are enough to feed 100,000 people for one week. The World Health Organization has two planes with medical supplies coming from its hub in Dubai to Damascus. But more supplies need to come in urgently.
The World Food Program appealed Wednesday for $46 million to provide food assistance to a half-million people in Turkey and Syria for the next three to four months.
Additionally, the main road the United Nations uses to get aid from Gaziantep in Turkey to the transshipment point into northwest Syria was damaged in the quake and closed.
"So we couldn't send any relief items; we were looking for alternative routes," Muhannad Hadi, U.N. regional humanitarian coordinator for Syria, told reporters from Amman, Jordan. He said they had word Wednesday that the road is opening, and they could start delivering some supplies as early as Thursday.
Margaret Besheer contributed to this report. Some material for this article came from The Associated Press, Agence France-Presse and Reuters.
Related Topics