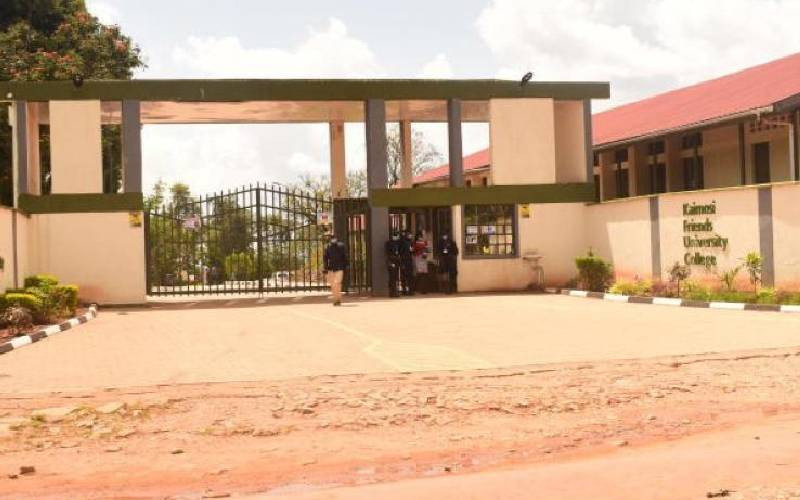 A plan to set up another university in Vihiga has elicited mixed reactions from key stakeholders including local politicians.
The bone of contention is the proposed Vihiga University College of Health Sciences located barely 10 kilometres from Kaimosi Friends University (Kafu) which received a full charter about six months ago.
Two factions have emerged with one opposed to the project and the other vouching for a new university.
Prime Cabinet Secretary Musalia Mudavadi and scholars drawn from the county have waded into the institution's row. Mudavadi wants it to be handed over to the management of Kaimosi Friends University.
Mudavadi had earlier suggested that the Vokoli-based facility becomes a campus of Kaimosi Friends University campus and host the School of Business and Economics as well as the Department of Optometry and Vision Sciences. Learners pursuing Optometry and Vision sciences will have an easy time visiting Sabatia Eye hospital from the Vokoli campus according to Mudavadi.
"Kaimosi Friends University (Kafu) rekindles a dream deferred when, as elected leaders in 2012, we had focused on a Vihiga University of Medicine mentored by Jomo Kenyatta University of Agriculture and Technology," said Mr Mudavadi during Kafu's first graduation ceremony in December last year.
The initial plan was to place Vihiga University College of Health Sciences under the Jomo Kenyatta University of Agriculture and Technology (JKUAT).
Mudavadi, in his speech, urged the Vihiga county government to work closely with Kafu to develop a teaching and referral hospital for the medical school to thrive.
Former Sabatia MP Alfred Agoi initiated the proposed multi-million four-storey Vihiga University College of Health Sciences bloc in 2014, through CDF funding in collaboration with JKUAT.
However, the building remains unoccupied to date. Last Sunday, Sabatia MP Clement Sloya met with stakeholders led by Mr Agoi at the stalled institution where they agreed to continue working with JKUAT as the mentor of the proposed Vihiga University College of Health Sciences dimming hopes to have the facility managed by Kafu.
Currently, the only progress at the Vihiga University College is the structure estimated to have cost Sh250 million that houses an administration block, at least 50 lecture halls and laboratories. It sits on barely half-acre plot.
Kafu and Vihiga University College have been in wrangles since 2014 and this degenerated into a political debate.
Earlier, Kaimosi Friends University presented a proposal to the Sabatia CDF asking to be allowed to occupy the facility but according to Mr Sloya, the tussle of who should occupy the new institution is uncalled for since there already exists an agreement with JKUAT.
"We will put this building into use that will help the people of Sabatia and Vihiga county both economically and academically," said Sloya.
Kafu Vice Chancellor Prof Jack Nandi urged the local leadership to support the development of the new university that will spur development.
"Let's unite and make Kafu a powerful institution in our county and beyond, " said Prof Nandi.
Related Topics