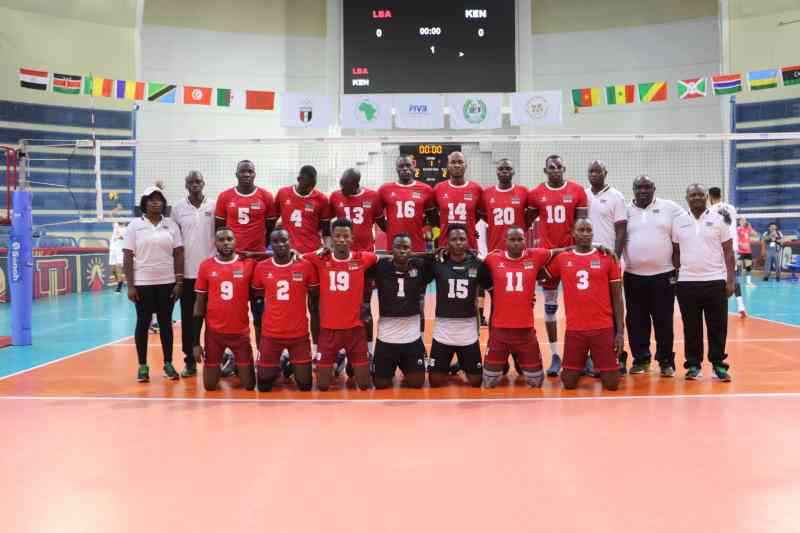 Even as a thrilling showdown looms at the ongoing African Nations Championships in Cairo today, national volleyball team captain Enock Mogeni stands resolute in his determination to lead the Wafalme Stars to victory over Egypt in the Round of 16.
This pivotal match will determine whether Kenya can secure their spot in the quarterfinals of the continental showpiece.
The journey for Kenya in this year's tournament has been a rollercoaster ride. Wafalme fnished third in Group C after registering mixed results against formidable opponents.
They kicked off their campaign with setbacks against Libya and Cameroon, losing 3-0 (25-23,25-22,25-12) and 3-1 (22-25,20-25,26-24,17-25) respectively.
But according to Mogeni, Kenya showcased resilience and fighting spirit in their hard-fought 3-2 (23,25,25-21,16-25,25-17 and 15-11) victory over Ghana on Wednesday.
"We feel more fueled because, to be honest, after the two matches we lost our path was a little bit dim. This game was a must-win for us to have extra motivation for the next stage, that's round of 16," Mogeni told Standard Sports via a phone interview from Cairo.
However, Wafalme must bring their 'A' game to overcome the Egyptian challenge to advance.
Though it's a tricky match, the Kenyans are motivated by their historic 3-2 (19-25, 25-22, 25-20, 18-25, 15-12) victory over Egypt in Kigali in 2021. This demonstrates that Kenya has what it takes to defeat the hosts on their home turf once more.
Mogeni remains the driving force behind this optimism. His leadership, on and off the court, has been instrumental in motivating the team to reach their full potential.
"I think generally Group C was the toughest group having four good teams and playing against them we have gained well. We played well against Cameroon though our finishing has always been wanting. But bearing in mind they were the second runners-up from the previous championship, I think we gave our best.
"Libya was the same thing. We only have to work on polishing our finishing and also containing strong serves. For Ghana, we needed to maintain a commanding lead which we were losing at some point but the comeback was also great," the captain reviewed their group matches.
To beat Egypt and secure their spot in the quarterfinals, Kenya must employ a strategic game plan. Firstly, they need to focus on their defense, tighten up their blocking and minimise Egypt's scoring opportunities.
Secondly, their serves must be precise and aggressive to disrupt Egypt's offensive rhythm. Consistency will be key, ensuring that they maintain their intensity throughout the match.
"We, of course, know they are under pressure to play mostly at home against a team which they lost to previously in Rwanda. We are going to just contain them through reception and blocks because most of them are good servers and avoid simple mistakes from our side and play together as a team like never before because this is a knockout stage. Nothing is impossible. We are very hopeful," said Mogeni.
Mogeni emphasised the importance of mental strength, stating: "We must stay composed under pressure and trust in our training. We have been here before, and we know what it takes to beat Egypt. Our team spirit and unity will be our biggest assets."
The battle on the court promises to be intense, as Kenya faces off against Egypt once more, seeking to replicate their previous victory.
With Enock Mogeni leading the charge, Wafalme are ready to give it their all and make Kenya proud.
Volleyball enthusiasts around Africa and Kenya will be eagerly following the proceedings as the two new-found rivals collide in Cairo.
Related Topics