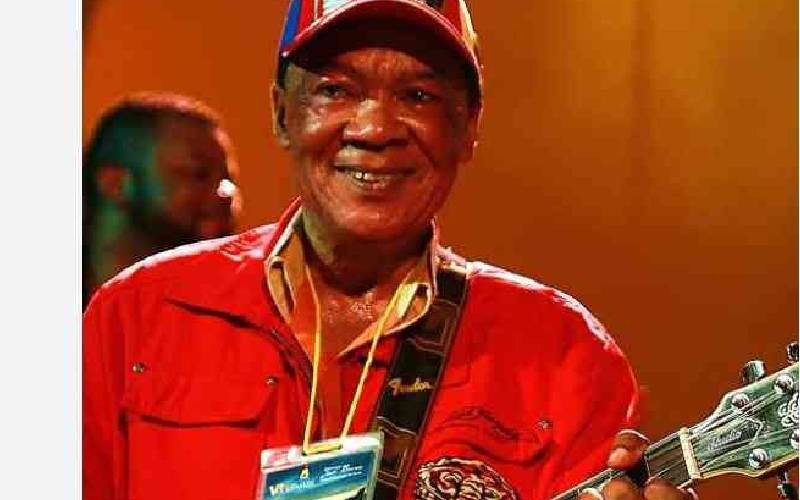 Congolese musician Lokassa Ya Mbongo is dead. His death was announced by former colleague at Soukouss Stars, bassist Ngouma Lokito on Facebook.
Lokassa had been ailing since 2021 when he suffered a stroke and had been admitted in hospital in Nashua, New Hampshire, US. He died on March 14.
Lokassa is arguably one of the finest rhythm guitarists Congolese rumba has had. Showcasing his prowess with several groups, among them African Fiesta National (later Afrisa) of Tabuley Rochereau, African All Stars and later the wildly popular seminal group Soukouss Stars, Lokassa became the face of the Congolese rhythm guitar, with his exceptional mastery on the fretboard making every song he participated in, an instant hit. In many live concerts, he was the star attraction.
Born Denis Kasia Lokassa in Kinshasa in 1946, he had his debut with the Blue Diamonds of Kinshasa in the late 1960s. This was the band that provided a platform for several other musicians, among them African Fiesta National solo guitarist Jean Paul Vangu aka Guvano, who took over the guitar reigns of the band after Dr Nico Kasanda parted ways with Tabuley, culminating into the splinter of the band to create two faction African Fiesta Sukisa and African Fiesta National, in 1966.
However, it was until 1967 December that Lokassa's journey to the top began. On 31st of the month, Tabuely, who had already established himself as a brand with his band African Fiesta National, declined to participate in an end year party hosted by Mobutu Sese Seko , the then country's president. He was subsequently banned from hosting or participating in any musical activity in the country.
With the future appearing very blurred, all the superstars Tabuley had assembled in his band left him. Most went on to create Festival des Maquisards, among them Guvano, Johny Bokassa, Mangwana and others. With the lull, Tabuley sent emissaries to the enraged president seeking leniency over the matter, explaining that the reverberations of the ban went beyond Tabuley.
The ban was lifted and Tabuley had to recruit a new set of musicians and among them were young rhythmist Lokassa Ya Mbongo, singer Paul Ndombe Opetum, soloist Pierre Attel Mbumba, rhythmist Michelino aka Mavatiku Visi, mi-solo specialist Futu Augistin aka Faugus Izeidi, among others.
The arrival of this team rejuvenated the band's prospects. With fierce competition from the reconstituted African Jazz of Grand Kalle, OK Jazz of Franco, Negro Success of Bholen and Bavon, Veve of Verckys and other bands, the new team had a task to prove themselves in a field dominated by giants. The greatness or otherwise of any rumba band, is oftentimes defined by the mastery of the guitarists, and for this case, the formation comprising Attel Pierre Mbumba, Lokassa Ya Mbongo, Faugus Izeidi and Bovick Bondo, on solo, rhythm, mi-solo and bass respectively, was the team to define the success of the resuscitated team.
Olympia concert
This is the team that participated in the Olympia concert of 1970, in France, which was the first time for an African band. In subsequent works, Lokassa played a central role in influencing the band's style.
The hit song "kaful mayay" which feature his rhythm and Michelino's solo, aptly captures his prowess on the fretboard. Lokassa was to stay with Tabuley's band, which had since rebranded to Afrisa International, for ten years upto 1977. During his stay he participated in the almost the band's entire catalogue produced at the time, save for a few songs that featured either Michelino or Bopol Mansiamina. In 1977, a section of Afrisa International participated in a Festac music festivals in Lagos Nigeria, and several musicians opted to remain in West Africa to pursue their music ambitions there. These were Dizzy Mandjeku, who had since taken over the solo reigns, singer Sam Mangwana and drummer Ringo Moya, who went ahead to create a band called African All Stars, which was headquartered in Abidjan, but staged concerts across the entire region.
This band did dozens of albums which recorded remarkable success, and apart from the magical voice of Sam Mangwana, and guitar virtuosit of Dizzy, the mi compose rhythm of Lokassa Ya Mbongo was the other conspicuous aspect of the songs. In the mi compose style, a guitar is modified to have two string E (number two) one in its traditional position and the second in place of string D (number 4).
This is an old style developed in the ranks and file of Africa Jazz. Among the songs was 'maria tebo', which was originally done by Manuel D'Oliveira, a first-generation musician. African All Stars musicians regrouped and recorded several songs after the band disbanded, when they did songs like 'bonane'.
In the 1980s, he had several projects, some which yielded very popular songs like 'Monica' of 1986, which featured vocals by Ballou Canta. In 1988, after relocating to Paris, Lokassa teamed up with Dally Kimoko, bassist Ngouma Lokito, singers Shimita, Canta and others to create Soukouss Stars and their very first album Nairobi Night, which was a rendition of older East African songs, became an instant hit. Lokassa latter relocated to the US. When his health deteriorated, he retired from music.
His fellow musician Lucien Bokilo said industry is devastated by the news. Pierre Mandjeku Lengo, aka Dizzy Mandjekou, who played with him at African All Stars, described him as one of the best guitar talents.
Related Topics