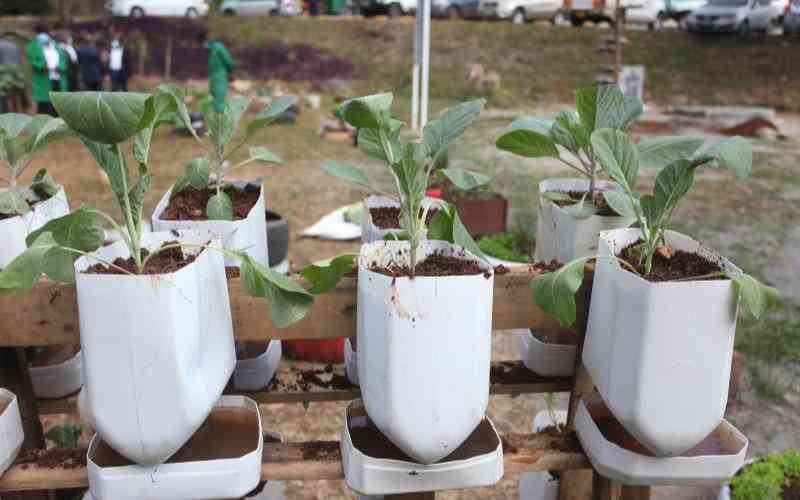 The festive season comes with its fair share of budgeting. As families and friends converge to make merry, food always ranks number one on the festivities list. This is where the kitchen garden comes in handy.
A kitchen garden during the festivities will cut the budget by a huge fraction.
One of the urban kitchen garden owners, Mary Waithera, from Ongata Rongai in Kajiado County says the garden has been beneficial, especially during the tough economic times.
"I just pluck my tomatoes, spinach, and mchicha (amaranth) from the garden. If I do the math, I have saved a lot of money compared to the time I used to go to the market every now and then to buy groceries," she says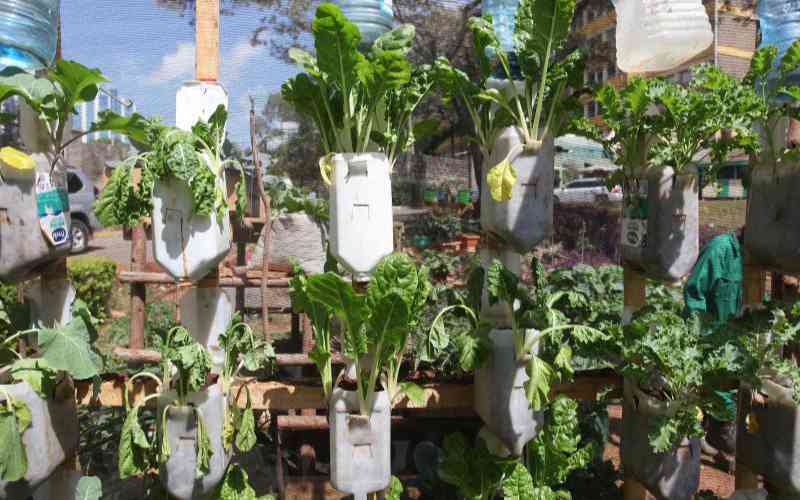 Waithera says during festivities, she only shops for the things that cannot be grown.
"If I can plant it, I don't buy it. When I host family or visitors during the festive season, I only buy meat, maize and wheat flour. The rest I get from my kitchen garden," she says
For 72-year-old Annabel Munyao from Utawala Nairobi, she believes planting her own vegetables has shielded her from getting diseases.
"I use organic manure and pesticides so I prevent myself and family from all the diseases that can be caused by chemicals," she says
Munyao says that the holidays are not as expensive as they used to be when her grandchildren visit.
"Right now, three of my grandchildren have already visited for the festivities. We just get our vegetables from the kitchen garden. Christmas is here, I think I will buy a few things because I have all the necessary groceries and I even have goats," she adds
Patrick Murage, another farmer, says it's always hard for him to maintain the garden, but towards the end of the year before the festivities, he would plant vegetables to be used during the celebrations and early January.
"I work full-time and my children are also busy at school. So from September, when I try to plant, then when it's December I have vegetables that can boost me, as the children come for the holidays. Hawa watoto wanakula kama mchwa (these kids eat like termites), " he says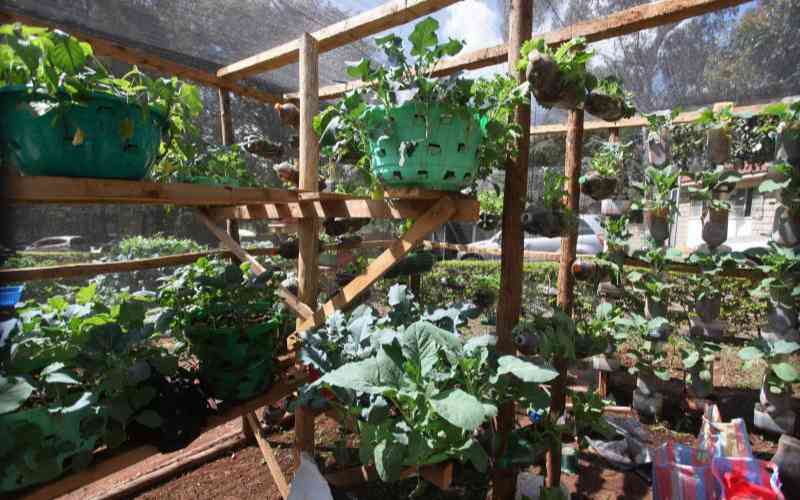 Best plants for a kitchen garden
Amaranth (Mchicha)
Amaranth, which is locally known as mchicha or dodo, is one of Kenya's indigenous vegetables. They grow easily in many soil types but thrive in well-drained, fertile, loamy soil.
The young leaves are ready for harvest 25-40 days after planting. You can harvest the entire top half of the amaranth plant for the young leaves, and the stem will regrow. Note that mature leaves will be tougher and not as sweet.
Beans
Perfect for first-time gardeners because they are easy to grow.
They quickly germinate and thrive in warm, sunny areas. They come in different sizes shapes and colours.
Tomatoes
A good number of kitchen garden farmers started with tomatoes. They grow in warm to hot temperatures, they'll take whatever your soil gives them and still want more.
Carrots
They can be eaten at any stage. Carrots have lots of fibre, vitamins A and K, beta-carotene, and calcium.
According to gadenary.com, carrots can take a couple of weeks to germinate. Once you start seeing foliage above the surface, that's a good indicator that the root is growing underground.
Pepper
They don't take up much space, they come in lots of shapes, sizes, and colours. According to www.bhg.com growing peppers in the garden can lead to the experience of much more of this group of plants than you're likely to find at the grocery store.
Coriander (Dhania)
Easy to grow, they need light shade in hot areas. Just cut off the outer leaves when the plant reaches about eight inches tall.
Types of Kitchen gardens
Tyre Kitchen garden
Cut the tire and remove the inner rims place it where you want your garden and add soil and manure.
You can have as many tires close to each other as possible. Some even chose to paint the tyres different colours just to beautify the garden.
Sack kitchen garden
Just like the tyres, place the sack horizontally and fill it with soil and manure. Make sure you place the sack in a secure place that can have access to direct sunlight.
Container kitchen garden
This is mostly used by beginners. However, for large plants, one would need a bigger and deeper container. Place soil and manure in the container, and place them in an area where they can get direct sunlight, either outside or on your kitchen window.
Staircase garden
Saves space, because it is constructed using wood to create 'staircases' on which pails, wooden boxes, basins and similar micro gardens can be placed and arranged.
Benefits of Kitchen gardening
Agronomist Fred Munene, says growing and working in your own kitchen garden can seem overwhelming to some but it's very helpful to many.
"It's actually much simpler than it sounds. Even if you don't have a big farming area, consider starting a container kitchen garden," he says
Improve your health. Consuming more fresh fruits and vegetables direct from your kitchen garden is one of the most important things. Save money on festive groceries. One of the benefits of enjoying kitchen garden vegetables is a reduced festival food bill. You can grow different organic vegetables e.g. onions, Kales, dhania, and beetroots. Get outdoor exercise. Gardening is a physical therapeutic activity. It is also good mental exercise and helps keep your mind sharp. Gardening is a natural stress reliever. Being outside in the fresh air and sunshine can improve your mood and make you feel rejuvenated and overall happy.
Disadvantages of a kitchen garden
Requires a lot of your time. Gardening can be time-consuming, much as it is made to look like a hobby, preparing the garden planting, maintaining and monitoring can consume a lot of time. Prone to injuries: Handling some tools and facing plants with some thorns may lead to injuries. You will lose space in your compound that will be turned into a kitchen garden: As the name suggests, a kitchen garden is within your compound, so the little space outside your kitchen will be occupied. If you choose to place your plants in a container and place them on the kitchen window, still that space will be limited. Tiring: Anything that consumes time will definitely be exhausting. Spending a few hours in the garden can cause exhaustion.
Related Topics