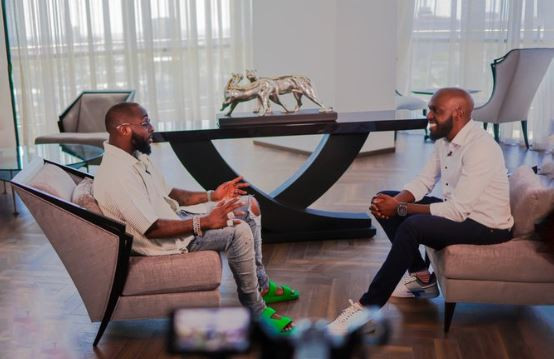 Kenyans have been abuzz about the upcoming interview between CNN journalist Larry Madowo and Nigerian music superstar Davido. Madowo shared the news on his social media platforms, announcing that the interview would be aired on CNN's African Voices. This interview marks Davido's first since he lost his son in October 2022, and many are curious to see what the singer will share about his experience and how he has been coping.
Interestingly, this isn't the first time that Madowo has interviewed Davido. In 2015, the two sat down for an interview on The Trend. However, the interview ended on a sour note when Davido abruptly walked out in the middle of it. Madowo later wrote a column for the Daily Nation about the incident, criticizing Davido's behavior and banning him from his show.
In the column, Madowo recounted how Davido seemed disinterested and rude during the interview, showing little enthusiasm for the conversation. In contrast, Davido's fellow Nigerian artist, Tiwa Savage, was gracious and patient with fans who approached her for selfies and declarations of love. Madowo argued that stars need to show some humility during interviews and get over themselves and their egos.
Despite the negative experience with Davido in 2015, Madowo appears to have put that incident behind him and is excited to interview the singer again. Many Kenyans have been commenting on social media about the news, with some recalling the 2015 incident and expressing their skepticism about Davido's behavior during this new interview.
Brian Marate, a Twitter user, wrote, "Sometime back in the trend he......... we'll never forget, and Larry knows better!!!" Similarly, Edward Mugenyo shared, "I remember when he just walked out of your show on NTV...it was not proper for him!" However, not everyone is skeptical about the upcoming interview. Some are curious to see how Davido has changed and how he will handle himself in front of the camera this time around.
Juene Maina wrote on Twitter, "Have never forgotten your interview with him on the Trend, too proud. You've a big heart Larry." Meanwhile, Glady's J. Toroitich commented, "Did he behave this time? I remember his last interview with him did not go well." Others, like Carol Muthonie, remember the ban on Davido following the 2015 incident. "I remember when we banned him on the trend for rudeness," Muthonie shared.
Regardless of the opinions expressed on social media, there is no denying that this interview is highly anticipated. Davido is one of Nigeria's most successful and well-known musicians, and his personal life has been the subject of much media attention in recent years.
It will be interesting to see what he has to say about his experience and how he has been coping with his loss. Furthermore, it will be intriguing to see how he handles himself during this interview, given his past behavior during interviews.
Related Topics