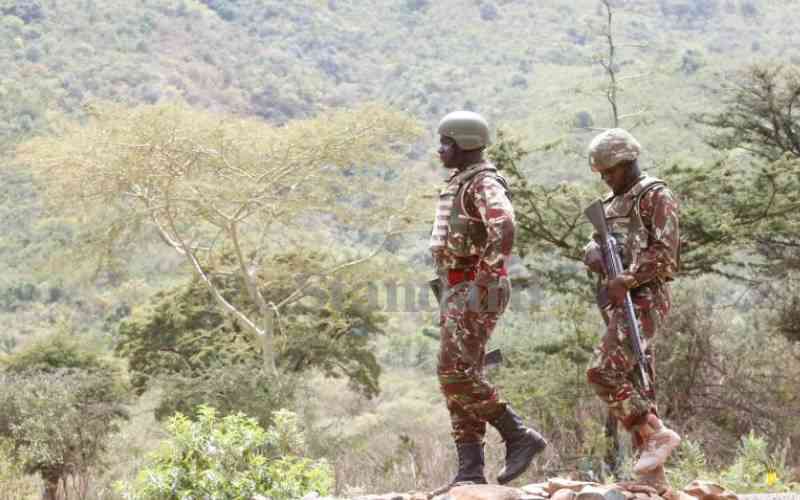 Despite the Maliza Uhalifu Operation, which was sanctioned by the government in February this year, armed bandits have continued to terrorise citizens in the cattle rustling-prone counties of North Rift.
Suspected cattle rustlers killed a man and drove away with 100 cattle in Kagir and Chemoe in Baringo North on Wednesday.
The attack occurred in broad daylight while security personnel, including the military, conducted ground and aerial surveillance, perplexing residents.
On Friday and Saturday, the suspects raided Baringo North and Chemorogion in Baringo South, carrying out similar attacks.
The attacks occurred just a few days after Interior CS Kithure Kindiki issued a statement regarding the operation's second phase.
According to the CS, bandits have killed 135 people in the last seven months, including 20 security officers.
"The bandits have wreaked havoc primarily in the counties of Baringo, Laikipia, Samburu, Turkana, West Pokot, and Elgeyo Marakwet, during which time dozens of schools have been closed, thousands of families have been displaced, and public amenities and infrastructure have been destroyed," the CS said in a statement issued in Samburu.
Bandits have increased their attacks during the day, three weeks after the security operation and a dusk-to-dawn curfew were imposed.
A number of Baringo residents on Monday said the bandits have evolved and no longer fear security agents as if passing a message to the government.
Tiaty resident Julius Akeno said the issue of banditry is complex and should be handled diplomatically.
He said the government should ease the pressure and elevate itself to the level of aggressor by providing them with an audience. Akeno suspected that the bandits' illiteracy was to blame for their failure to take the ultimatum seriously.
"It's possible that these people are living in their own world, unaware of what's going on in the rest of the country," he added.
Akeno blamed the circulation of arms within conflicting communities, suggesting that all National Police Reservists (NPRs) guns be confiscated to avoid confusion.
"No one is safe, no meaningful development will be realised, and people in the North Rift will continue to be poor until all guns, including guns from NPRs, are removed from communities; only police and the military should be seen with guns," he said. Akeno said while a number of communities in North Rift have guns, only one community has been labelled as the one with guns.
He says in order to tackle the menace, there must be goodwill and commitments from local leaders and other stakeholders.
NPR has also been accused of assisting and supporting the community from which they originate by raiding and disseminating information.
A 38-year-old man was killed last month while herding his goats in Kinyach.
The killers were identified as bandits from a neighbouring county. Locals blamed NPRs for the man's death and the loss of 200 livestock, some of which were later recovered.
Kinyach residents told authorities who arrived the next day that the victim's family was among seven others who had been targeted.
John Kimurio criticised the government for issuing empty threats, saying the only language the bandits understood is total disarmament and the removal of guns from NPRs.
A number of the attacks are mostly planned, with others being retaliatory.
Rueben, a reformed bandit, accuses some spiritual leaders of paving the way for the bandits by blessing them whenever they set out on a raid.
He said the bandits have taken advantage of the situation due to greed and poverty by enticing them with goodies after successful raids.
Banditry is a complex game with many players ranging from financiers to raiders to spies.
According to Rueben, one community feels discriminated upon by the government. "One community feels they have been victims of circumstances for a long time with no one on their side. They feel like no one understands them," he said.
Related Topics