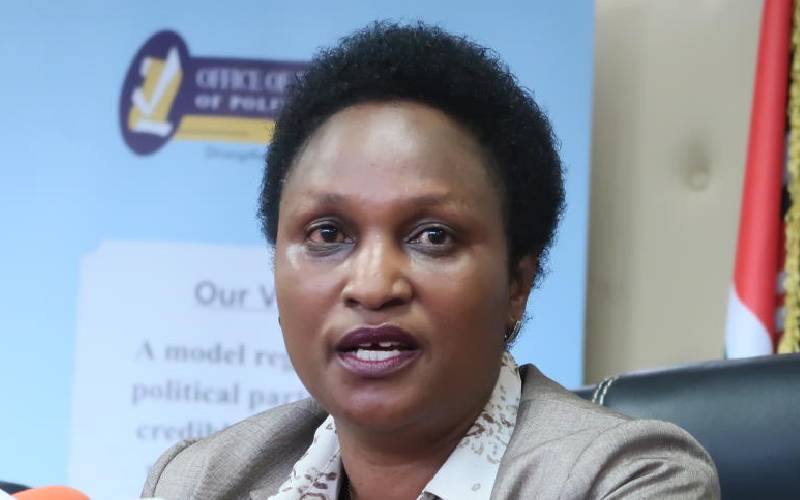 United Democratic Alliance (UDA) has suffered a blow after losing a battle to get an extra bite of the Sh1.4 billion Political Parties Fund cake.
The President Willian Ruto-led party was seeking Sh115 million on top of Sh577 million allocated by the registrar of political parties.
UDA had sued the Registrar of Political Parties Ann Nderitu claiming allocations to Jubilee, ODM, Maendeleo Democratic Party, Chama cha Uzalendo, Progressive Party of Kenya, and Devolution Empowerment Party, claiming the parties had eaten into its share of the money.
UDA accused Ms Nderitu of including votes from parties and coalitions that did not secure any elective seat while computing how much each would get.
However, High Court judge Aleem Visram dismissed the case after finding that UDA did not provide evidence to substantiate its version of the number of votes it garnered during the last year's elections.
UDA claimed it obtained 31,106,673 votes against a possible 68,555,184 votes, and ought to have been allocated the funds according to that number.
It argued that Nderitu had wrongly allocated the six parties their share.
But Nderitu argued that the number of votes secured by all qualifying parties was 75,498,114, according to data provided by the Independent Electoral and Boundaries Commission (IEBC).
Justice Aleem agreed with the registrar by stating that while UDA said it does not agree with the IEBC numbers, it never provided its own figures to counter them.
"Based on the evidence on the record, I do not think the test has been met. I say this because beyond 'submitting' that the appellant did not agree with the numbers provided by the IEBC, it did not provide any evidence of what the correct numbers ought to be, nor did it provide any evidence as to why, or how, the IEBC numbers were wrong," said Justice Aleem.
UDA bagged Sh577 million, followed by ODM (Sh308 million), Jubilee Party (Sh135 million), and Wiper Party (Sh72 million).
UDA has 145 MPs, ODM (86), Jubilee (28), and Wiper (26). United Democratic Movement (UDM) has eight MPs, ANC (8), Ford-Kenya (6), KANU (6), DAP-Kenya (5), PAA (3), Kenya Union Party (3), UPIA (2), Maendeleo Chap Chap (2) and The Service Party (2).
In the Senate, UDA has the highest number of representatives, at least 32 of the 67 senators.
The Political Parties Act 2011 sets aside 0.3 per cent of the national government revenue to finance the activities of political parties.
Related Topics