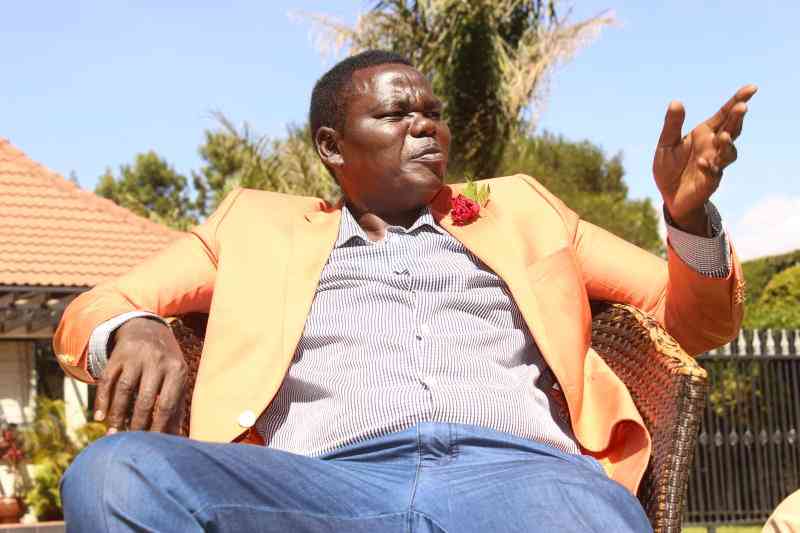 The humour, mystery and the financial woes that characterised the life and times of former Ainabkoi MP William Chepkut continued playing out days after his death.His burial in Flax, Uasin Gishu County on October 18, turned into a theatre where rib-cracking speeches and emotional tributes blended on a sorrowful day, when a politician who was described as excessively generous and humorous was being laid to rest.
More humorous moments, which endeared Chepkut to his former employer, former powerful minister Nicholas Biwott, family, friends and voters emerged.Chepkut died in Nairobi on October 8. A postmortem conducted on October 12 indicated that he suffered a blood clot. One of his friends only identified as Sagero tickled mourners when he narrated how Chepkut snatched his girlfriend and made her his third wife.
Jointly seduced women
Sagero also narrated how they jointly seduced women who ended up becoming their wives. The women they seduced, Sagero said, would be approved or rejected by Biwott, who would insist on their beauty before giving them the greenlight to marry them. He defended Chepkut's move to marry three wives, Milca, Tessy (Eritrean) and Betsy, saying African men were polygamous by nature.
"Chepkut and I seduced women together. As a Seventh Day Adventist, I have one wife, but because of human weakness, I have other women. Chepkut connected me to my first wife Dr Phyllis Cherono and we went to America after our wedding, but she remained in America, and I chose to return to Kenya where I married my second wife Naomi. Chepkut also connected me to Naomi and we seduced her together," he said.
"And there is one thing that Biwott always reminded Chepkut and I. He often told us to our faces we were ugly and we needed wives who were beautiful so that we sire good-looking children. All our women were approved by Biwott," said Sagero.
He added: "Betsy came to my office seeking a passport as she prepared to travel to Thailand. She was beautiful and I asked her out for lunch at the Intercontinental Hotel in the company of Chepkut. I never heard from her until recently when I discovered that she was married to Chepkut."
Battling illness
Another moment of laughter came when Chepkut's brother, Peter Chirchir, told mourners how his late brother, while he was battling illness ahead of the August 2022 elections, compelled him to send all the money he had, and which was used to care for him while he was sick, to a constituent.Chirchir said he declined to send the money after explaining to him that that was all the cash they had left.
"After explaining to him that we could not send the money, my brother maintained that I had to send the money, failure to which he would wear his suit and go out to send it. I had to oblige because my brother loved others more than himself," Chirchir, who spoke in a voice similar to Chepkut's, said.Nominated Senator Margaret Kamar described how Chepkut received calls from high-ranking government officials, including Daniel Moi and Uhuru Kenyatta, on behalf of her husband (Biwott) who never owned a mobile phone.
Chepkut worked as Biwott's Personal Assistant from 1997 to 2017. And when Chepkut's sons eulogised their father, mourners were tickled and empathised with them at the same time. The late Chepkut and sons appeared cut from the cloth. Dyllan, the youngest among the boys, recalled his late father's love for mahindi choma (roasted maize).Another son, Habil, said he would one day seek to be elected as Ainabkoi MP.
Related Topics