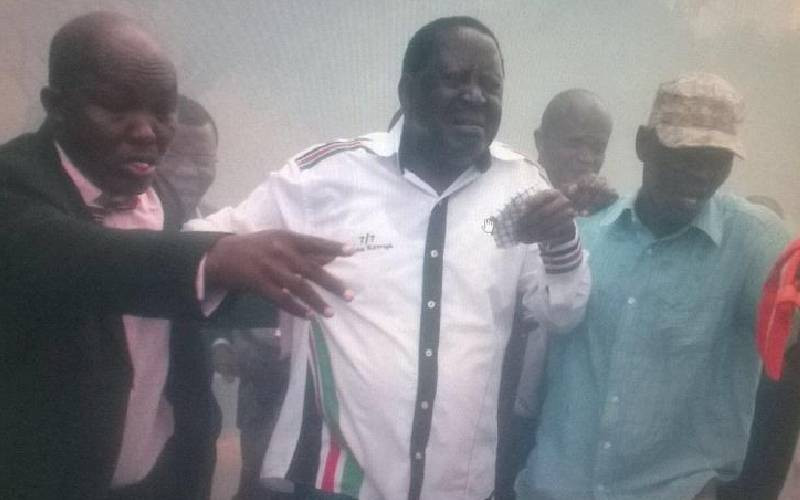 Those who do not learn from history, as George Santana warned, are certainly doomed to repeat. If the unfolding events associated with calls for mass action are anything to go by, then we all have reasons to be very afraid.
However, fear cannot be our stock in trade as the people of Kenya for, as the good book says in 2nd Timothy 1:7, "For good has not given us the spirit of fear; but of power, and love and sound mind". It is indeed a tense moment for ordinary Kenyans for the political class has chosen to use them as pawns in the asinine game of political chess. For, pray tell, how can the high cost of living be solved through mass action and threats to cause a civilian coup against a government legitimately in office?
The Azimio leadership, and Baba in particular, risks walking the path of hitherto glorified liberators who, out of lust for power, cast aside their ideals for narrow interests to a very disastrous end. History is replete with leaders who were worshipped by their people until it became apparent that all that mattered to them was their self-preservation, nothing else.
For us, who have loved Raila and prayed for him and wished he were president today, are now forced to take difficult choices, including, but not limited to being the solitary voice that will insist that Baba must not put his supporters in harm's way as we have shed enough blood in the past to still resort to street demos as the only way to resolve any political impasse.
It is against this backdrop that we remind the president that he lifted the Constitution and swore to protect every life within the Republic of Kenya. We have children, women and men in the informal settlements of our urban centres. These places, from experience, are always the epicentre of confrontation between civilians and law enforcement personnel.
In the heady days of the so-called peoples Assemblies of 2017, baby Pendo was killed in the arms of her mother in Nyalenda in Kisumu. Michael Okoth, an 18-year-old student in Vihiga Boys was shot as he stepped out to buy ice cream in Kondele in Kisumu. Baby Mutinda was shot and killed on the balcony of his parents house in Pipeline estate in Nairobi.
I could go on and on. The president must remember the people for whom he sits in State House and do what it takes to guarantee their security and the benefit of our constitutional order. The big question now remains, for how long will we tolerate the divisive post-election culture? There is a general consensus that six months to a general election in Kenya, investors take off to the sidelines to monitor the unfolding events and they never return until at least between six months to one year after the polls.
It is therefore the very acme of deception to purport to lead a march to occupy State House on account of high cost of living while we are all aware that the global supply chain remains in jeopardy and the accompanying financial shocks occasioned by the dollar shortage crisis has pushed to the roof the cost of importation and, subsequently, the cost of doing business.
These are facts that are well within the knowledge of Azimio leadership and for them to therefore proceed to foment a volatile political environment whose net effect is going to further shake up investor confidence and result in greater capital flight shows a lack of empathy that I am yet to find name for.
In the words of John Bercow, history is more than the path left by the past. It shapes the present and influences the future. We had Jonas Savimbi in Angola, a wildly charismatic leader who was convinced he was defending his country against communist influence but he did not know when to stop. More recently, we had Muammur Gaddafi, the man who wanted to become the president of the united States of Africa until his forces turned against unarmed civilians in Benghazi in 2011, and he had to leave disgracefully. Kenyans can resist anarchy and can certainly defend themselves against it.
-Mr Kidi is a governance and policy expert. [email protected]
Related Topics