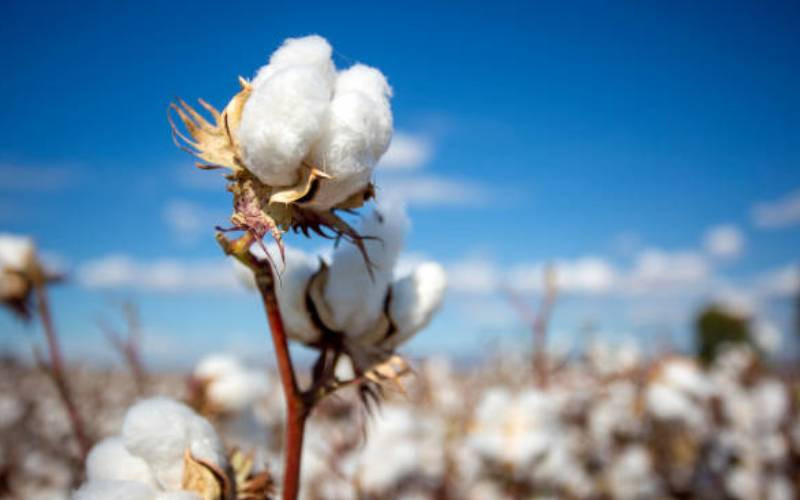 Plans to revive the once-thriving cotton farming in Nyanza are gathering momentum after the government embarked on a cotton seeds production programme.
The affordable cotton seeds are being developed by the Kenya Agricultural and Livestock Research Organisations (KALRO) in Kibos, Kisumu County.
On Thursday, the research body announced they will harvest ten acres of cotton seeds this season on top of another seven acres already harvested.
Speaking in Kisumu during the opening of the Mkulima shop at KALRO Kibo's center, Deputy director for seeds at KALRO Robert Musyoki said the organisation is targeting to harvest 40,000 tonnes of cotton seeds which will be availed to farmers at Mkulima shops and selected agrovets countrywide at subsidized prices.
The centre that is spearheading the production of cotton seeds in Nyanza and Western regions is producing conventionally bred KSA 81 cotton seeds.
"The centre was initially for cotton production. The research in this centre was purely on cotton and that is what we are reviving," he said.Deputy Director General Crops KALRO Felista Makini said there had been a seed shortage in the region. She expressed optimism that their latest programs will improve production.
"Farmers now have an assurance that they will always find seeds if they visit our Mkulima shops. We have quality and many varieties," she said.
Makini said KALRO Kibos has the capacity to produce adequate seeds for the entire region based on the existing demand.
At the KALRO Kibos shop, they have sunflower seeds, cotton, sorghum, green grams, cowpeas and rice.
She added that seed varieties, developed through extensive research, had been certified by the Kenya Plant Health Inspectorate Service (KEPHIS) and were fit for planting in the specific regions where they are stocked adding that more work was being done to develop additional seeds and varieties to meet the demand.
The developments have excited farmers who relied on cotton farming in the early 1990s to make ends meet.
Related Topics