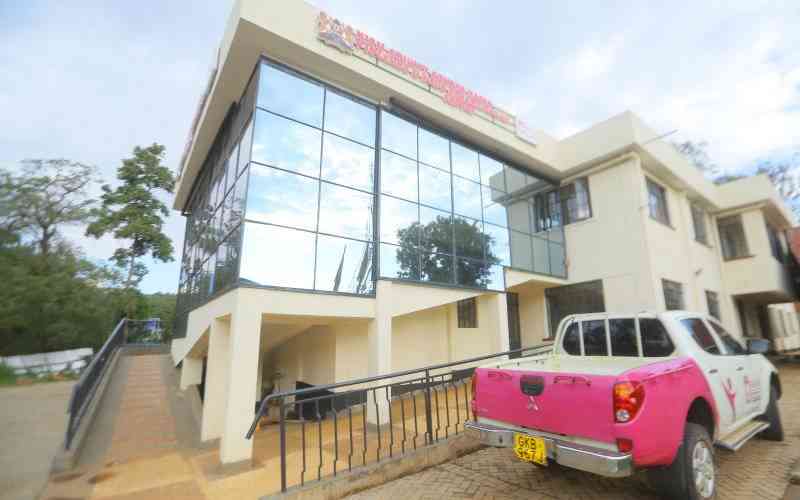 Raila Odinga's running mate Martha Karua and Ida Odinga will today open the Sh27 million Kisii County Gender-Based Violence and Drug Rehabilitation Centre.
The duo will also open the five-storey Doctors Plaza at Kisii Teaching and Referral Hospital as well as visit the 350-bed capacity Mother and Child Hospital within Kisii town.
National Government Affirmative Action Fund (NGAAF) through the Kisii Woman Representative office set up the Sh27 million Gender-Based Violence (GBV) rescue centre.
The centre will have a hostel with 40 beds to be shared equally between women and men, a police desk, a nursing room, a counselling centre, a dining, an ICT centre, a resource centre and a woman training centre.
The centre was built on land donated by the county government less than one kilometre from Kisii town's Central Business District.
Gusii region records alarming number of GBV cases with almost 80 per cent going unreported.
Woman Representative Janet Ongera said Gusii community is faced with cultural beliefs supporting men's dominance over women and the prevalence GBV rate is relatively high with an apparent indication of increasing men's vulnerability.
"The construction of the centre is part of the efforts seeking to understand the social, economic and physical context of various forms of GBV. We support efforts to prevent such violence, strengthening and integrating health services to provide a holistic response system for survivors."
Gender-Based Violence cases in the region are rife, yet not even a single Bill has been passed in either Kisii or Nyamira assemblies to fight the vice.
Rights defenders involved in the fight against gender-based violence say victims never pursue their cases, but end up being compensated by the perpetrators.
Currently, there is no budgetary allocation in Kisii and Nyamira counties to address the rising cases of GBV.
Ruth Monati of Seeds of Hope, a Non-Governmental Organisation, says that what is needed is the protection of whistleblowers, a rescue centre, a gender recovery ward and a one-stop centre for clinical, legal and psychological services.
She argued that cultures have evolved over the years and so must the society. "Let's change the language and have the vice addressed at the lowest level of our society."
"The elite have continued to support Female Genital Mutilation (FGM) despite there being enough scientific evidence that it is a fundamental violation of girls."
Dr Bina Ongaki, Head of Clinical Services at Kisii Teaching and Referral hospital, says parents should educate their daughters that some primitive cultural practices no longer add value in their lives.
"While medicalisation of FGM is not new, its growing popularity is worrying. We must all stand up and fight this issue in totality and have the focus shift away from traditional cutters to medical practitioners," said Ogaki.
The centre will also be a saviour to the more than 200 street children majority of whom are addicted to drugs.
Related Topics