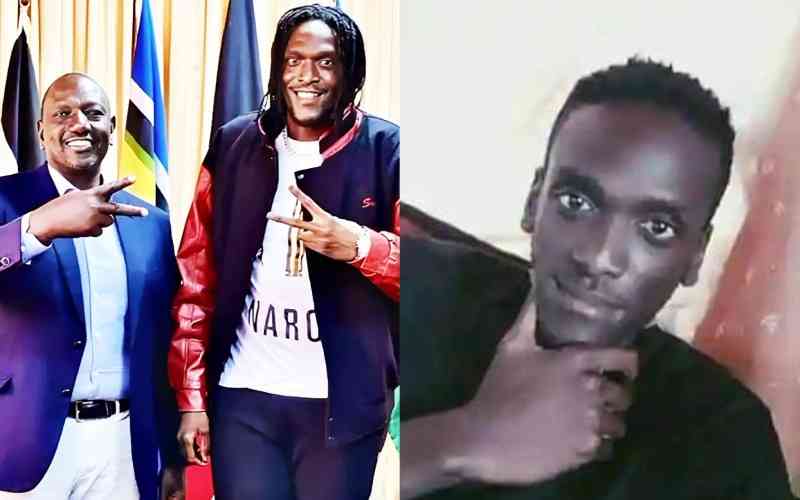 President William Ruto on Thursday mourned 'Sipangwingwi' producer Byron Kivisi who suffered an arterial rupture on Monday morning.
The Head of State recalled being introduced to Byron by Xray and recalled his calm demeanour.
"Deeply saddened by the death of music producer and artist Byron Muhando Kivisi. Byron was first introduced to me by music sensation Xray during a music recording session of the hit song Sipangwingwi at the Deputy President's residence in Karen.
"I recall with fondness his calm and collected demeanour, but more importantly his immense talent that made him an acclaimed music producer. It is disheartening that we have lost Byron at a prime age. We are comforted by the fact that his works of art will live on," wrote the President.
Adding: "To the family, friends and his fans, accept our sincere condolences. Rest In Peace, Byron."
News of Byron's demise was shared this week by a family member who said they were in shock following his sudden passing.
'Sipangwingwi' remains to be one of his most successful projects as the song was heavily used by Ruto's team in the lead-up to the 2022 General Election.
The song, however, stirred up controversy after the National Cohesion and Integration Commission (NCIC) listed 'hatupangwingwi' as a word to be avoided during political campaigns.
Borrowed from 'Sipangwingwi', the club banger by Exray ft Trio Mio and Ssaru released in October 2021, the phrase was heavily used as a rallying call in political events.
At the time, NCIC chairperson Samuel Kobia said the word targeted specific groups and communities and implied that some communities had been sidelined for a long time.
"The concern with ethnic stereotypes and coded language in Kenya generally and specifically stems from the fact that it is commonly used in the context of political campaigns to rally the support of members of inner communities against target communities," said Kobia.
Exray, the man behind the song, disagreed. The artiste argued that the phrase had been blown out of proportion and several quarters misinterpreted its meaning.
"How is it inciting anyone? My fans know what the song means and I think it is self-explanatory.
"If you look closely, I am in one team (Kenya Kwanza) while Trio Mio is in another (Azimio). If that does not show how we are embracing both sides of the political divide I don't know what will," he said.
The singer further stated that he read malice in NCIC's move because the song was not political but was been dragged into the centre of the campaign heat.
Byron will be will be buried on October 7, 2023, in Vihiga County.
Related Topics