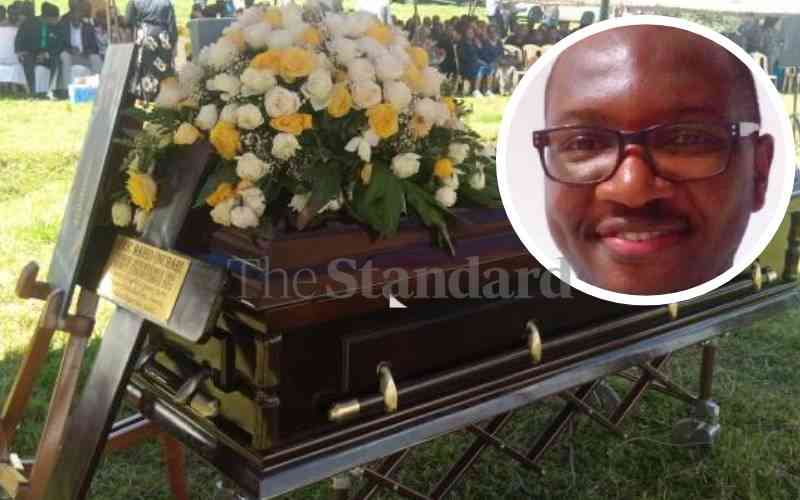 The late Nairobi Hospital Acting Finance Manager Eric Maigo was Friday buried at his parents' home in Kisii even as his family said their son had a premonition of his death.
Maigo's body was on September 15, 2023, discovered in a pool of blood in his bedroom bearing 25 stab wounds. Two kitchen knives preserved as evidence were recovered from the scene.
A 16-year-old suspect was on Wednesday arraigned before Magistrate Zainabu Abdul at the Milimani Law Courts on a miscellaneous application indicating that police needed to conduct mental and age assessments on the suspect as required before one faces murder charges.
Family members, who spoke during his funeral at Eremo Village in Nyaribari Masaba on Friday, said their kin was killed and all that is going on is a plot to tarnish his name.
Maigo's uncle Chris Bichage, who is a former MP for Nyaribari Chache, said that the deceased had pointed out to him that he wasn't sure of his safety when he got the letter of appointment.
"I received calls from family members including Maigo himself saying the place was toxic. I told him and other family members that Maigo got the appointment in a competitive process and there was no need to create fear. I am sorry I didn't know it could lead to this."
In a statement, the family said; "At 36, short but very fulfilling years; even though you have paid the price with your life, the ultimate sacrifice any mortal can give, in the end justice will be delivered.
"And even though paid mercenaries of the written word have sought to tarnish your name in death, the truth shall set us free. Vengeance belongs to the Lord, and it will be delivered, either in this life or the next."
The deceased's father Zebedeo Onchari said his son was too innocent and truthful to be killed.
"We don't seek vengeance, for vengeance is the Lord's. The crime was the work of Satan, God will always triumph."
The mother, Dinah Onchari said: "You were my last born who could take care of me in old age. They have taken away your young life."
Maigo's childhood friend identified as Martin Mbaya said he never knew he would write a tribute to his friend at such a tender age.
"I thought we could age together and later laugh at our mischievous boyhood escapades. He was calm, almost unassuming."
He said Maigo was a great music producer who made good beats.
Another friend; Denis Maranga said Maigo was a beacon of dependability and loyalty. He had a legendary sense of humour. He was a reminder to us that life should never be taken too seriously."
He said the late Maigo was a maverick whose intellect knew no bounds. "His tranquil spirit was a constant source of comfort to those lucky enough to know him."
As DCI makes a fresh attempt to unravel the murder mystery, friends and colleagues reveal the personality of the man. A former High school colleague, a colleague at the Nairobi hospital accounts department, and a former colleague have painted an image of a cool and collected man.
The description by the colleagues and friends juxtaposes the finding by the police on Maigo who died in controversial circumstances in the company of a minor whom he is said to have picked outside a bar in Nairobi.
Yesterday, Dominic Otieno, a former High school classmate of Maigo recalled the good times they shared in secondary school.
In the Eulogy the family said the late didn't leave behind a family of his own, but through his deeds, he touched many lives and souls.
Related Topics