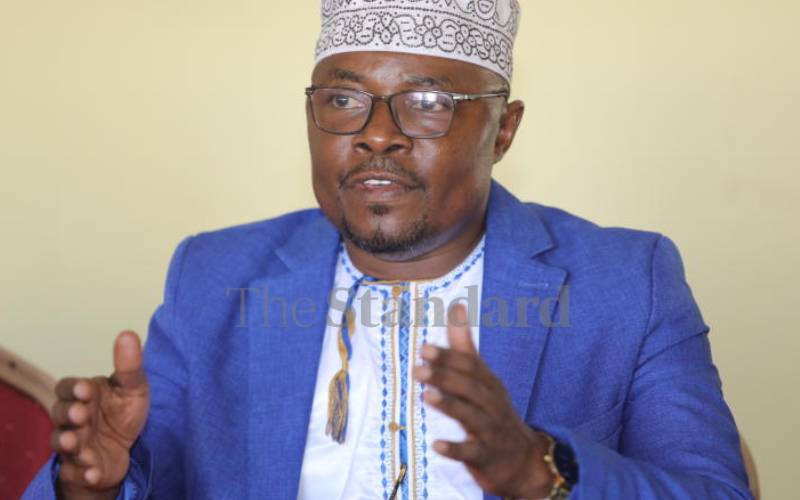 A Muslim cleric has sparked controversy by warning Muslims against engaging in financial activities, including borrowing money which requires repayment with interest.
Sheikh Juma Ngao, the national chairman of the Kenya Muslims National Advisory Council (Kemnac), said Muslims are prohibited from borrowing money that they must repay with interest.
He added that this is the reason why there are established banks that provide loans without attracting interest.
The outspoken cleric said Prophet Mohamed's teachings prohibit borrowing money that carries interest. Ngao said: "A Muslim is allowed to borrow money from anywhere, but it must be repaid without interest."
Ngao was speaking at the inauguration of Kenya's second grand Mufti. His sentiments were echoed by Dr. Sheikh Alhad Musa, the chairman of the Tanzania Inter-religious Peace Committee, who was a guest speaker.
Ngao said Kemnac decided to anoint Sheikh Khasi Msahali as the Mufti of Muslims in Kenya to address Muslim issues that are not within the purview of the Chief Kadhi of Kenya.
Chief Kadhi, according to Sheikh Ngao, is exclusively tasked with handling matters related to Muslim marriage, divorce, and inheritance, and he is not obligated to address political or other issues as he serves as a civil servant. "As Muslims, we require a leader (Mufti) who can provide guidance on topics such as politics, community unity, and other pressing concerns that fall beyond the Chief Kadhi's purview," said Sheikh Ngao.
Dr Musa noted that among 300 Muslim organisations, only Kemnac has the provision for appointing a Mufti.
During the coronation of former Mombasa Kadhi Sheikh Mshali Mhali Al-Shiraaaziyyi, in the presence of various Muslim leaders, Dr Musa voiced his support for Kenyans who oppose the Lesbian, Gay, Bisexual, Transgender, and Queer (LGBTQ) movement. He asserted that LGBTQ is a facet of Western culture, and he urged Kenyans to remain steadfast in their fight against it.
Dr Musa said the role of a Mufti is to unite leaders and openly address issues like LGBTQ and other behaviours deemed unacceptable, as the Kadhi cannot broach such topics due to the possibility of related cases being brought before the courts.
Changamwe MP Omar Mwinyi, who served as the chief guest, reiterated his stance on the privatisation of the Mombasa Port and the takeover of the Kenya Refinery Petroleum Company by Kenya Pipeline Company.
The legislator said the local community should have a say in the operations of these two state entities.
Sheikh Ngao said there had been no public participation in the Mombasa Port concession, adding that local residents will not support the government's proposed plan.
Related Topics