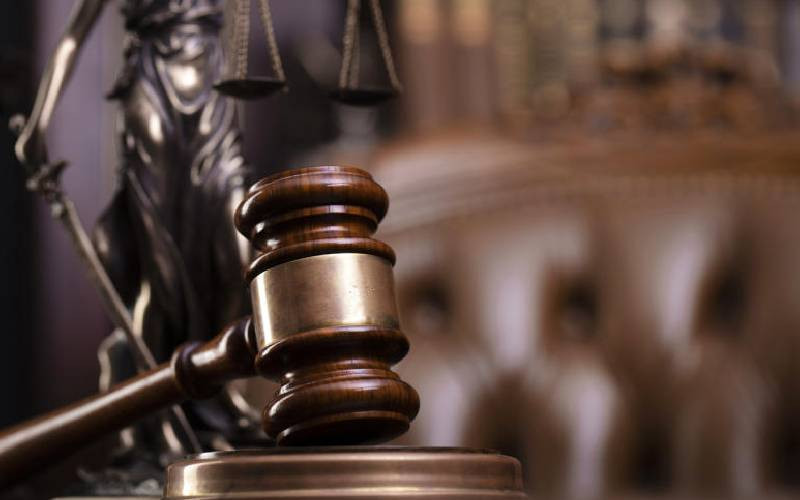 On Wednesday, a children's court in Nairobi ordered the son of a former governor to pay maintenance of his three children after separating from his wife.
In addition, the magistrate Jackie Kibosia restrained the man from taking the children away from their mother or relocating them from their current residence pending determination of their dispute over custody of the children.
"He is also to pay for comprehensive medical cover for the children and should not take or transfer them out of their current school. It is for the interest of the children that he pays the outstanding fees in the current school to enable them have uninterrupted study," ruled Kibosia.
The magistrate did not however quantify the amount the ex-governor's son would be paying although the woman in her suit had demanded Sh120,000 monthly upkeep for the children.
This is despite several decisions by the High Court that taking care of children should be a joint parental responsibility after the couples separate while taking into consideration the financial capabilities of either the man or the woman.
Justice John Onyiego while determining an appeal where a man had been ordered by a children's court to pay maintenance for his children declared that a child's upkeep is the responsibility of both parents whether they live together, separated or divorced.
"Child maintenance cannot be left to one person alone; it requires joint effort even if not exactly the same. It is not enough for one party to claim that his or her income is too little and cannot help in supporting the child's needs," ruled Onyiego.
Justice Onyiego stated that although it is the children's court that has the discretion to determine the extent of maintenance payable in favour of a child by either the father or mother, the discretion must not be exercised whimsically to punish one partner.
Justice Abida Aroni in yet another decision declared that once a couple separate, the burden of raising their children born during their union should be shared equally without burdening one partner.
"The father and mother of the child shall have parental responsibility for the child and none of them should have a superior right or claim against the other in exercise of such parental responsibilities of maintaining the child," said Aroni.
What the law says
Section 23 of the Children's Act defines child maintenance as duties of parents to provide for the basic needs of the child which include food, shelter, clothing, education and medical care.
While declaring that both parents have equal responsibility to take care of the their children, the judges relied on Article 53 of the Constitution which provides that a child has the right to equal responsibility from both parents to maintain the child.
Under Section 76 of the Children's Act, the court is mandated to consider the financial ability of each parent to maintain the child.
The legal provisions have however not shielded men who continue to shoulder the burden of maintaining their children after separating with their spouses.
Prominent people
As cases of child support continues to rise, some prominent people including politicians, businessmen and lawyers have found themselves dragged to court to pay child upkeep.
Former television anchor Anne Kiguta in June filed a child maintenance suit against former President Uhuru Kenyatta's nephew Jomo Gecaga, in which she demanded Sh2.7 million for monthly upkeep to take care of their three children.
Kiguta claimed that Gecaga's erratic behaviour and abdication of parental responsibilities had exposed the minors to untold emotional suffering, ridicule and embarrassment after he introduced them to a high standard of life.
In the alternative to the monthly upkeep, Ms Kiguta wants Gecaga compelled to deposit a lump sum of Sh413 million to take care of the children for a period of 12 years until they turn 18-years.
"In an unexpected turn of events, he began to systematically drop all support for the three minors in 2018. First, he stopped paying for the first child's school fees entirely, which resulted in her being removed from school before withdrawing support for all workers," she said.
But Gecaga in his response told the court that he is a responsible father who has taken care of his children and provided for their upkeep.
He also claimed that the Sh2.7 million or children maintenance demanded by Kiguta was way above what he earns since he does not own any company associated with the Kenyatta family.
"She seems to be under the mistaken impression, that because I am related to the family of the former presidents of Kenya, the said family's alleged wealth belongs to me and that I have access to it and to endless resources," he said.
Businessman Jimnah Mbaru also faced the burden of being dragged to court for child support when a woman sued him alleging that he had abandoned parental responsibility over their young child.
The woman sought a monthly child upkeep of Sh300,000 and an additional Sh600,000 for the minor's school fees.
Bungoma Governor Ken Lusaka was also sued by a woman who sought Sh25 million for upkeep, claiming that the ex-Senate Speaker abandoned her after impregnating her.
The woman claimed that she had an intimate relationship with Lusaka since 2018 but that he turned his back against her after she became pregnant and refused to pick her calls.
Man of means
"Despite being a man of means, he refused, neglected and ignored to take care of my pregnancy, and pre-natal clinics which were necessary to ensure the wellbeing of the child," the woman said.
Lusaka however opted to have the dispute settled out of court when he agreed to take responsibility of the child.
Makueni Governor Mutula Kilonzo Jnr joined the bandwagon when he was sued for a monthly upkeep of Sh259,500 by a woman who claimed he had abdicated his parental responsibility over a daughter they had together.
But Kilonzo accused the woman of blackmail, claiming that he was not the biological father of the child since he met the women when she was already pregnant.
Ordered to pay
Some men have, however, been unlucky and continue to pay hefty monthly upkeep for their children.
In Mombasa, a man was ordered to pay Sh1.2 million including arrears for monthly upkeep, school fees and medical insurance for his daughter.
The woman identified as RN claimed that the man named UW failed to obey two court orders that directed him to pay maintenance and medical insurance for their five-year-old daughter.
"The court orders the respondent to pay all the school fees and school related expenses for the child, suitable medical cover and to meet all the child's other needs while the mother will have the minor's actual custody, care and control," ruled chief magistrate C Olouch.
A Kenya Defence Force (KDF) officer was also ordered by a Kadhi's court to pay Sh50,000 every month for maintenance of their six children after divorcing his wife of over twenty years.
Principal Kadhi Abdulhalim Athman also ordered the officer to refund his estranged wife Sh2 million she contributed in building their matrimonial home in Isiolo and pay three cows to the woman's family as part of dowry he had not paid.
"Costs of children maintenance is a 100% responsibility of the father. Quantum of maintenance depends on the child's needs and father's financial ability. He is a KDF officer and has rental houses which makes monthly return thus making him capable to provide for his children," ruled Athman.
He ordered the man to pay Sh20,000 per month for the children's maintenance, Sh12,000 monthly for accommodation and Sh18,000 monthly for school fees.
In one extreme circumstance, a man identified as AJK was jailed for nine months for failing to provide support and maintenance of his three-year-old child.
Justice Said Chitembwe ruled that the man had neglected his duties as a father and should suffer the jail sentence as a consequence.
"It is not clear why he was not supporting the child yet he is the father. He decided not to be responsible to his own child and seems not to have learnt any lesson from his mistake. A custodial sentence will sober him up and I sentence him to serve nine months in jail," ruled Chitembwe.
Justice Chitembwe ruled that as man, AJK should learn to be responsible and even if he was not staying with the child's mother after she was taken away by her parents, he could still reach her and send financial support to the child through other means.
In Nakuru, a businessman was ordered to pay Sh204,000 as monthly upkeep for his daughter after separating from the mother.
Related Topics