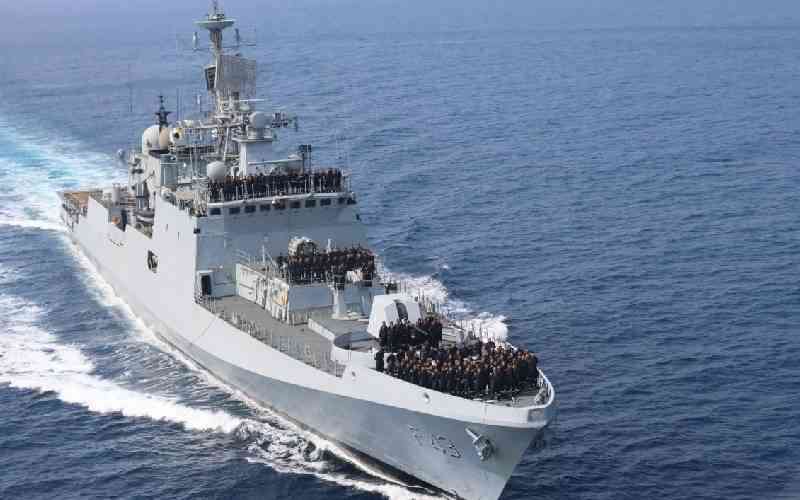 An Indian Naval Ship is expected to dock at the Port of Mombasa this Friday.
India's High Commissioner to Kenya Namgya Khampa on Wednesday said the call by INS Trishul ship is part of the Indian Navy deployment to five African countries.
According to the envoy, the port call between May 26 to May 29, 2023 reflects India's cordial ties with its maritime neighbour Kenya.
"During the port call, personnel from both navies will engage in a wide range of professional interactions, deck visits and sports exchanges, aimed at enhancing cooperation and mutual understanding," Khampa said.
She said on May 27, both India and Kenya Navy personnel will jointly participate in a Yoga session at Mtongwe Naval Base which will be a curtain raiser for the 9th International day of Yoga to be marked worldwide on June 21, 2023.
Khampa said as part of India's celebrations this year, yoga is also being performed in numerous ports around the world to form an 'Ocean Ring of Yoga'.
On May 29, both naval teams will participate in a Maritime partnership exercise.
INS Trishul is the second frigate of the Talwar class of Indian Navy that was commissioned into Indian Navy on 25 Jun 2003.
The 3700 ton and 125 mts long vessel is fitted with state of art equipment and also incorporates stealth features.
The ship is equipped with a versatile array of weapons and sensors and can carry multi-role helicopters.
It has top speed of 30 knots and an endurance of 30 days at sea. The ship carries crew of 30 officers and 300 sailors and is being commanded by Captain Kapil Kaushik.
The call at the port of Mombasa comes barely six months after the two countries agreed to partner and share military expertise.
During an expo jointly organised by the two countries in Nairobi, India had an opportunity to showcase their industries in various disciplines that include ship-building, electronics, vehicles, and aircraft.
Kenya has for years also been pushing to wholesomely address the trade imbalances that have existed between the two countries.
Among areas Nairobi has wanted addressed is for her goods be granted preferential status by the Indian authorities.
Good relations are said to have boosted trade between the two countries, with the latest statistics from the High Commissioner's office indicating that a total of Sh209 billion worth of goods have been traded.
Related Topics