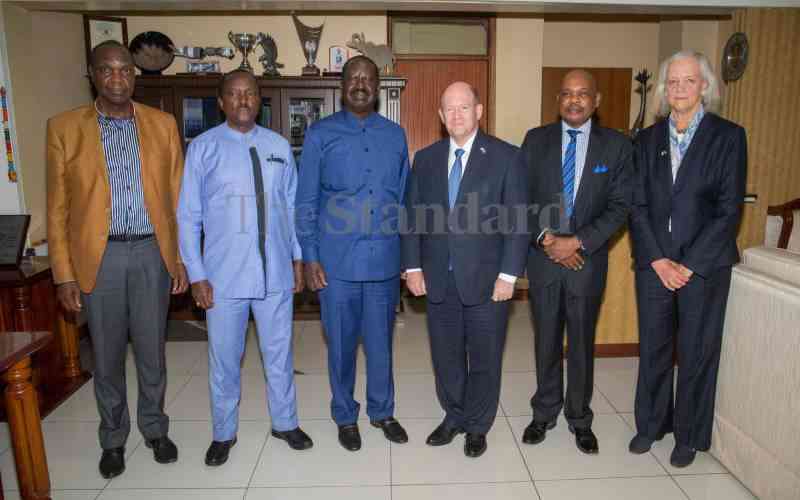 It has been a week of anger, fire, tears and harsh words but behind the acrid smoke of teargas canisters and chest-thumping, a group of clergy and diplomats have been shuttling between cities in a quest for peace.
At the heart of this initiative is seasoned US Senator Chris Coons who brokered the 2018 handshake between President Uhuru Kenyatta and opposition leader Raila Odinga.
Last Wednesday, Catholic church leaders met with the Azimio leader. The former premier confirmed he had held talks with the clergy but was tight-lipped on the details, only saying he would disclose more later.
Later, Raila and his team met Mr Coons, a close ally of US President Joe Biden. The senator had earlier met with Deputy President Rigathi Gachagua.
"This morning, I hosted a delegation from the US, led by Senator for Delaware, Christopher Andrew Coons for consultations towards strengthening ties between the two nations, especially in trade, security, and democracy, among other key issues of mutual interest," tweeted Gachagua.
The senator then flew to Mombasa where sources say he met former President Uhuru Kenyatta.
Mr Coons is not new to Kenya as he was in the country in August last year and met the top leadership.
The Delaware Senator, who is an ordained elder with Presbyterian Church, schooled with Uhuru at Amherst College in Boston, Massachusetts, where they both graduated in 1985.
He studied for his BA degree in Chemistry and Political Science, and also spent a semester at the University of Nairobi in 1985.
Mr Coons met Raila a month after the October 2017 repeat presidential election. Raila had travelled to the US for a series of meetings with members of Congress and Kenyans living in that country where he called for dialogue.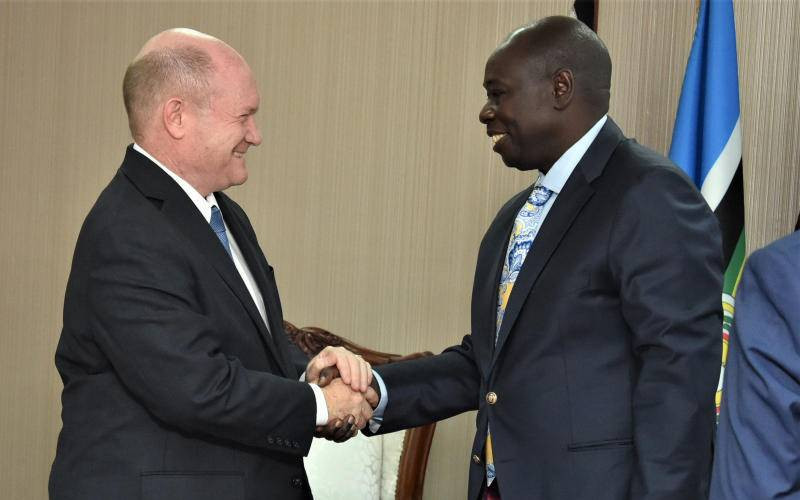 This week, the Azimio leader tweeted, "Had a great meeting this evening with US Senator Chris Coons and his delegation to discuss developments in our country. We had a fruitful discussion on the importance of upholding the Constitution and the rule of law, and agreed to keep the channels of communication open,"
The Catholic clerics also released a statement saying they were "happy that talks have started". "We have had time to talk and we have also tried to understand how the ordinary Kenyan is suffering and the many challenges but let us not go overboard and injure ourselves."
As the Catholics met with Raila, the Presbyterian Church of East Africa (PCEA) on Wednesday called upon the Azimio coalition to call off its planned anti-government protests.
The leadership, drawn from five regions representing members both from within and outside Kenya, condemned the ongoing protests and warned that they were creeping towards tribal clashes.
"The clerics recognise and appreciate that Article 37 of the Constitution of Kenya 2010 provides for demonstrations. However, the PCEA church is saddened by the events that happened this week following the demonstrations which resulted in the burning of the church in Kibra, an adjacent mosque as well as business entities around that area," said Reverend Thegu Mutahi, the moderator of the General Assembly.
The protests led by Raila have led to running battles between demonstrators and police, resulting in the loss of lives, destruction of property and schools closed.
Gachagua claimed that the paralysis cost Nairobi's city centre an estimated Sh2 billion in lost business opportunities.
The invasion of land owned by the Kenyatta family on Monday where goons felled trees and stole livestock, and the stoning of offices of East African Spectre Gas in Industrial Area, which is owned by Raila's family, threatened to fan the flames of anarchy.
Concerned clerics, politicians, and members of the international community have pushed for talks between the government and the opposition to end the protests.
Addressing the press on Wednesday, the clerics urged President Ruto to demonstrate leadership and consider a conciliatory approach.
Rev Mutahi also urged Raila to call off the demonstrations to allow for other more peaceful approaches to resolving their concerns and grievances.
Raila's meeting with the clergy came days after he told them off over their calls for him to call off the mass action and give dialogue with Ruto a chance.
The religious leaders urged the police to be disciplined and fair while dealing with protestors to ensure lives are protected, with the long-term goal of ensuring peace.
"We call upon the police to act with utmost responsibility and impartiality in discharging their mandate of protecting all Kenyans – both those participating in picketing as well as those going around with their daily routines. "We pray that the good neighbourhood between Christians and Muslims be maintained, noting that the issues facing this country are not religious but political and economical as we seek to live in harmony and help those among us who are in need," Rev Mutahi said.
Laikipia MP Mwangi Kiunjuri also called for what he termed constructive national dialogue to resolve the economic and social stalemate.
Mr Kiunjuri said that much as he does not support demonstrations planned by the opposition, there is need for a bi-partisan approach to issues bedeviling the country, key among them constitutional reforms.
The legislator called for an open-door policy to be applied to anyone who has issues that would require to be put to a referendum to come forth and make a presentation and let Kenyans decide.
"Mimi sikubalianii na maandamano, lakini mimi nakubaliana na mabadiliko ya katiba, na hiyo lazima tutazungumzia. Raila atoke kwa barabara, na usiitishe nusu mkate. Toka kwa barabara twende Bomas tuanze mazungumzo ili ile shida iko Kenya tutatue," Kiunjuri said.
Among issues Kiunjuri wants to be addressed in a referendum is the equality of votes, where he says some Kenyans are disenfranchised.
Nandi Senator Samson Cherargei, however, ruled out the possibly of talks or a handshake.
"Raila and violence, blackmail and intimidation are in the same WhatsApp group. Whether Raila does demonstrations up to the second coming of Jesus Christ, there is no handshake," tweeted Mr Cherargei.
Related Topics