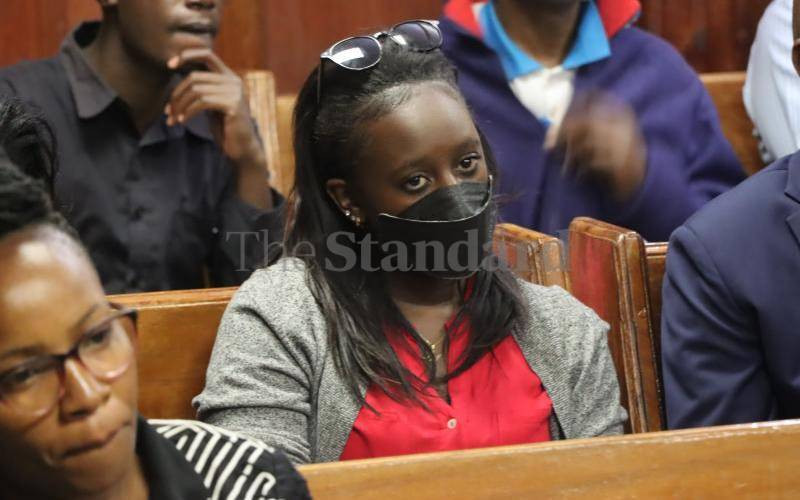 A probation officer has recommended that rally driver Maxine Wahome be released on bail pending trial over the murder of her boyfriend Asad Khan.
The probation officer, M Abima, in her pre-bail report presented to High Court Judge Lillian Mutende said Wahome is of good character, has no criminal history and has no capacity to interfere with witnesses.
"In view of the sentiments expressed by all parties and in regard to the information provided, the court may grant bail or bond to the accused with stringent measures aimed at protecting the safety and emotional well-being of the victims," said Abima.
Justice Mutende last week directed the probation office to file the pre-bail report before making a determination whether to release Wahome who has been in custody for three weeks after being charged with the murder of Khan.
According to the report, Wahome is of youthful age and a sportsperson representing the country locally, regionally and internationally, and cannot be a flight risk.
The report added that she acknowledges the seriousness of the offence and the attendant sentence if found guilty and that she will attend the trial to its logical conclusion and abide by any additional court orders if released.
Abima said although the victims' family is opposed to her release on bail, they have not received any threats so far from the accused or her proxies.
Wahome, who is the reigning national junior rally champion was charged with the murder of Khan on December 12, 2022, at Preston Court in Kilimani, Nairobi.
The prosecution and Khan's family opposed her application to be released on bail, saying she did not take care of the deceased after the injury that led to his death, refused to visit him in hospital or attend his funeral.
They also said Wahome is likely to interfere with witnesses and the victims who are still aggrieved by the loss of their loved one.
Justice Mutende will make a ruling on the bail application on Wednesday, March 29.
Related Topics