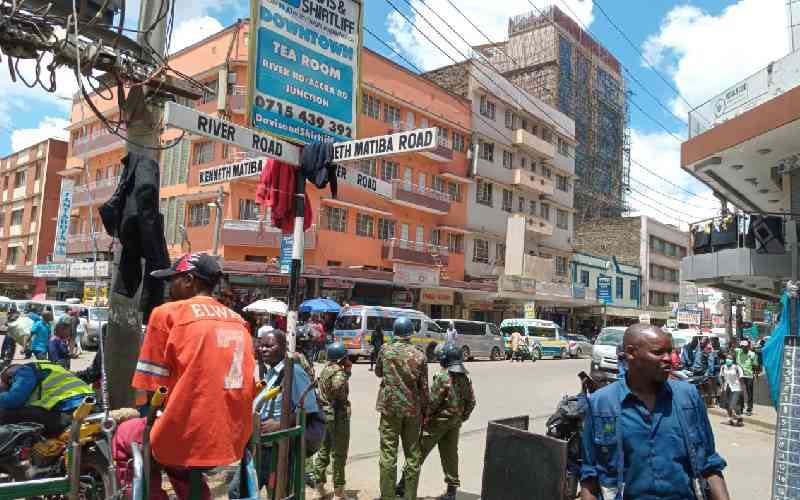 The second week of anti-government protests has witnessed reduced activities in Nairobi mostly on Mondays and Thursdays.
Among the affected areas include transport and some business that requires physical presence around the clock.
The reduced activities have not only hit those in the blue-collar sectors but also the Nairobi County revenue collection unit that has been forced to improvise some methods in an attempt to reach the daily target.
Acting Director for Revenue Shaban Asman says they have been forced to extend payment of land rates with waiver of interests due to the current situation.
"We have also focused on sensitising members of the public to use technology, those who are paying for land rates for instance are doing it at the comfort of their homes," Asman explained.
On Monday 27 March, the Director said the County collected Sh47 million from the land rates alone.
"Even with the ongoing protests in total we managed to collect about 62 million plus other areas but if things were normal we can collect about Sh80 million," Asman explained.
The collection from County Parking has also nosedived since the majority of motorists are afraid of parking at the city centre.
"The collection from parking has been affected just like markets when goods don't arrive to the market due to demonstrations we don't get direct revenue as much," he added.
He said for county to make money from parking, motorist must come to the CBD and occupy the available slots.
Nairobi Governor Johnson Sakaja on Wednesday described Nairobi as the home of Kenya's commercial and administrative capital.
Sakaja was responding to Kisumu Governor Anyang Nyong'o who had directed protestors in the lakeside city to take their demonstrations to Nairobi.
"Nairobi County has already hosted two of these demonstrations. We have borne the cost of the disruption so far, Nairobians have patiently put up with the disruption and their taxes have paid for its aftermath," Sakaja stated.
In the first demonstrations in the city centre on March 20, Nairobi County collected only Sh30.3 million which was equated to be about half of the daily collection.
During the daylong protests, several structures at the city were vandalised by rowdy youths who were repulsed by police from entering some areas of the city centre.
In some areas along Moi Avenue, guardrails separating the road were broken and carted away.
Similarly, road signs including Tom Mboya were uprooted and taken away probably to be sold to scrap metal dealers.
In section on Moi Avenue, traffic lights were damaged and some buildings with low glass windows broken.
Related Topics