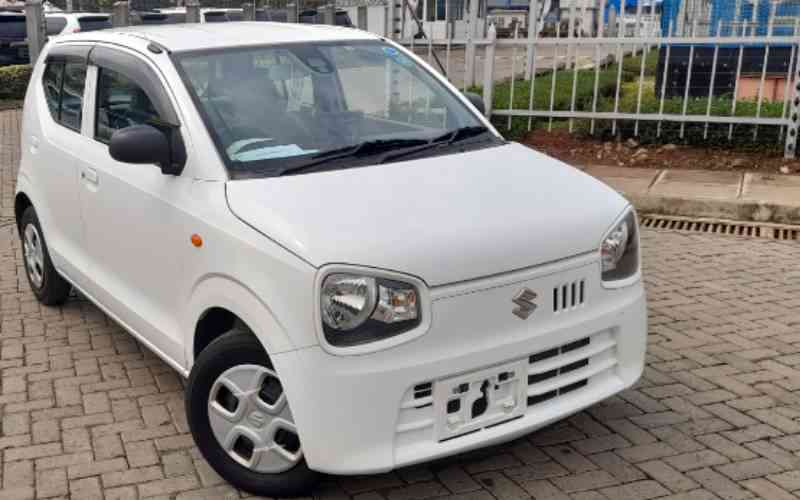 Suzuki Alto has gained popularity in Kenya, particularly Nairobi, among motorists using the vehicle for taxi business.
Its small engine ensures that the car does not hurt your pocket when it comes to fuel. Its maintenance costs are also low.
The Suzuki Alto has a 660cc engine, which has the potential of returning up to 24 kilometres per litre during urban driving.
Its competitors are Daihatsu Mira, Nissan Dayz, Mitsubishi Ek, Honda N-Box and Mazda Carol.
The first generation of the Suzuki Alto, which had an engine size of 539cc, was introduced in May 1979.
In Kenya, a seven-year-old Alto would cost you a minimum of Sh650,000. A few years ago, the vehicle was retailing at between Sh450,000 and Sh550,000.
The prices have, however, skyrocketed of late due to the weakening of the Kenyan shilling against the US dollar and reduced production due to a global shortage of key motor vehicle manufacturing components.
The Suzuki Alto has a few safety features, including airbags and Anti-Lock Braking System (ABS).
Many people, however, perceive it to be a not-so-safe car because of its size and engine power figures.
Nairobi-based mechanic Charles Okoth says the car handles well at low and moderate speeds.
"It is a good car for city errands. It doesn't consume a lot of fuel, and can maneuver in tight spaces because of its small size," Okoth told The Standard.
Okoth said contrary to popular belief, the Alto is relatively spacious.
"Tall people will, however, feel uncomfortable being on the rear seats," he said.
Allan Kimathi, a Nairobi-based taxi operator, told The Standard that the Alto has helped him make more money from his business because of its low fuel consumption.
"I have owned Suzuki Alto for two years now. Before acquiring it, I was driving a Toyota NZE. In my taxi business, I have used both the Alto and NZE, and I would say the Alto makes more economic sense than the NZE," said Kimathi.
"When I sold the NZE two years ago, some people laughed at me, saying I had downgraded. But looking back, I would say the Alto has enabled me to make more money from taxi business," he added.
The rear seats of the Alto can fold to create more room for luggage. With the seats up, the boot has a capacity of 177 litres, which is quite limiting.
The car has a four-speed automatic transmission. Some, however, are still produced with the manual transmission. Most Altos come in two-wheel-drive configurations, with a few having the four-wheel-drive capabilities.
The Alto's small engine drags during acceleration. Accelerating from 0 to 100 kilometres per hour would take more than 20 seconds. So, in case of overtaking, one must really get his or her calculation right.
The Alto's full tank capacity is 35 litres. At the current petrol price of Sh179.42 per litre in Nairobi, you would need Sh6,290 to fill the vehicle's fuel tank.
The vehicle's downsides include its low ground clearance (five inches), low engine power (50 horsepower) and inability to handle heavy load.
Its common mechanical problems include regular failing of the rear wheel bearings, misfiring and lack of power during acceleration, and rattling sounds from the engine due to engine mount issues.
One of its main advantages is that its spare parts are quite affordable.
"Being a common car in Kenya, its spare parts are readily available in many major towns in the country. The parts are also fairly price," Abu Mohammed, who sells spare parts at Shamaz Motor Parts in Nairobi, told The Standard.
Related Topics