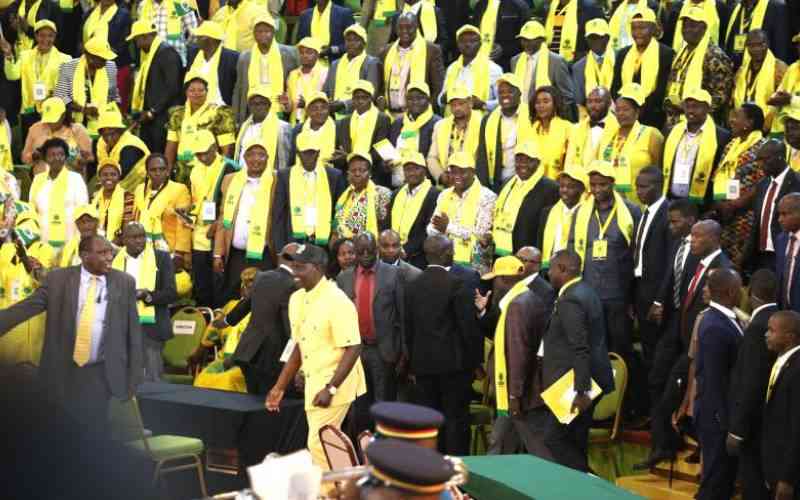 It is a make or break for President William Ruto's United Democratic Alliance (UDA) as it prepares to hold countrywide grassroots elections that most parties have either shunned, or tried and failed.
In his quest to build a behemoth political machine that he envisages to last at least 100 years, Ruto faces a dilemma on how to deal with fringe parties that supported his presidential bid in 2022 but have refused to fold.
But UDA is also enmeshed in a festering internal fight with several factions keen to impose leaders allied to them during the December grassroots polls ostensibly to guarantee them party tickets in the 2027 elections.
In Mount Kenya, UDA officials say that sibling rivalry is bound to emerge as leaders seek to impose their allies who will secure their interests in 2027. But there are also fears of low turnout due to prevailing economic hardships.
UDA's regional coordinator Lucy Wanyitu paints a grim picture ahead of the grassroots polls and admits that it is not a walk-in-the-park exercise, fearing it might make or break the party.
"Only the grassroots election will be physical where 20 polling station committee members will be elected. Other elections will be online, which may bring the issue of technology hitches," she said.
She said in such a big exercise, fears are that bribery, sabotage by rival political parties, infiltration by uncommitted members, technology hitches, and possible fall could affect it.
Wanyitu said another reason to worry will be the losers who may mount a spirited anti-UDA campaign in churches and social gatherings to discredit the party.
"This is why some leaders at the national level wanted the elections delayed so that the losers will have no ample time to spread their anti-campaign slogans against the ruling party," she said.
But should UDA's elections be successful, the party will be the first to hold elections since the Political Parties Act 2011 was enacted.
Opposition chief Raila Odinga's Orange Democratic Party (ODM) was close to holding party elections in 2014 but the so-called men in black stormed and disrupted the elections.
The Jubilee Party conducted county elections in 2016 which were also marred by violence and infighting as elected leaders tried to influence the process.
Fears are rife inside UDA that like past botched elections of ODM and Jubilee, some leaders would want to influence the process to put their stooges into office.
"Those salivating for the political positions will automatically try to influence the outcome of the elections and this is where the elections turn messy and chaotic," said Wanyitu.
Gatanga MP Edward Muriu disclosed that elected leaders, who are automatically members of the National Delegate Council (NDC), will be allowed to seek party positions.
"Additionally all seats at the National Executive Council (NEC) are up for grabs and to be elected, all the 3,600 delegates must vote to elect them," Muriu noted.
With the impending jostling, according to Wanyitu, the party may experience low turnout as the high cost of living has demotivated party members who had heavily invested in Kenya Kwanza's hustler movement.
"People were tired of the Jubilee party and that is why they turned out in large numbers to vote former President Uhuru Kenyatta's candidate Raila Odinga out but with the hiked fuel prices, lack of salaries for the available party positions, there lacks a rallying factor," she noted.
The elections will be coming at a time when UDA has no grassroots offices with those opened during the elections closed when they accomplished their purposes. UDA membership stands at 7.5 million members up from an initial 5.4m. The ruling party is targeting to increase its membership to 15 million by 2027.
Meanwhile, Coast-based parties are at a crossroads on whether to form a coalition or remain independent despite threats from ODM and UDA to swallow them or edge them out.
But ODM and UDA leaders in the region are also entangled in internal fights as their top leaders in the region jostle to position themselves as the Coast kingpins ahead of 2027.
Coast political analyst, Maimuna Mwidani said UDA and ODM were enmeshed in internal fights because their leaders are seeking to outdo each other because of the existing vacuum in Coast kingship.
On the so-called fringe parties at the Coast, she said it is expected some of them would have to fold and join others or establish a formidable coalition to defend their turf from 'outsiders"
"As stipulated in Vision 2030 on political pillars, it is expected that parties will merge based on ideologies. But PAA does not want to be swallowed by UDA," said Ms Mwidau.
Ms Mwindau, an analyst on Coast politics, said PAA wants to be a dominant player in Coast politics to negotiate with ahead of 2027 in "the emerging concept of government shares."
"In UDA, the war between Nyali MP Mohamed Ali and Hassan Omar is about the region's kingship. They are both formidable forces in UDA, and they all want to be kingpins," she said.
Omar is building his support base within and without UDA. He recently warned the state against targeting the business of former Mombasa Governor Hassan Joho's family
Ali has also backed Governor Abdulswamad Nassir who is Omar's political nemesis. But Omar and Ali are also fighting over who takes credit for people from Coast appointed to government.
The two politicians who were the face of UDA in the 2022 campaigns in the county also tried to install rival groups allied to them as party leaders ahead of the party's grassroots election.
But Ms Mwidau said the rivalry between Omar and Ali is because they are both keen to vie for Mombasa governorship in 2027. "But each wants to be Ruto's point men in Coast," she said.
Mr Omar, the UDA national vice chairman, has in the past backed line up led by Mutunga Wambua and Ali Kitaka to clinch the party leadership during the party's grassroots election.
On the other side, Ali backs the faction led by Samir Abdalla, who is currently the party coordinator in Mombasa County.
ODM and UDA remain the most dominant parties in Coast having won many seats in the last polls compared to Coast-based Pamoja Africa Alliance (PAA) which won three MP seats.
Meanwhile, PAA is fighting for survival following UDA Secretary General Cleopas Malala's assertion that all parties that support President William Ruto should fold into one big entity.
The Senate Speaker Amason Kingi-led party has rejected Malala's demands and vowed to strengthen PAA through the establishment of grassroots structures in preparation for the 2027 elections.
Mr Lucas Maitha, the PAA Secretary General, insists that the party has goodwill throughout the country after it bagged three MPs and several MCAs.
"PAA is not for the dissolution of political parties. If we dissolve parties where will our elected leaders go? To us, it is still too early to speak about dissolving parties," he said.
In the last elections, PAA won the Kinango, Ganze and Rabai parliamentary seats. It got Sh11,501,302 from the Political Parties Fund.
Recently, PAA's executive and elected leaders met to discuss preparations for the next elections and recruitment of new members. It resolved to fight any attempt to force it to fold.
KADU-Asili chair Joshua Kombora yesterday admitted that the party has not conducted elections in the last 10 years because of financial problems.
"Indeed, we have not complied with that legal provision but we intend to conduct the elections properly next year. We will settle on the most affordable mode of elections, "he said.
He said that KADU-Asili, Shirikisho, and Umoja Summit were yet to decide whether they should form a coalition. The talks to establish one big party at the Coast collapsed days before the last polls.
"We won the Tiwi ward seat in the Kwale County. We are yet to decide whether will should partner with Shirikisho and Umoja parties. PAA pulled as back last time," said Kombora.
In ODM, Raila Odinga is also walking a tightrope in its efforts to fortify its support base amid dwindling political fortunes, threatening to wane the influence of the 17-year-old party.The Sunday Standard has established the party's Central Committee consisting of a smaller circle of Raila's most trusted allies are crafting a strategy to revamp the party. Insiders say there are fears the party is slowly losing ground as a result of a lack of vibrant grassroots activities in Nyanza, Western, and Coast where it has enjoyed substantial support.
In Nyanza, several officials claimed that most party offices have remained closed as a result of party activities, casting a dark cloud on efforts by the party leadership to revamp the party.
This is compounded by rifts that have emerged between some party members who have endorsed work with President Ruto's Kenya Kwanza. On the flip side, some members have also resorted to early campaigns for political seats, further denting the prospects of unity at the grassroots.
Raila appears unperturbed by the developments, saying he would work with a smaller group of loyalists but will not entertain rebels in the party.
Currently, the party is engaged in a legal fight against MPs Gideon Ochanda (Bondo), Senator Tom Ojienda (Kisumu), Caroli Omondi (Suba South), Elisha Odhiambo (Gem), and Lang'ata MP Phelix Odiwuor as it seeks to kick them out of the party.
Last month, Raila announced plans by the party to conduct grassroots elections as a strategy to revamp the party. However, The Sunday Standard has established the move is yet to be finalised.
"We are planning a delegates meeting before the end of the year to resolve all the issues that have been cropping up, including party elections," said a senior party official.
We established that key party officials are working around the clock to quell tensions, end disloyalty, and revamp the Orange party.
Party insiders say while there may be a lot on the party's plate, they have a formidable strategy to address issues affecting it, including defections by some of its members to UDA.
Some key members of the party who have been instrumental in maintaining its strength across the country, like deputy party leader and former Mombasa governor Hassan Joho, have been a no-show. Other key allies of the ODM leader like former Kisii Governor James Ongwae have since left the outfit.
The fight and the party's zero-tolerance strategy for members deemed as traitors are among the tactics the party has adopted to restore order in the party.
Yesterday, senior ODM officials led by Minority Leader in the National Assembly Opiyo Wandayi told Sunday Standard that they have their plan set to strengthen the party.
Wandayi said ODM has formulated strategic plans that are short, medium, and long-term.
"ODM is a movement and is more than a political party. It captures and embodies the aspirations of a majority of Kenyans. It has survived multiple electoral cycles. Most political parties come and go within one electoral cycle," Mr. Wandayi said.
Wandayi disclosed that they would be having numerous activities at the party that will kick off at the beginning of next year. He said grassroots elections are one of the plans they have.
"We will do these according to our plan. We are not concerned about what other political parties are doing," he said. His sentiments were echoed by ODM Chairman John Mbadi, adding the party has agreed to hold nationwide meetings across the country.
"After every election, if you don't win power there are people who will move away. it is very automatic. There is nothing that has been done to many of these people. They just moved away because they got some appointment in the ruling party," Mr. Mbadi said.
However, Mbadi noted that their defections do not mean that they have moved with the people, as ODM is still the people's party and a mass movement.
"We are making preparations for that. There are programs we have started at the Coast. We have also started some meetings in Nyanza to revamp the party," Mbadi added.
Additionally, ODM's youth league has prepared a report to engineer the youth movement, as part of the strategies to revamp the party.
According to Migori Senator Eddy Oketch, the party's grassroots support and structures are solid.
"ODM has not done its grassroots elections yet. So officials who have been working as elected still stand. And yes ODM has planned to do its countrywide grassroots elections in early next year," said Oketch.
[Benard Sanga, Harold Odhiambo, Ndung'u Gachane and Anne Atieno]
Related Topics