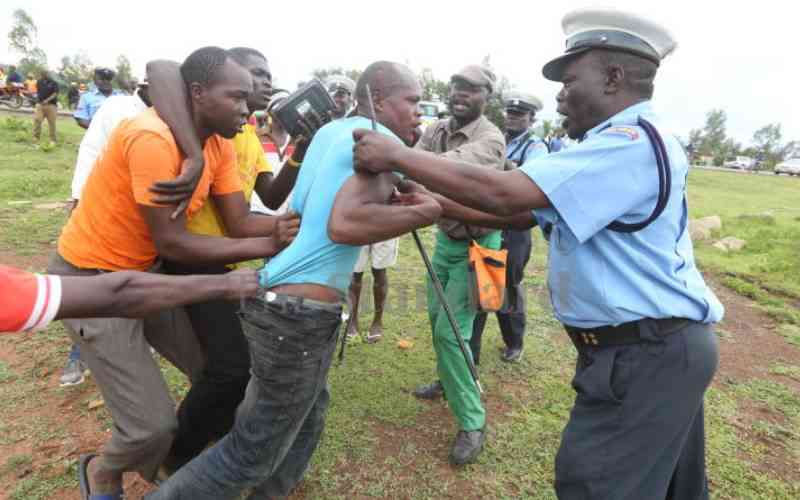 Judge Roselyn Aburuli convicted two people for the lynching of a suspected mobile phone thief in Siaya County this week.
The judge admonished the accused for not apprehending the suspect and handing him over to the police as required by law.
During the trial, the person whose phone was stolen and led to the lynching testified that the deceased had been brought to their homestead before being assaulted. In the postmortem report, it was confirmed that blunt force trauma caused the deceased's death.
In this case, the deceased died as a result of mob in(justice), which means there were probably far more people involved. It was the two convicts who were fingered by the police and subsequently charged and convicted.
After months of viral posts of robberies caught on CCTV and mobile phone footage shared on social media, many Kenyans have advocated "mob justice" to deal with the criminals who appear audacious and bloodthirsty. Their convictions serve as a cautionary tale and a reminder that only law enforcement can deal with criminals, except in cases of citizen arrests.
It's notable that this case was heard and resolved so quickly because the incident occurred six months ago, in May 2022. Comparably, six years have passed since the officers who killed Willie Kimani and his two companions were convicted.
According to my experience, criminal cases usually take between two and six years to resolve. Based on their crime-fighting intentions, I suspect the accused thought the courts would be lenient with them in this case.
They are unaware that the law is rigid regarding how and when accused persons are convicted and punished. It is only the courts that can declare a person guilty of a crime and punish them for it. To avoid wrongly convicting an innocent person, the burden of proof is usually extremely high (beyond a shadow of a doubt).
As the country reflects upon the around two dozen bodies dumped in River Yala in 2021, some of which persons had previous run-ins with the criminal justice system, suggesting police involvement, this case comes at a particularly poignant time. There has been debate over extrajudicial killings, highlighted by President William Ruto's admission that law enforcement may have been involved in executions and enforced disappearances.
As part of a televised national press conference this week, the president committed to ending extrajudicial killings while stressing that police officers can use force and firearms when permitted by law, especially when defending themselves and others.
Over 300 officers have been charged with unlawful use of force in the past six years, and more than 30 of them have been convicted. The vast majority of 110000 Kenya's police officers are law-abiding and serve their people, so it is imperative to keep this in mind.
Interestingly, Kenya is a de facto abolitionist country when it comes to the death penalty, which means that the government does not put to death anyone. In 1987, Kenya executed Hezekiah Ochuka for leading the deadly coup of 1982 by hanging.
Since then, no one has been executed in Kenya. We still have statutes, such as murder and robbery with violence, which still allow the death sentence to be handed down by our courts. It is noteworthy that in 2017, the Supreme Court ruled that mandatory death sentences for certain crimes were unconstitutional, thus giving courts the discretion to consider the context.
This means that our laws and society uphold the sanctity of life and the rule of law. We therefore need to align our national policies to this ideal throughout the criminal justice system.
Related Topics