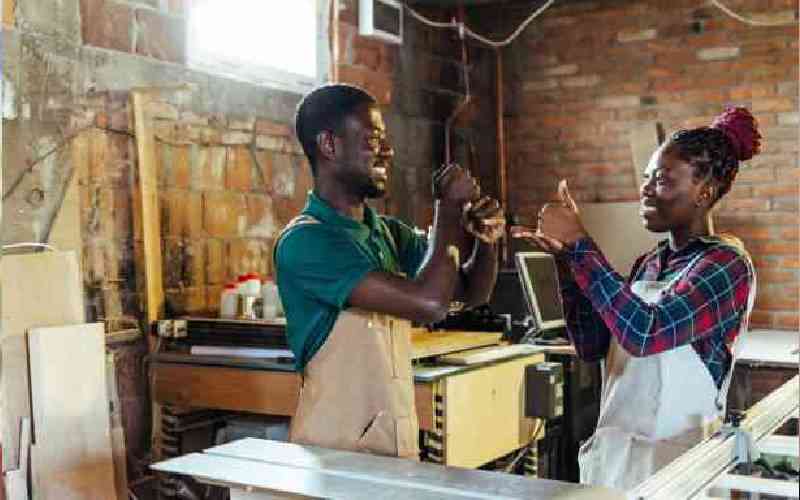 The government has been urged to inculcate sign language as a faculty in the education system.
This will increase the number of teachers training for special needs in the country hence reducing the current shortage in schools.
University of Nairobi is the sole institution of higher learning in the country championing learning to help more students with hearing impairment a chance to attain university education.
This emerged during a National Deaf Symposium at the University of Nairobi, where deaf people united under the theme, Embrace the Silence, Celebrate the Strength.
National Council for Persons with Disability Chief Executive Officer, Harun Hassan, observed that the country still has weak systems which make deaf education to lag behind.
''We ought to train more teachers in this area. We need a robust system whereby we can have two to three teachers in a school which will help to motivate deaf children,'' Hassan said.
Hassan said, communication barriers and acceptance of deaf as a diversity of the human community will address inclusivity in the society.
He said in the last three years, over 1,000 people have undergone training in key areas in police, hospitals to break barriers in service delivery in public facilities.
''Its key for someone to have a basic understanding of sign language to be able to communicate when he encounters a deaf client to access service,'' Hassan said.
He however noted that the government database does not give the correct number of deaf people in the country attributing this to poor infrastructures.
According to him, by 2019 sensus, 153,000 Kenyans have one form of hearing impairment, a figure Hassan refutes.
''To do medical assessment and categorization to ascertain the right number the Berra machines are supposed to be in every county. The currently they are currently found in Moi Teaching and Referral and Kenyatta hospital,'' he stated.
He said, although the function of registration has been devolved to the county government, only two machines are available to register and capture details of patients.
''We need to work on how county governments can take up to fit all the hospitals as a function of health so that all patients can be registered effectively to have the right figure in our database in order to get better services,'' he added.
Hassan further said, it is exciting news for deaf students as MPs propose a sign language bill 2023 aimed at mainstreaming sign language and integrating it into the primary schools' curriculum.
He said, if adopted, the bill will promote accessibility and inclusion for all.
''This bill is going to breathe life to what it means for all this cadur of people. The bill focuses on a framework around the issue of disability inclusion both at all levels of governments,'' he stated.
The bill sponsored by nominated MP, Umulkheir Umi is similar to that which was sponsored by Senators Gertrude Museruve and Margaret Kamar in 2020 sought to have the Kenya Sign Language as a compulsory subject in secondary schools.
He revealed that the government has indicated willingness to address the issues affecting deaf people in the society.
''President William Ruto has urged deaf community to come up with key focuses and challenges we face where we can submit to him through the Head of Public Service.
''People with disabilities will be pushing to the President key issues affecting us so that they can form intervention policies including universal health care, access to education,'' he stated.
Kenya National Association of the Deaf chairman Nickson Kakiri urged the government to work with the deaf organisation in order to map out the right trainers of children in special schools.
''The government should involve the right stakeholders during recruitment and conducting assessment of teachers to identify the right tutors to guide our children in schools,'' she said.
Related Topics