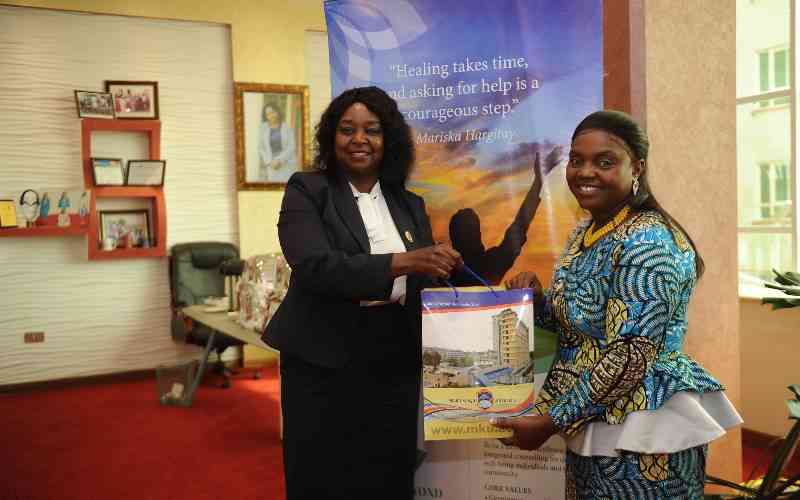 Deputy President Spouse Pastor Dorcus Rigathi has proposed incorporation of mental health in the education curriculum.
She said this will curb increased incidences occasioned by mental illness and also enable learners to cope with stress.
Mrs Rigathi also noted that the proposal would also increase learners' resilience and emotional intelligence when faced with setbacks.
"At learning institutions, students undergo stressful situations such as grief, failing exams, relationships, pregnancy, economic hardships at home and traumas, a situation that necessitates the presence of a counselling psychologist to help them navigate," said Mrs Rigathi.
She was addressing students at Mount Kenya University in Thika. Mrs Rigathi noted with concern that drug abuse and alcohol consumption amongst youths has contributed to mental illness, a situation that she said results in life-threatening incidents such as suicide.
Mrs Rigathi also urged the need to have counsellors and mentors with the capacity to talk to the affected learners deployed in schools
She said the government is taking the issue seriously by establishing rehabilitation centres at the sub-county level, describing the crisis as a global pandemic that requires concerted efforts by all parties to combat it.
Mrs Rigathi at the same time took issue with most parents whom she regretted have abdicated their roles by leaving their children at the mercy of the wild world.
She urged parents to reintroduce the old culture when children belonged to the community and when an elder would punish a child found misbehaving.
The Second Lady lauded the government for intensifying the war against illicit brews and drugs, saying that the vice had contributed to the escalation of barbaric acts in society.
Mount Kenya University co-founder Dr Jane Nyutu said that most youths suffering from mental illnesses cannot score good grades in school.
She said this poor score also obtains in institutions of higher learning, which translates to unproductive people in the job market.
"Your excellency, Mount Kenya University is well versed with the challenges facing this unique generation and to help them we have a full-fledged Student Welfare Department where Counselling is well structured and supported, also Programs are in place to help and offer individualized counselling and group," said Dr Nyutu.
World Health Organization defines mental health as a state of well–realizing the human potential ability to cope with normal stresses of life and work productively.
Research indicates that 50 per cent of mental health disorders begin during the adolescent age of 14 years.
Related Topics