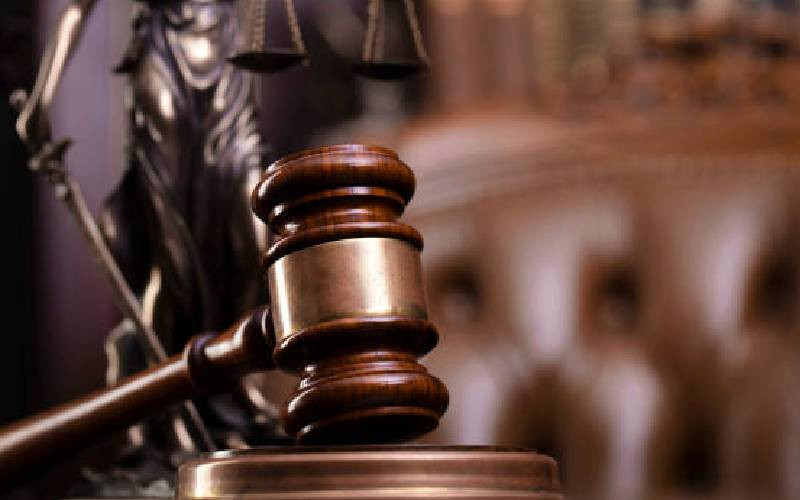 A man who had been sentenced to ten years in jail for rape had his punishment overturned by a Murang'a court over a defective charge sheet.
John Mwangi had been charged with raping a mentally ill woman.
However, Justice Nixon Sifuna ruled that the offence does not exist in this case as the victim is mentally challenged.
In his ruling on May 2, 2023, the judge said Mwangi should have been charged with defilement.
Mwangi appealed his conviction on two grounds; that the case was not proved beyond reasonable doubt and that he had pleaded not guilty, hence the burden of proof lay on the prosecution.
Mwangi had been charged with the rape of EWN, a person with a mental disability. He reportedly committed the offence at Mirira in Murang'a County.
The suspect faced a second count of being in possession of bhang.
Both charges
Muranga Principal Magistrate Edwin Nyaga found Mwangi guilty of both charges. On rape, Mwangi was sentenced to 10 years in prison while on the second count, he was sentenced to serve one year.
Justice Sifuna allowed the appeal on the first count, of rape, quashing the sentence of ten years.
He then ordered the accused to be retried for the alternative charge of committing an indecent act with an adult or an alternative charge of defilement.
On the second count, of being in possession of bhang, Sifuna kicked out Mwangi's appeal and upheld his conviction. At the same time, he enhanced the one-year imprisonment Mwangi had been given by the magistrate to five years, running from February 8, 2019.
Original exhibits
The judge further ordered the original exhibits to be released to the state for the purposes of the retrial.
Sifuna, while delivering the ruling, said that on the first appeal, the court has to re-examine and re-assess the evidence on the trial record and make its own findings and conclusions.
He referred to a ruling of David Njuguna Wairimu Vs Republic where the court of appeal stated: "The duty of the appellate court is to analyze and evaluate the evidence which was before the trial court and itself come to its own conclusion on that evidence without overlooking the conclusion of the trial court."
Related Topics