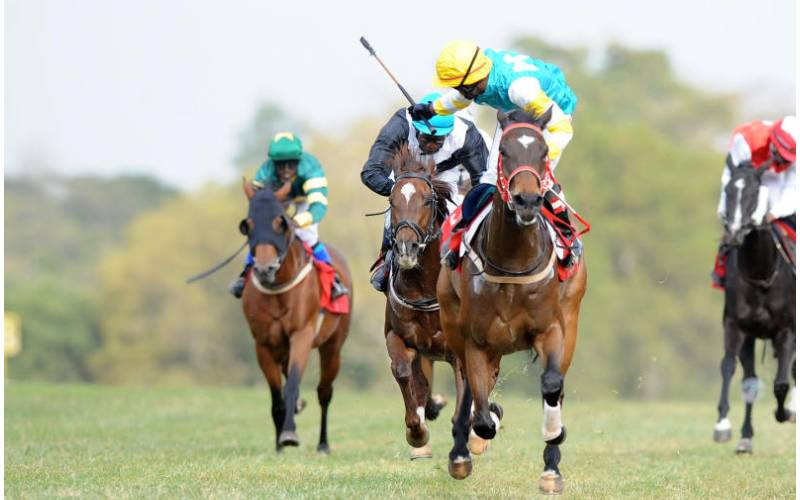 In my younger days, I used to frequent Ngong Racecourse, because back then it was the top scorecard for the entertainment industry meets such as fashion shows, high-end weddings, dog shows, and the fancy vintage motor parade Concours d'Elegance. Then Ngong Racecourse was synonymous with horse racing. The destination was also loved as a family destination, and a host to other entertainment events.
Racing in Kenya began in Malindi when the Sheikh of Malindi, Sheikh al-Bauri planned a racing event to entertain Portuguese Explorer, Vasco da Gama in 1498. However, the first recorded race meeting happened in Machakos in 1839. The first meet took off under the organisation of the then East African Turf Club on 22nd June 1897 to mark Queen Victoria's Diamond Jubilee celebrations. This took place at the Imperial British East Africa Company administrative forte of Machakos.
This first race, Machakos Challenge Cup, was over a half-mile and won by a pony named Tempest, owned by Frank Hall, the District Officer at Kiambu. Further races took place in 1898 and 1899. Enter Alibahai Mulla Jeevanjee on the Kenyan scene in 1890, and a decade later, racing took a turn for the best. The success of the Machakos and Nairobi races is credited to him. The first Nairobi race took place in 1900.
In the early days, the Racecourse bordered the open plains teeming with wildlife. In 1903, a lion chased a zebra across the racecourse as a race was in progress. Word has it that this was the fastest race ever, although a number of the jockeys never made it to the finishing line as their horses panicked.
The races were a crowd puller with spectators travelling through rail from wide and far in the East African Protectorate. Everybody went to the races including governors. No wonder even today, the races are synonymous with fashion shows off. So important was the Nairobi race that it drew many from everywhere; including Kermit Roosevelt, son of former US President Theodore Roosevelt who rode in six races in 1909. His father accompanied him.
The list of VIPs included royals and celebrities such as Lord Delamare, Charles Clutterbuck, Berkeley Cole, Sir William Northrup, Lady Lucie McMillan, David and Lady Jex-Blake, Captain Spencer Tryon and Gooch Graham.
Notable breeders and trainers and other big names such as Diana, Lady Delamere, and Beryl Markham (the first woman to fly solo across the Atlantic) are part of the big names in racing history.
Such was the fame and fun of being at the Ngong Racecourse races as described by Bartle Bull in his book Safari thus, "After the isolation and exertion of life in the bush, whether on safari or farming, the hunters and farmers descended on Nairobi with the explosive enthusiasm of sailors hitting a port."
By 1907, a grandstand had been built where the spectators could watch the horseracing from an elevated vantage point. This has been improved over the years to include private boxes for dignitaries, special sitting for VIPs, several other grandstands as well as a picket fence marking the edge of the racecourse. This setting stands to date.
In 1920 Kenya became a Crown Colony and the East African Turf Club changed its name to become the Jockey Club of Kenya, which it carries to date. Racing spread further upcountry when the Uasin Gishu Gymkhana Club was formed in Eldoret in 1921.
By 1954, the Ngong Racecourse was remodelled after the famous English Ascot course and grandstand, and racing moved from the old Kariakor racecourse. This success was thanks to David Bowden, a racing enthusiast who kept his eyes on racing in Kenya for almost 60 years. The first African jockey entered racing in 1909, and by 1919, many Africans were riding and winning races. Sadly, though, they were never listed, and were only described as "Natives".
However, by 1990, many Africans had entered the horse racing industry with great names such as Joe Muya, a hotelier, breeder, and Jockey Club Director, Steve Njuguna, and Patrick Mungai, both champion jockeys and trainers among others.
Racing continued to grow and today Ngong Racecourse with its nine-hole golf course (opened in 2003) remains the only public horse racing course in East Africa.
Related Topics