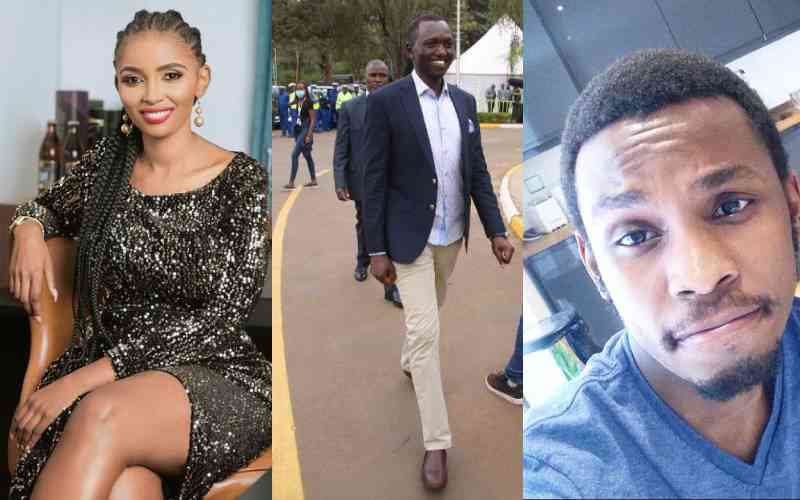 Over the years, our heads of state have been increasingly becoming more transparent about their lives beyond politics by letting us into the identity of their family units. With almost similar likeable mannerisms, the present and former first ladies have displayed admirable, humble personalities.
Despite political inclinations that threatened to plague their political brotherhood, former President Uhuru Kenyatta and his successor William Ruto have displayed unprecedented public affection for their kindred.
After a decade, the former first family has left the House on the Hill as a fully grown family, paving the way for a much younger one. But the most frequently asked question among the youth remains: "With all the State affluence and influence held in your name, what would you do if you were the President's child?"
While many of them chose to lead quiet personal lives previously, it is now becoming increasingly hard to stay away from the limelight and enjoy a quiet luxurious lifestyle on sandy beaches with the rich and famous. Here is a look at how the 'Hustlers' sons and daughters get about their lives amid the paparazzi's glare that is inevitable:
Nick Ruto
Cool, calm and collected. As the firstborn in the first family, he picks a lot of his character and striking genes from his father, President Ruto. Nick lives a pretty simple life and is a lawyer by profession after being admitted to the bar in 2019. Catch him occasionally wearing a smile along with his sociable personality and would once in a while show face at popular city entertainment spots accompanied by his learned friends and flanked by hawk-eyed security, much to the disappointment of thirst-trapped females. However, the 31-year-old has given up the bachelor age and is joining the ranks of 'family man' after tying the knot in a traditional wedding with his spouse Evelyn Chemutai.
June Ruto
She is the president's eldest daughter and holds a degree in international communication. She is quite sociable, although she has led a quiet life away from the public. She works as a diplomat serving as Kenya's Charge D'Affairs in Poland. She has been at different levels of diplomatic relations between Kenya and the European Union. In May last year, she tied the knot with a Nigerian man in a colourful wedding. Kenyans later learnt that the lucky man to have the then Deputy President's daughter's hand in marriage was Alexander Azenagu, an assistant professor of taxation and commercial law at Hamad Bin Khalifa University in Qatar. The colourful wedding was held on the lawns of Ruto's Karen residence.
Charlene Ruto
She is Ruto's third-born. With a bubbly character and a chic fashion sense, Charlene is a social media darling, which brings out her people-friendly character. She studied communication at Daystar University before pursuing a master's degree in business administration in Hotel Management. She works at her father's Weston Hotel as a director at the management level. Close friends have described her as a resourceful and down-to-earth lady.
Stephanie Ruto
She shot to the limelight when her dad, then serving as a Deputy President and First Lady Rachel, attended her graduation ceremony at Strathmore University where she graduated with a law degree. Steph prefers a quiet social life away from public scrutiny, but her soon-to-be admission to the bar at the Kenya School of Law might change all that.
George Ruto
He caught the attention of the public as his father, The 5th, was captured on camera parting his rugged afro-sized signature hair to level ahead of a national function. "This hairstyle is the latest trend dad," he shrugged him off, bringing out his casual but cordial relationship with his dad. George, the youngest son, is undoubtedly the family's cheeky brother, a character that will take him places with his current profession where he works as a pilot.
Riggy G's KK Brothers
They have enjoyed a considerably quiet private life but with the fast risen status of their father, now popularly known as Riggy G on social platforms, it will be a tough call for the KK Brothers to stay off the limelight of their father's swelling fame and their mother's prayerful life. Just a handful of pictures of them are available on social media besides the many that their father shared showing their younger days.
Kelvin Ikinu Gachagua
The bold strides as he attended his father's inauguration at Kasarani Stadium seemed to tell it all: He is the firstborn and easily follows in his dad's footsteps. Kev is a software engineer who studied bachelor of business and information technology at Africa Nazarene University. As characterised by many of his peers in the IT world, he is not active on social media and rarely shares posts on his social media handles.
Dr Keith Ikinu Gachagua
Dr Keith Ikinu is the secondborn son of the Gachagua homestead. An alumnus of the Alliance Boys High School, he emerged among the top performing students during the KCSE exams in 2010. Now aged 29, he joined the University of Nairobi to pursue a bachelor of medicine (surgery) degree. He graduated in December 2019 and according to his father's heartfelt social media birthday message, he is already practising medicine. "You continue to encourage me with your selfless service and calling as you attend to patients day and night at Mbagathi's District Hospital," Riggy G's post read.
Although not all children of political figures come from well-groomed and rosy upbringings, a handful have hinted at following in their parents' leadership footsteps by achieving academic excellence or mastering their business acumen.
Kabogo Jnr
Flamboyant, fun-loving and witty, William Kabogo's son exudes the same energy as his dad. "Mr Money Bags", as some of his peers refer to him, never shies away from flaunting luxurious hangouts, expensive drinks and life on the fast lane. However, it is not just about fun and play - he attended the University of Brighton in England for his undergraduate degree before proceeding to Westminster in the UK for a further degree.
Oparanya Jnr
Ian Oparanya, the son of former Kakamega Governor Wyclife Oparanya, has been quite a hit with his carefully selected social media following. In 2019, hundreds sent congratulatory messages after he shared the news indicating that he had attained First Class honours in economics. "I had to put in work and I thank all who were behind me," read his post. His father has previously served as Planning minister. As they say, the fruit does not fall far from the tree.
Arnelisa Muigai
The heiress of Keroche Breweries Arnelisa Muigai has hinted at following in the footsteps of her mother and newly-elected Nakuru County Senator. Sharing a video on her social media pages while congratulating her mother during her inauguration, she said: "You inspire me and I admire your work ethic. You might be looking at your next governor." Arnelisa has been involved in the active running of their company and may just acquire a more senior role with her mother now actively involved in politics.
Related Topics