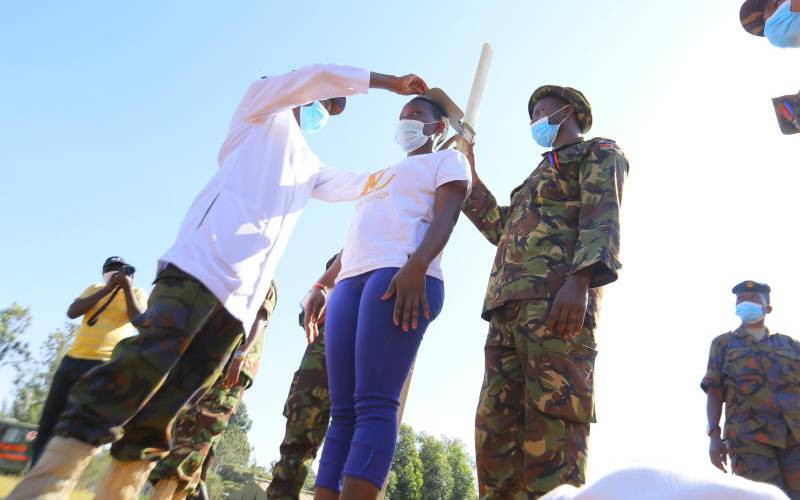 Plans are underway to recruit Kenyans into the Kenya Defence Forces (KDF) this year, in the months of August and September.
KDF, in a statement, has since warned members of the public against engaging in recruitment malpractices.
The annual exercise usually attracts several applicants, with all manner of behavior and appeal.
Vice Chief of Defence Forces (CDF), Lieutenant General Jonah Mwangi, while appearing on local television outlined a list of requirements that one has to meet, to qualify for the upcoming recruitment.
Qualifications
As with all job requirements, academic qualifications are essential.
An applicant seeking to join KDF must have attained a minimum grade of D and above in the Kenya Secondary Certificate Education (KCSE) and higher grades depending on the category that they intend to join.
"In a recruit, we look for three things. You should have the correct physical standards, be medically fit and have the right papers," said Mwangi on Citizen TV.
Mwangi also specified that for one to join the Defence Forces, they have to show confidence by believing in the job.
Applicants must also be between 18 and 26 to apply for the General Service Officer Cadet or a General Service recruit position.
Why short people are disqualified
The Vice CDF further clarified that women who apply as recruits should be at least 5 feet above, while men should be at least 5 feet and 3 inches (5'3).
"Short people are great but there's criteria that is set and is not only applicable to the KDF, it is everywhere. The personal weapons that we have are over four feet, you can imagine going to fight and the weapon is taller than you so that's a big challenge," he explained.
He claims that those who join the Forces with a height lower than expected are likely to fail the test of attaining the required weight of 50 kilograms.
"If you are less than 50kgs during training, we require you to carry a weight between 18 and 25 kilos so that will be half or three-quarters of your weight. As you go towards the end of the training, you are required to carry heavier loads," Mwangi said.
Tattoos and Birthmarks
The Vice Chief of Defense Forces also warns applicants with tattoos and birthmarks on their bodies would be interested in the jobs.
"You are not going to be recruited if you have a tattoo because the policies from history will disqualify you. Birthmarks could be an indicator of a weakness in the skin structure…if you have certain birthmarks and they get into contact with the weight then that would cause an injury that would put you off training," he added.
Medical checkups
Mwangi said that those interested in the job should go through a thorough medical checkup that would help identify if one had a hidden medical condition that might make him or her unfit for the job.
"The medical checkup help prevent the incidences of people fainting on the recruitment line. Even though there is always an ambulance ready to take patients for medical care," he said.
In the checkup process, women who are found to be pregnant are disqualified instantly.
To add to another fitness, the recruit teeth should be completely set and not discolored.
Stammering
Mwangi also said that stammers are disqualified from the job because it requires good communication skills.
Additionally, people with criminal records are not qualified for the job as the recruits are required to provide academic credentials and other documents like a KRA pin.
Mwangi also warned members of the public against personnel who take advantage of the job to take bribes in exchange for job offers.
The exercise has been scheduled for August 28.
Related Topics