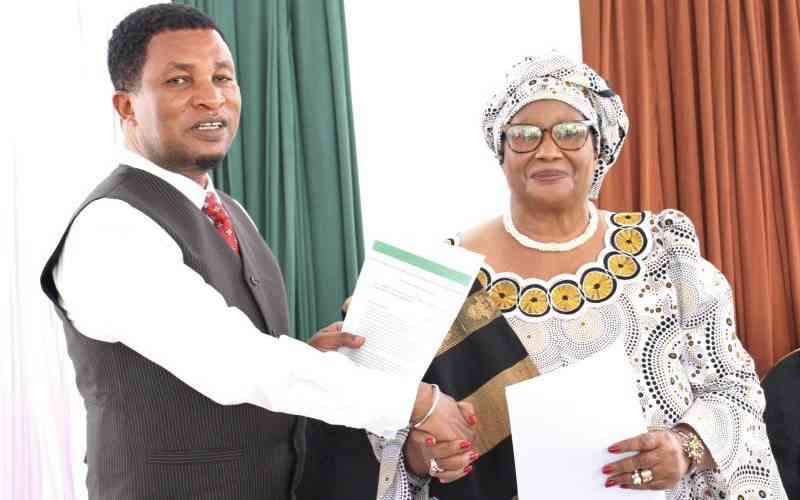 Former Malawian President Joyce Banda and Pan African Climate Justice Alliance (PACJA) have signed a partnership to push for climate justice.
Climate justice entails ensuring just representation, inclusion, and protection of the rights of those most vulnerable to the effects of climate change..
The pact will push for loss and damages for African countries. The alliance announced Ms Banda as the goodwill ambassador for loss and damages in Africa.
Banda said that rich countries must pay the price for the impact of the climate change that Africa is currently facing, including floods and drought due to industrialisation of the north at the expense of the south.
"… so that we carry out mitigation measures like tree planting, constructing gabions and ensuring resilient farming," said Ms Banda
She said it is time the African continent raised its voice and forged strong partnerships with the north to see how the most affected people by climate change can be helped.
Banda, who through her initiatives is helping communities in her country be resilient, promised to push for climate justice.
"We also need to educate our people about their activities which can contribute to the wrath of mother nature because some are stubborn... and thus build preparedness and resilience," she said.
PACJA Executive Director Mithika Mwenda said the partnership will be crucial in addressing issues related to climate change in Africa.
"We have resolved in our meeting to strengthen PACJA and the government of Malawi collaboration through the office of Goodwill ambassador of Cyclone Freddy her excellency Joyce Banda. We shall work jointly in actions that foster global cooperation for urgency to tackle Cyclone Freddy in Malawi and overall climate-triggered emergencies in Africa and globally," said Mwenda.
Banda spoke after holding bilateral talks with Malawian High Commissioner to Kenya Calista Mutharika at PACJA's headquarters in Nairobi.
Mwenda added: "We hope this will amplify the voice of mothers, girls and women leadership in Africa, and ensure the visibility of our priorities are not obscured by issues of lesser concern, but which are made a priority by those capable of controlling international geopolitical agenda."
The alliance, together with Malawi government and Banda agreed on a common position in calling for paying for loss and damage by developed countries, who have been blamed for the high emission of carbon dioxide in the air.
"Collectively, we believe Africa, and Malawi in particular, is paying the cost of climate change caused by rich countries' actions. Vulnerable people in Africa are paying double-price, having been colonised and their resources used in the West's road to current level of development," said Mwenda.
Mwenda added: "We insist that for the loss and damage facility to make meaning to vulnerable people of Malawi and Africa, it ought to be new, predictable and adequately resourced and should be additional to existing funds, and not just repackaged existing humanitarian support as loss and damage."
In their six-point call for loss and damage, the three called upon the United Nations to mobilise and deploy resources to support Malawi and other African countries facing similar climate triggered disasters.
"This, as they institute measures to implement national readiness programmes for loss and damage to enhance capacity for country-level leadership in coordinated response," said Banda.
They also called for urgent delivery on the facility for financing loss and damage alongside adaptation actions.
"Adaptation finance must be scaled to trigger more investments on locally-led adaptation actions," she said.
Related Topics