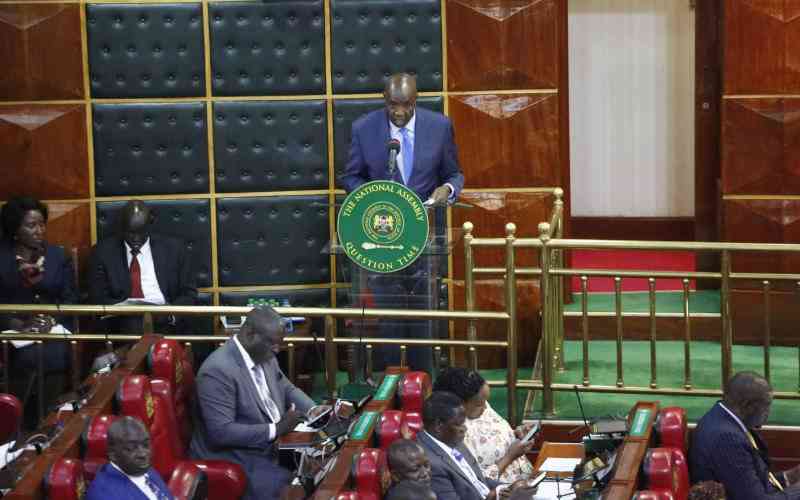 Some Sh24 billion have been released to all public schools, ending the long wait that led to a financial crisis in the institutions.
The government announced it has finally released some Sh15.6 billion to cater to Free Day Secondary School (FDSE).
Another Sh4.6 billion has been channeled to support Free Primary Education (FPE) while some Sh3.8 billion will go to Junior Secondary School (JSS) capitation.
Schools have been advised that the money shall hit accounts immediately.
This however comes as a relief to school heads after unfulfilled four weeks' promise that forced schools to endure challenges since the start of the second term.
Junior Secondary Schools learners will have to wait till Monday to receive a share of Sh3, 812, 377, 184 as capitation from the government to run them the entire term.
Speaking in Parliament on Wednesday, June 7, Education Cabinet Secretary Ezekiel Machogu assured MPs that the funds were available and will reach schools by Friday.
''This morning (Wednesday) I have had an engagement with the Principal Secretary, Treasury, and have confirmed by tomorrow (Thursday) the funds will be in the Ministry and after, we will disburse to our schools,'' Machogu said.
This emerged after Emuhaya MP Omboko Milemba said many schools were on the verge of collapse due to delayed capitation.
''What measures is the government taking to ensure capitation is sent to schools? Currently, school heads are negotiating with students on meals to jump and even forfeit that can lead to students unrest,'' Milemba said.
This week, secondary schools' heads through their chairman Kahi Indimuli said schools were experiencing a cash crunch warning that unless the government releases funds to schools were not going to run anymore.
''At the moment schools are being stressed. I'm aware of schools that have not been able to pay workers' salaries since last term around February,'' Indimuli said.
He added: ''With little money, the principals cannot really distribute to manage to pay salaries especially where the numbers in the schools are very small.''
Indimuli further said schools were running under the mercy of the suppliers and risked being taken to court with huge debts.
''We must appreciate the many suppliers who provide services to the schools. They have endured to supply and hold on the moment this supplier stops supporting our schools then we will see the schools crumbling,''
He said further delays would lead to challenges seen in the second term which sometimes could be attributed to the external influence that boiled down to unrest in schools.
''The students erupt and to an observer, it becomes poor management on the side of the principals. Nobody looks at whether the head was well facilitated to perform his duties,'' he said.
Some heads had started food rationing in schools with some opting to negotiate with learners on skipping meals in order to cut costs while some threatened to send learners home for fees, blaming the government for the delayed capitation money.
The second-term co-curriculums including music, ball games, and sports were on the verge of suspension as regional education officers were unable to finance them.
''These issues boil down to management. When you are not able to pay salaries, not able to provide teaching and learning materials, and not able to take students out for activities, teachers and workers raise issues, and in the process it reaches students,'' Indimuli said.
Related Topics