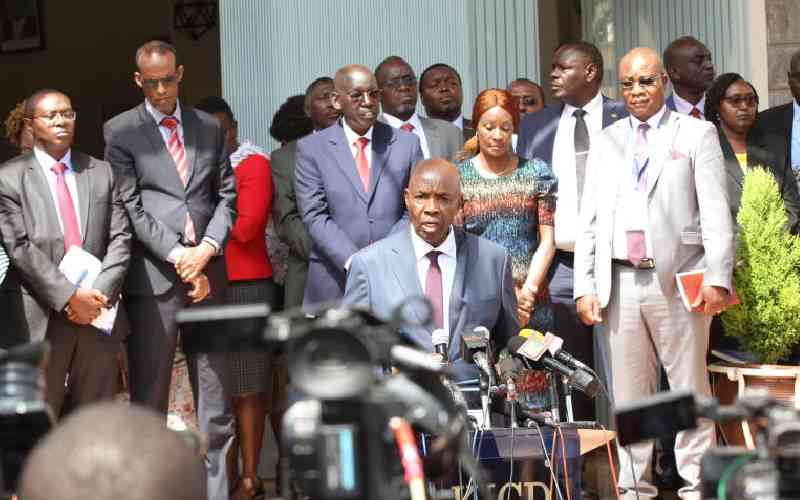 The country's top pupils in the Kenya Certificate of Primary Education (KCPE) exam will both be joining Alliance High School.
Fwaro Makokha Robinson, a pupil at Christ the King Academy in Bungoma, and Otieno Lewis Omondi from St Peters Mumias each scored 431 marks to tie at position one in last year's exam.
Both candidates had picked the top national school as their first choice.
Migori County's top student Julius Chacha Mwita who scored 429 marks out of 500 will be joining Kapsabet Boys High school.
He was a candidate at Momokoro Academy in Isebania town.
Analysis of data compiled by The Standard by the time of going to press yesterday showed Alliance, Mang'u and Kenya High among national schools taking a bulk of students that scored above 400 marks.
Schools of choice
In Nyeri County, top students were elated after they were selected to join schools of their choice.
Larry Mburu Gikonyo from Good Shepherd Academy will be joining Mang'u High School after scoring 425 marks, while Claire Wanjiru Muraya (424) will be going to Kenya High School.
The students from the private school were among 9,443 candidates who scored 400 marks and above nationally.
The Form One placement comes nearly a month after some 1.3 million candidates sat the KCPE exam.
In Meru County one of the tops students at Amwamba Primary School, Lindell Mwende, who scored 427 marks, will join Pangani Girls High School in Nairobi.
Public schools in Meru, Embu, Murang'a and Nyeri counties maintained their high performance in the national exams, with some having as many as over 20 students with over 400 marks out of a possible 500.
Muriithi Catherine Wangechi, one of the top performers in Nairobi County with 425 marks at Accurate Schools, Komarock was selected to join Starehe Girls.
Amitao Agnes Celine also of the same school who had 422 marks will be going to St Brigids Girls, Kiminini, while their classmate Muraguri Collins Njoka who had 423 marks joins Mang'u High.
Gatambia Florence Muthoni (422marks) will join Moi Girls Isinya as Siasi Kings Agala who had 420 marks joins Starehe Boys Centre.
Mweha Mattias Mburu who got 401 marks at Mwihoko Primary School in Ruiru joins Murang'a High School while at Ngenda Primary School in Gatundu South, Mugo Angela Waithira who had 412 marks will join Alliance Girls High School.
Kimani Ryan Mwaura who had 415 marks at Moi Forces Academy will join Alliance High School.
Moses Krystal Natalie, who got 404 marks at St Judes Donholm Primary School, was selected to join Our Lady of Mt Carmel Mary Hill Girls High School.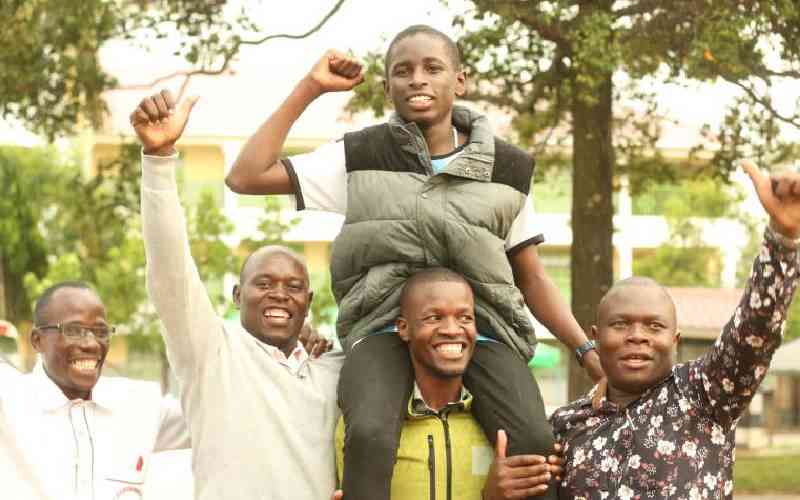 Happy to get placements
At Rockfeilds Junior School in Nairobi, 55 candidates who attained over 400 marks were happy to get placements in their dream national schools.
Zian Ombungu, who topped the school with 424 marks, will join Mang'u High, while Akunga Joy Nyaboke with 423 marks is to join Alliance Girls High. Moseti Kevin Nchore who had 420 marks will also join Mang'u.
Others include Mwendwa Shalom Musyoki with 419 marks who will join Alliance Girls, Biwott Alden Kiplangat with 418 joining Mang'u and Gikono Ethan Jude Kyania joining Nairobi School.
Other top performers like Barack Lumbasi, who scored 420 marks at Kakamega Primary School, and Katumanga Annold Ndeta (417) from St Teresa's Isanjiro will be joining Alliance High School.
Betty Moraa Ogoti who scored 421 marks from Moi Primary School Kabarak in Nakuru is headed to her dream school, Kenya High. Joining her at the national school will be Crystal Heri Papa (424) of Abundant Life Academy, Vihiga.
Elsie Musimbi (414) and Elsie Nechesa (409), candidates at St Teresa's Isanjiro will also be going to Kenya High.
Weinsley Wamoyi from the same public school has been admitted to Mangu High after scoring 415 marks.
Eucabeth Awino from Abundant Life Academy, who scored 417 marks will be joining Kenya High School while Brian Kamanda from Vigina Primary (416) will join Kakamega High School.
Chavera Niven of Abundant Life Academy Cheptulu (408) will be going to Mang'u High.
Kabianga High School picked Barrel Mandlah (404) and Pendo Jimbo (403) from Applegate Primary; Joshua Munyala (405), Sean Terry Indama (402) from Abundant Life School; and Evans Wangalwa (404) from St Peter's Mumias.
Omenge Blevins from Booker Academy who scored 421 marks will be joining Mang'u High as his schoolmate Swedo Goran Johnson who managed 420 goes to Alliance High.
Kakamega Primary School headteacher Dickson Wanyangu said most of the over 500 pupils who sat last year's exam in the institution got their first choice schools.
Anne Onyancha, the headteacher of St Peter's Mumias, said she had more than 50 candidates scoring over 400 marks who secured slots in national schools.
In the Rift Valley, Leon Maina of Roots Academy who got 420 marks will be joining Mang'u High School.
Maintain performance
"I am glad to have been posted to a school among those I had selected. I commit to do my best and maintain this performance in high school," said Maina.
Tracy Wanjiru, another candidate from the school who got 412 marks, will join Alliance Girls High School.
Collins Odhiambo, the school headteacher, said a majority of their students were posted to schools of their choice.
"All the candidates we have verified their placement have been posted to their first or second options. I believe the placement process was fair based on performance and choices made by candidates," said Odhiambo.
An elated Tom Mureithi, the top candidate at Gilgil Hills Academy in Nakuru, who scored 428 marks, was placed at Alliance High School.
"This is my dream school. I believe it is a great school where I hope to excell and pursue Medicine in future," said Mureithi.
Otieno Tesha Mongo from the same school who scored 402 marks was however disappointed at missing his first choice.
"I had hoped to join Kenya High School but have been posted to St Theresa's Tartar Girls Secondary in West Pokot," said Tesha.
Cephas Mwangi, the school headteacher, said several candidates were posted to schools they did not choose.
The script was the same at St Peter's Elite School where the headteacher, Linet Yugi, said they were disappointed after some of their top candidates were posted to schools they did not choose.
Ndege Collins, a candidate from the school, was however happy with his selection to Alliance High School. He got 416 marks in KCPE exam.
Excited
In Baringo, Mogotio Little Friends Academy's top candidate Kiprono Gloria, who scored 425 marks, will join Kenya High School. According to the school manager, Fredrick Kadima, 59 out of 84 candidates were placed into national schools across the country, with the remaining getting places in extra-county schools.
Samson Kiago Isaboke, who scored 422 marks to emerge the top KCPE candidate in Trans-Nzoia County, is among those excited with their placement.
Kiago will join Alliance High, his first choice, and hopes to make his dream to be a pilot come true.
Nangole Wafula, the Director of St Anne's Academy Kiminini, commended the Ministry of Education for the Form One placement.
"We are happy that the government has admitted students to schools of their choice," said Dr Wafula.
In Nandi, some parents protested against the Form One placement results, saying the schools were not the choices of their children.
At Bishop Alexander Muge Primary School in Mosop where 44 students scored over 400 marks, parents said 20 students were admitted to schools in Turkana and others to other counties.
Nicole Jepkoech from Bishop Muge (424 marks) and Cherop Lagat (423) will join Alliance Girls while Nicklause Kiprotich (422) is to join Kapsabet Boys High school.
Fabian Boen, 419 (Alliance High), Dallian Cheruto 418 (Moi Girls Eldoret), Winne Chepleting 416 (Kenya High) and Keith Andrew who scored 415 marks in 2022 KCPE will join Kabianga Boys.
At the Coast, the top girl in Kwale County, Dorcas Mutethya Ndunga with 427 marks, will join Moi Forces Academy, Lanet.
Related Topics