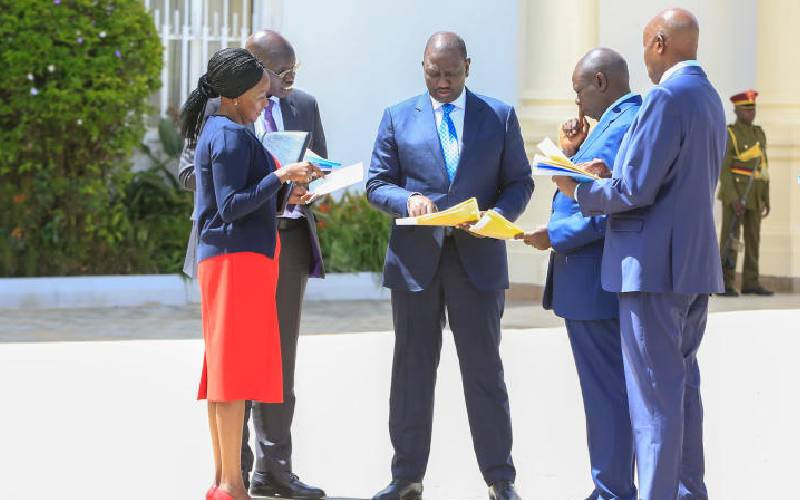 After six years of studying under a new education curriculum, three years of school-based assessments, and another three days of rigorous Grade Six national examinations, it has been decided that junior secondary learners will remain in primary schools.
This is the radical verdict that the Kenya Kwanza administration arrived at after the Presidential Working Party on Education Reforms presented their first report to President William Ruto yesterday.
The report also recommended that the just-ended Kenya Primary School Education Assessment (KPSEA) exam will not be used for placement in junior secondary schools. "Instead, it will be used as an assessment to monitor learning progress and provide feedback to education sector players on areas that require intervention."
The shocking decree on placement of learners has put to rest a debate that had split education stakeholders.
"Junior secondary schools - Grade 7, Grade 8 and Grade 9 - will be domiciled in the existing primary schools," read a statement from State House.
The Kenya Union of Post Education Teachers (Kuppet) and Kenya National Union of Teachers (Knut) had been pulling in different directions on where the junior secondary learners should be domiciled.
Educationists and scholars also differed sharply on the matter, with some arguing that transition does not mean movement from one physical space to another, while others said the shift was necessary for learners' psychological health.
Parents also said their children were too young to join secondary schools.
Kenya Parents Association chairman David Obuhatsa yesterday welcomed the decision. "Many parents were not comfortable sending children to secondary schools. Neither were they ready to pay school fees in secondary schools. We are relieved and now we will go to the festive season with fresh minds," he said.
Sources in the Presidential Working Party on Education Reforms revealed to The Standard that concerns over the tender ages of primary school children and a strategic plan to avoid double intake pressures were some of the reasons learners in senior grades will remain in primary schools.
Parents were worried that their children would not be safe in secondary schools, which they interpreted to mean boarding institutions that are associated them with arsons and indiscipline.
Kuppet Secretary General Akelo Misori expressed dissatisfaction with the decision, terming it 'inimical' to CBC reforms. "Kuppet is deeply disappointed by the recommendations made in the interim report of the Presidential Working Party on Education Reform. It is clear that the Working Party has decided to negate the essence of the Competency-Based Curriculum but only lacks the confidence to say as much," he said.
He added, "The Working Party has created more problems than the one it sought to solve. Rather than pronounce itself on how the transition to JSS should be handled, it has falsely directed the Ministry of Education to 'provide the necessary guidelines'."
But Knut Secretary General Collins Oyuu hailed the decision, saying the task force had captured the views of teachers in the country.
"We are home and dry. We have scored highly in this game since most of our recommendations have been captured in totality. What we presented has been taken care of," Mr Oyuu said.
The Knut boss said the three years of Grades 7-9 should be re-named senior primary school or intermediate level. "We even propose to them to have a different level of administration and also issue learners with a different set of uniforms to distinguish them from the lower level in the same set-up."
Mr Oyuu said the union had raised the red flag when the new system was rolled out but their views were ignored. "We had three research findings way back before the task force was formed, which took us four months to come up with. We had actually thought of giving it to the former Cabinet secretary to use as a case study but we were told the train had already taken off."
President Ruto's decision reverses the Jubilee Government plan that saw former Education Cabinet Secretary George Magoha make trips across the country to oversee construction of over 10,000 classrooms, gobbling over Sh8 billion. According to the new plan, those new classrooms will now be used to decongest crowded high schools as the government plans for transition from 8-4-4 to the 2-6-3-3-3 education system.
It also emerged that the government was keen to ensure some of the systemic challenges of infrastructure and teacher utilisation were properly addressed during transition. Our sources said that to achieve this, full exit of the 8-4-4 cohort was given priority in the transition plan.
This means that the last 8-4-4 group, which will sit KCPE exam next year, will join Form One in 2024, while current Grade Six learners will exit junior secondary in 2025.
This means there will be no Form One class in 2025, which will give the government time to prepare for transition to the next level of learning.
On the teaching staff, the task force heard that about 17 per cent of teachers have post-P1 training qualifications and can teach high school students.
A government statement said an extra classroom will be built in each primary school, with construction of laboratories given priority.
Misori said KPSEA had been declared redundant, adding that "learners will continue in primary schools hence delaying their academic, social and emotional development."
Related Topics