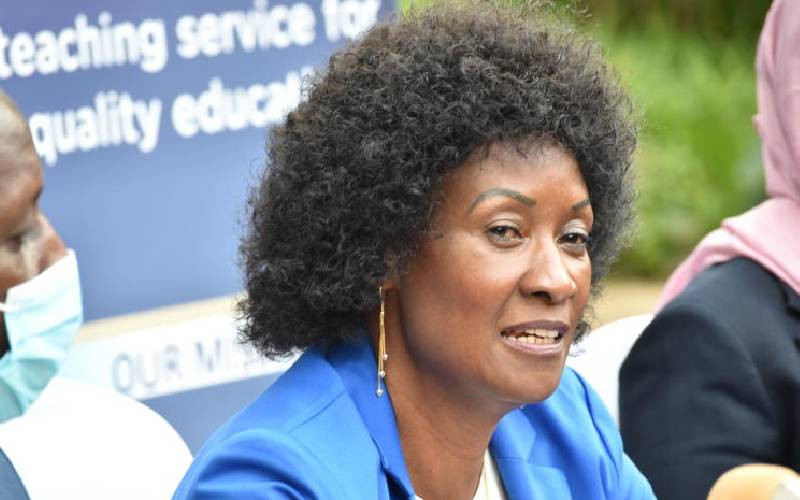 The Teachers Service Commission (TSC) has commenced deployment of practising Primary Teachers Education (PTE) teachers to secondary schools.
This comes after TSC officials engaged the Kenya National Union of Teachers (KNUT).
TSC Chief Executive Officer, Dr Nancy Macharia said with the Competency-based curriculum in place, more teachers will be deployed to Junior Secondary.
Knut Secretary General, Collins Oyuu noted the deployment process has been ongoing.
''The process of deployment started long ago. It has been an ongoing process in readiness for the next year's Junior Secondary transition,'' Oyuu said.
The commission issued Nairobi County with five deployment letters, with Kilifi, Kiambu, Makueni, Embu, and Kajiado counties receiving three each. Nakuru County received two.
TSC had set targets for teachers in order to qualify to be deployed to teach in Junior Secondary.
TSC further said it will offer training to the teachers who will be deployed to Junior secondary.
The teachers' body did not advertise for the deployment posts this year, but instead, used a generated merit list from previous applications in past years to deploy the PTE teachers.
In 2019 and 2020, TSC advertised for 1,000 deployment posts in a bid to fill the teachers' deficit, noting the teachers will help in supporting the 100 per cent transition from primary to secondary schools.
TSC uses deployment as a form of promotion for primary school teachers, who have furthered their studies.
Members of Parliament had pushed TSC to allow teachers with a KCSE mean grade of C plain or lower, those who had obtained a diploma, postgraduate diploma and degree from accredited learning institutions to be promoted.
However, TSC raised a threshold for those instructors who wish to work in Junior Secondary.
Apart from being a Kenyan Citizen, a successful candidate must be a holder of a P1 certificate, and a bachelor's Degree holder in education with two teaching subjects.
In addition to having a degree secondary option, the deployed teachers must also have at least C+ in KCSE and at least C+ in the teaching subjects and serving under TSC.
However, unknown to many, there is a section of primary school teachers, who joined universities to study degree secondary options, but they only had a C (plain) mean grade in their KCSE exams.
During their time, universities including Nairobi, Kenyatta, Pwani and Mount Kenya registered and offered lectures to students with a mean grade of C (plain) in KCSE so long as they had a PTE certificate.
Those deployed started at job grade C2 at a basic salary scale of Sh34,955 and Sh43,694 at a maximum per month. They also enjoy a commuter allowance of Sh5,000, a house allowance of Sh7,500 for those who are not in any municipality and a leave allowance of Sh6,000 paid annually.
Those in hardship areas earn an additional hardship allowance of Sh10,900.
The teacher will move to job grade C3 upon completion of three years as stipulated in Career Progression Guidelines for teachers (CPG).
Related Topics