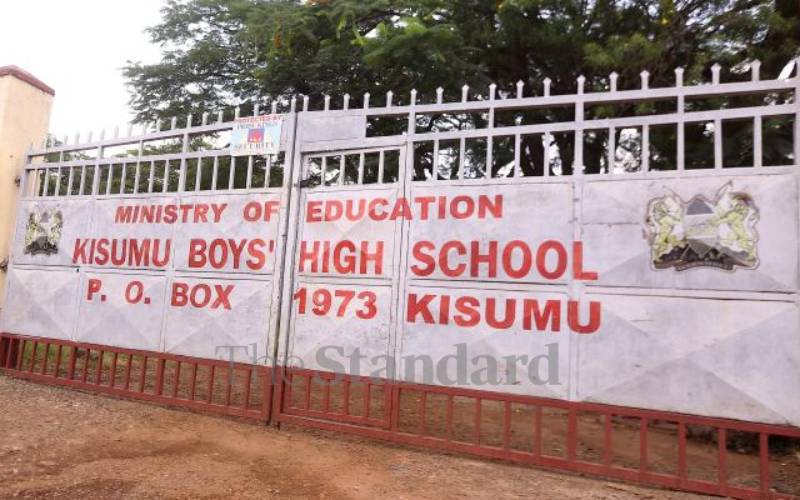 Heightened surveillance and a strong guidance and counselling department played a major factor in curbing cases of arson at Kisumu Boys High School in 2021.
The school, one of the best performing schools in Nyanza and Western regions, did not report a case of arson last year.
This was despite the wave of schools fires sweeping across Kenyan schools, disrupting learning activities.
Kisumu Boys Principal Peter Obwogo believes the close relationship between an established alumni foundation and the school had also to a greater extent helped it avert the menace.
"I have been in different schools, but what I have seen here is different. The alumni always come here to give back to the community and encourage students," said Obwogo.
Obwogo spoke to The Standard at the school after receiving a cheque of Sh200,000 from the Kisumu Boys Alumni Foundation President James Mwamu. The money will go towards helping at least 20 bright and needy students through settling their fee arrears.
According to the school principal, most students are from the slums and focus more on education to change their family fortunes.
But Obwogo says it has not been a rosy affair, as some culprits attempted to burn the school, but their efforts were thwarted.
"We got hold of the few disgruntled students and presented them before the board of management which took decisive action," said Obwogo.
The school also boasts of a strong guidance and counselling department, where teachers and students form families to discuss challenges that students are facing.
This makes it easier for the school management to address some of the issues in time.
Lawyer James Mwamu says the school has produced notable names across the world.
"We are reaching out to those (alumni) who have not yet formally joined our foundation. Together, we can make this school a centre of excellence by providing much-needed support to students and encouraging them to focus on academic excellence," he said.
Related Topics