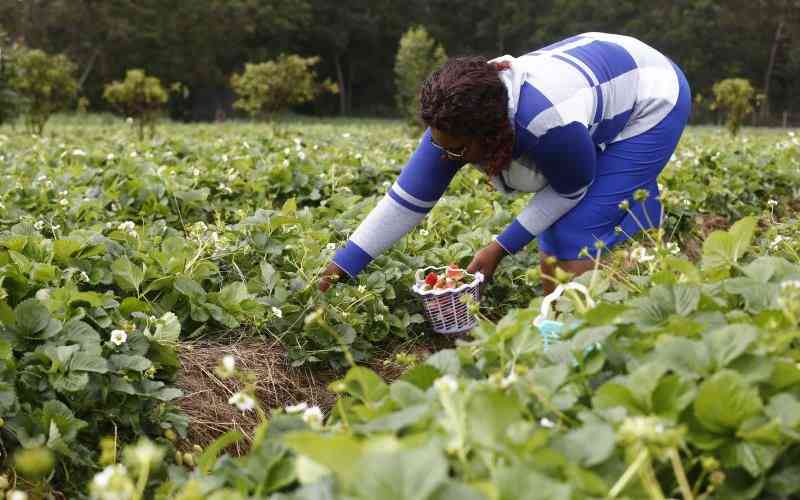 Making wealth from a small homestead is many people's dream. While it may feel elusive, with effort, one can take steps to make it a reality.
Agronomist and farmer, Gilbert Mwangi from Kiambu who has managed to build something admirable from farming shares a few lessons on achieving this goal. Mwangi's farm is about half an acre, and he earns a decent living from growing cash crops.
From growing garlic to cultivating mushrooms, he says there are plenty of ways to boost the bottom line without a heavy upfront cash investment.
First, do market research, establish acreage needed, and grow requirements to help you decide if one of these cash crops is a good fit for your farm.
Strawberries
The profitability of a cash crop like strawberries depends on many factors like plant variety, climate, and current market dynamics. Still, farmers and homesteaders can make lucrative earnings from strawberries, even on a small piece of land.
Specialty crops like strawberries are a good choice because they are always in demand, and they grow well in almost any climate and in a wide range of soil types. The best soil for optimum productivity and plant health is well-draining with a fair amount of organic matter.
"You will reduce your risk of loss and get a better crop if you plant a type of strawberry adapted to your region's climate. Keep weeds under control, and give plants one inch of water per week during your growing season," says Mwangi.
Varieties grown in Kenya include Chandler, tribute, tristar, tioga selva, domail, rabunda, pajaro and douglas. The chandler variety is most favourable for the Kenyan market.
Fresh, ripe strawberries are not difficult to sell at farmers markets, local grocery stores, or restaurants. But if you do not want to spend the time and labour picking, packing, and transporting them, you can allow customers to come and pick their own berries and pay. Mwangi sells a 200 grams pack at Sh300.
Other berries like blueberries, raspberries, and blackberries also are becoming popular and are high-value crops, particularly if you have a pick-your-own or direct-to-consumer business model.
Mushrooms
Another one of the most profitable crops for small farm owners and homesteaders is mushrooms. Mushroom varieties like button or shiitake do not need dedicated garden space. You can grow them wherever you have room or even indoors, so your climate zone does not restrict you.
"Basically, anything grown on land is a potential substrate for mushroom cultivation. One may use rice husks, dry banana leaves or coconut waste. Anything from the legume family, such as bean waste, is great because of the nitrogen content. Most commercial mushroom farmers in Kenya use hay, wheat straw or rice husks," says Mwangi.
Buy seeds or spawns from a professional propagator to get clean, non-contaminated material. On average, a kilogram of spawn will cost Sh600 and would be enough for approximately 40 standard-size bags.
These seeds are introduced in the bags filled with the substrate and all a farmer does from there on is simply maintain the recommended moisture levels in the bags and the growing house, and wait to start harvesting.
"Specialty crops like shiitake mushrooms are easy to sell at farmer's markets, to local grocers, restaurants, and your friends," Mwangi says.
Due to the crop's lower cost of production and the high yielding capacity, mushrooms present a good opportunity for small to middle-scale farmers. A kilo of button mushroom retails at between Sh400 to Sh600. This high-profit margin means that one will take a shorter time to break even and eventually make profits.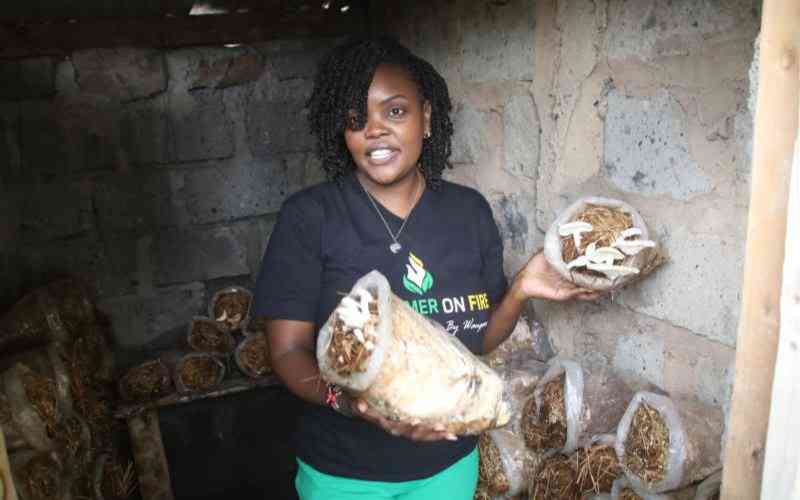 Vegetables
It is possible to choose from a large variety of vegetables to grow. Since vegetables are foods that are consumed daily. Finding the market may just be a day job. You can sell the vegetables direct from the garden or get a booth at the farmers' market. Whichever way you sell that produce can be a good seasonal stream of income.
Vegetables like Spinach, Amaranth and African nightshade will get a good market.
Additionally, if you find that even with preserving your harvest and selling the extra, you still have surplus produce, you can consider donating it to a non-profit organisation.
Herbs and spices
Most herbs are small in size and stature, and they can even be grown in containers. There is a quickly growing market for sustainably grown and harvested herbs and spices in Kenya like coriander, ginger, mint, turmeric, and rosemary, among others. They are easy to grow and take two to three months to mature. Some of these can be consumed both in fresh and dried forms.
Like vegetables, you can sell these directly from your garden from referrals, or take the produce to the market.
The market price of fresh ginger per kilogram is about Sh199.
Garlic
Kenya is still an importer of garlic. As of April 2023, garlic import data in Kenya stood at 2,137 shipments, according to an online imports and exports monitor, Volza Grow Global.
Garlic takes six to eight months for an entire bulb of garlic to grow from a single clove, depending on your climate zone.
Garlic grows best in soil that is rich in organic matter and gets good drainage, and they need watering when the weather is dry. Garlic is naturally pest and disease resistant. Do not stress the plants by overwatering or underwatering them.
Bulbs are ready to harvest when most stem leaves have turned brown. After pulling them, let them dry in the sun or open air before storing them, so they have a longer shelf life.
Good quality bulbs of garlic can be sold at local markets and grocery stores, restaurants, or at farmers markets.
"Garlic is a versatile and flavourful ingredient that has played an important role in history and cultures around the world. It is a staple in many cuisines, it is also widely used in traditional medicine. In the modern era, garlic has been the subject of scientific research which has demonstrated its potential health benefits, including its ability to lower cholesterol and blood pressure and boost the immune system," Mwangi says.
You can find a good market with Sh275 per kilogram.
Related Topics