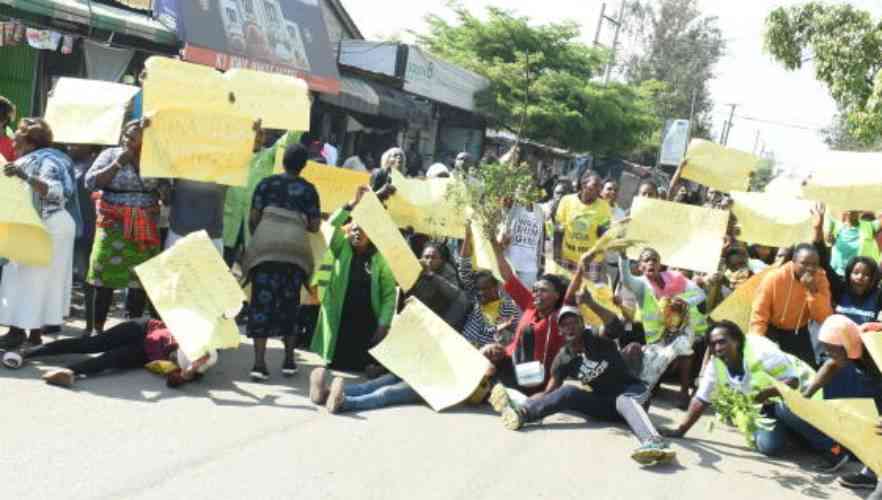 Residents of South B estate in Nairobi staged a peaceful demonstration on Tuesday, September 26 to oppose a private developer's plan to take over public land.
The protesters, led by their Ward Representative Waithera Chege, gathered at the South B shopping centre, where the disputed land is located.
They carried placards and chanted slogans against the developer, who they accused of trying to grab the land that was earmarked for a modern market.
Waithera told reporters that the land near Makuti area had been allocated for the construction of a market that would benefit the small traders in South B, but a private developer had been eyeing it for a shopping mall project.
She said that recently, some residents who had been defending the land received information that a high-profile figure had authorized the transfer of the land ownership to the developer.
"We are not going to accept this. The only institution in this country that has the mandate to resolve land disputes is the National Land Commission," said Waithera.
She added that there was a pending case before the National Assembly, where the residents had petitioned the commission to clarify the ownership status of the land.
In August, angry residents had demolished a fence that had been erected around the land, thwarting the first attempt by the developer to start construction.
Waithera had also tabled a petition in the county assembly over the matter.
She said that currently, the small traders in South B had no market and were forced to sell their goods along the busy roads.
She also claimed that her life was in danger after some individuals threatened her for defending the land.
She said she had reported the threats to Richfield Police Station.
Former Starehe MP Charles Njagua Kanyi, popularly known as Jaguar, joined the residents in the demonstration and pledged his support.
"I am with you, together with your MCA, to ensure that this land is used for building a modern market that will create employment opportunities for our mothers and youths, so that they can stop being jobless," Jaguar said.
Related Topics