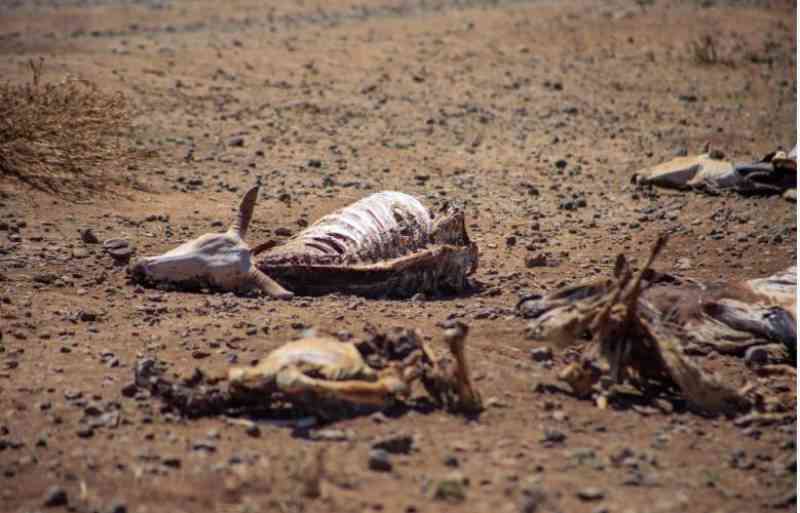 Parts of Kenya especially the arid and semi-arid regions are facing a long dry season, and some of its effects continue to cause destruction to economic investments for many families.
Most of the affected areas are occupied by livestock, as their main source of livelihood and now they have been left to migrate to remote areas in search of grass and water. Pastoralists in the areas have lost millions of livestock due to the drought.
According to statistics from the National drought management authority NDMA, 23 arid and semi-arid counties are facing drought caused by inadequate rainfall in the previous seasons, for the past 25 years.
A terrible drought is ravaging Marsabit County in the Northern Part of Kenya. Shocking scenes show an arid and hopeless wasteland scattered with the carcasses of dead animals.
"The drought situation remains critical in 22 of the 23 arid and semi-arid (ASAL) counties following poor rains through October-December 2022 when short rains usually appear." Rebecca Miano, CS EAC, Regional Development and ASAL Regions
Many of the people in the affected communities depend on rainfall for their farmlands and for livestock, but there has been little or no rain for over 5 years now in most ASAL areas. Today, they are grappling with the effects of five consecutive failed rainy seasons leading to severe water shortage.
A closer look at the villages in Marsabit paints a grim picture of the scars of drought both in humans and livestock. Villagers are now left to fend for their survival, as most households have no animals left.
Scattered carcasses of livestock are spread in many ASAL areas, as the drought hits hard.
Young men have left most villages with herds of livestock in search of grass and water leaving behind the old and women to take care of homesteads.
BUBISA VILLAGE
In Bubisa, 48 Kilometers from Marsabit town, the carcasses of animals that died of starvation lay discarded all over the village. The pungent smell of death is inescapable in this village of NorthHorr Sub-county.
On the outskirts of the village, Katelo Mamo is standing by the carcasses directing his 8-year-old son Mamo who is dragging the bodies of their sheep to a mass grave, far out in the bush. Flocks of carrion birds settle near them as they carry on this painful exercise early in the morning.
"I have been left with nothing, this has never happened to me". He says as he watches his son drag their only remaining sheep. A man dispossessed, he has little to say.
We could read the grief on his face. For months now, the residents of Bubisa have been piling their dead animals here, but this morning, Mamo is dropping his last sheep, In fact, it was unbearable for him, his son had to do it.
KAMBI NYOKA VILLAGE
In Kambi Nyoka village, the situation is the same. Dansa watches her goat shrink and die. As the pastures dried up, she said, her animals grew thinner, then started to die. By the day we arrived over two-thirds of her goats were gone, and we find her in tears.
"At this hour you would normally not find us at home, we would be in the grazing field with our livestock, " she says while trying to lift the already dying goat with the help of her daughter.
"Life is hard here, every day we wake up to count losses, we are losing every livestock we own." She added.
Next to her hut lives Gumato, a mother of 5, we find her feeding her remaining goats with flour, normally, she would be feeding them with porridge.
She says this is the only way to keep it alive, " I have only 4 goats remaining, and to help them stay alive, we share with these goats, whatever relief food we receive."
The village has been living off relief food for almost three years now.
The hot sun beats down on Gumato, as she prepares the flour for her goats, the mother of 5, who is among the thousands of Marsabit County residents seeking immediate aid.
"We are occasionally given some porridge and maize by a local NGO, which has never been enough, we are appealing to the Government to support us during this dry season." She said.
These residents are enduring what they call the worst drought in decades.
DEMO VILLAGE
A patch of sun-fried barren terrain covered with cattle carcasses infested with live maggots can be seen en route to Demo village, in the far east of NorthHorr Sub-county.
We follow Talaso Adano, who was carrying hay on her back to her home. Talaso has lost 203 of her 207 cows to the drought and is afraid that if nothing much is done to support the communities affected, the situation will get worse. "My husband is unemployed and so we used to depend a lot on our cattle for our livelihood," she said.
Over the past three months, Adho watched her cattle collapse and die one-by-one. A hundred all died before she shifted to Demo village, the rest died here. She is remaining with only 4 tethered inside a fenced shed.
Over the fence, we could spot the only 4 Cows which have survived.They are too weak to stand, with sores on their hides from lying on the ground and ribcages protruding from their sides such is the painful sight faced by Talaso, and thousands of other herders in Marsabit County.
For the people of Marsabit and neighboring frontier counties, their animals are not just an investment but part of the family.
As she feeds the 4 cows with hay she purchased at 500 shillings per bale, earlier that day she tells us that she is not hopeful that the remaining cows would also survive."Giving them this dry hay does not mean it will help it survive, I just know they won't survive, I know I would be left with nothing in the coming days." She says.
As we moved around Demo Village, empty cow sheds and cows too weak to stand up, only left to die are the sights. A grim reality indeed.
At the far end of the village, we find men tipping carcasses into a mass grave. Men, busy burying their livelihood. The stench of the rotting flesh is quite unbearable here.
We lost count of how many carcasses we saw as walked through: camels, sheep, goats, donkey and cattle. There was nothing else for them. The stench of dead animals was hard to ignore.
"The goats died, as well as the cattle, as you can see the carcasses all over, we are really affected." Says Jillo Galgalo who has remained with only one Cow out of over 70 he owned.
Galgalo, who once had fortune now has no way to make money, he tells us that his children haven't eaten for days. " I have lost all I had, the last thing is putting a meal on the table for my kids, now, I also don't know what to do with them, I haven't found them food for days now." He is helped by his wife to lift up their only surviving cow as he narrates this. The cow is emaciated, probably counting its last before kicking the bucket.
As the climate crisis causes drastic food and water shortages, pastoralists like Galgallo are being pushed to the brink.
Many people here eat one meal a day. Others go days without food. While residents of NorthHorr like Galgalo have always experienced cyclical drought, the phenomenon is getting worse. At the center of it is a worsening climate crisis.
In a neighboring cow shade, we notice an elder who is too busy feeding his cow with fiber roots. " We forgot about pastures long ago. We have to walk for kilometers to dig these roots and feed our livestock." He says.
Though the fiber roots are fed to the cows forcefully, it is just meant to sustain it to stay alive.
This 46-year-old man, says it is the longest drought he has seen in years, he feels so hopeless and continues feeding the cow with the fibre roots.
The people of NorthHorr are edging closer to starvation. With their livelihood such as livestock now all gone, they feel their own survival is dim. Everyone is waiting for one thing- the rain to fall. And if the rains fail for the sixth consecutive season, this catastrophe will increase in both frequency and intensity. This is worrying.
Deaths due to drought
According to locals in Dukatu village in Sagante/Jaldesa ward of Saku constituency, they have witnessed deaths due to drought and by January, they had buried 5 of their village mates including women and children.
Kalache Bonaya who has lost all his livestock laments that they have never witnessed this kind of drought for decades, as he confirmed the deaths. "Ndio kuna watu wamefariki kutokana na njaa, hapa watu 5 wamefariki.' he said.
North Horr member of parliament Wario Guyo in a peace meeting in Sibiloi, confirmed that indeed, human lives have been lost due to famine brought about by severe drought. "In North Horr, we have lost almost 10 people due to hunger and starvation. It's not an exaggeration, it's a reality on the ground. People have lost their entire livelihood, what do you expect when you don't have rain?" said Wario.
Mitigation measures
The government, county government, and NGO are leading efforts to distribute food relief to families spread across the county. According to the Marsabit governor Muhamud Ali, the food packs being distributed are not enough, as the situation is getting worse by the day. "The situation on the ground is indeed very bad, a very dire situation that is getting out of hand, but we are trying our best to save the situation, he said."
Non-governmental organization WWF-Kenya is also running a program distributing food packs to families who are most affected by famine deep in the villages in parts of the county. According to Yusuf Wato, manager in charge of biodiversity and Research and innovation at WWF-Kenya, the effects of climate change toppled with long dry seasons, have added salt to a long-time injury in most parts of the ASAL areas.
The situation is getting dreadful by the day with the rains failing for the 5th Consecutive season.
Related Topics