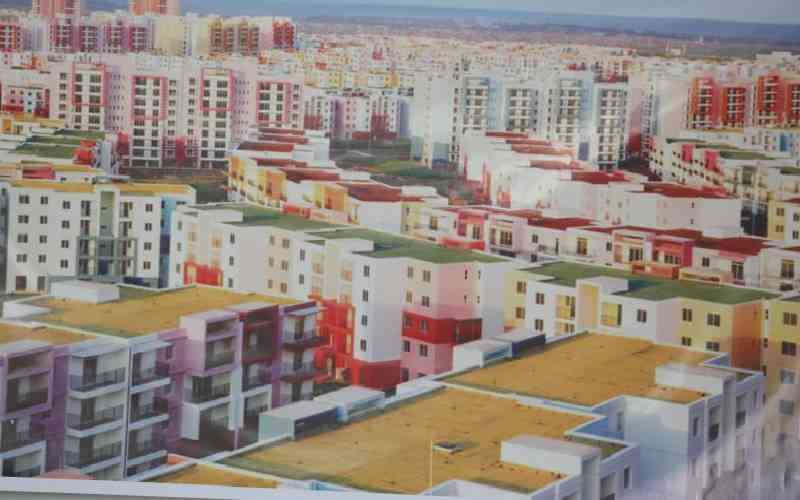 A controversial multi-billion shilling affordable housing project initiated by former Mombasa Governor Hassan Joho at Buxton Estate has come back to haunt his successor, Abdulswamand Nassir.
Yesterday, former Buxton tenants piled pressure on Mr Nassir to re-negotiate afresh with them over the sharing of 200 out of 2,000 units the developer has offered the county.
The Senate Committee on Roads, Transport and Housing has also questioned the 10 per cent allocation to the county government.
Nairobi Senator Edwin Sifuna said the number was low compared to the 30 per cent share the developer has allocated to Nairobi County.
The Sh6 billion project was initiated by Joho in partnership with Mombasa businessman-cum politician Suleiman Shahbal, the owner of Buxton Point Apartment Limited.
Last week, the Buxton Tenants Association Deputy Secretary John Samuel Tsuma told the Senate committee that the county has reserved 176 of the 200 units for its employees.
In a petition filed in the Senate, ex-tenants accuse the county of reneging on its initial promise to return those evicted from the old estate to the new houses now being given to its employees. Tsuma said they were given first choice of refusal to purchase the units upon completion of the houses and not midway through construction.
"The units were to be handed to us for sale after being completed in the first phase. The county government and the developer have reneged on the agreement and decided to sell the houses to speculators.
"The speculators are buying the houses at a low cost and selling the same units at higher prices, beating the whole meaning and purpose of affordable housing," he said.
Tsuma said only about 40 out of 522 former tenants have applied for the new houses while the rest have been left out.
Last Friday, Nassir appeared before the Senate Committee where he was hard-pressed to explain why the petitioners have not secured homes after completion of the first phase.
Nassir agreed to meet the former tenants within 21 days to discuss the possibility of reserving houses for them. He, however, said the tenants were aggrieved because the county government prioritised securing houses for its employees.
Committee chairman Karungo Thang'wa said they wanted to find out whether the project guaranteed home ownership for ex-tenants.
Kitui Senator Enoch Wambua, however, said the petitioners were "trying to catch up with a bus that has left the station given the houses have already been sold or allocated."
Related Topics