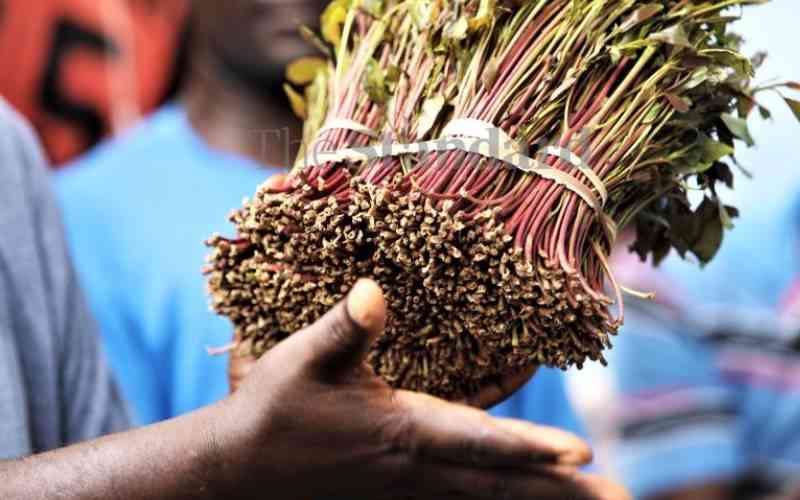 Miraa farmers in Meru County are up in arms after the National Authority for the Campaign Against Alcohol and Drug Abuse (Nacada) classified miraa as a drug.
In a report released last week on the status of drug and substance abuse in Kenya, Nacada listed miraa, or khat, as one of the most abused drugs in the country, alongside tobacco and alcohol.
In the Status of Drugs and Substance Use (DSU) report, Nacada said alcohol, miraa and bhang were highly abused by school-going children at 2.6 (127, 124), 2.3 (112, 456), and 0.8 (39, 115) per cent, respectively.
Findings that have angered miraa farmers and leaders in Meru who have now questioned the national government's commitment to the revitalization of the crop's farming and marketing.
For miraa farmers in Igembe region, espcially in areas such as Kiriamana Tharicia, miraa is a source of livelihood.
Tharicia says miraa is an economic, cultural and social crop that has ensured farmers have educated their children and built schools, homes, churches and other essential facilities.
"Miraa is our economic mainstay, and for tens of years we have consumed it as a herb, and chewing it is a pastime activity for adults for, mostly, men," said Tharicia.
Miraa is also an important part of worship and is an offertory item at church services, in addition to being an item in dowry negotiations in Meru, especially in the predominantly miraa growing zone of Nyambene.
Farmers are now wondering who should dictate what miraa is, between Nacada and parliament.
"After public participation, lawmakers who make regulations that govern the country did recognized miraa as a legal, scheduled crop. Former President Uhuru Kenyatta even allocated billions to revitalize the crop and President William Ruto has also allocated funds to support miraa," said Geoffrey Kariithi, a miraa farmer.
He said; "It is very funny that President Ruto is promoting miraa farmers but Nacada is calling it a drug. Who, between Nacada and the President is superior? It is high time that Nacada is called out for labelling miraa as a drug," said Kariithi.
Senator Kathuri Murungi, who is also the Senate Deputy Speaker, had in the past threatened to lead a demonstration against Nacada for its 'onslaught' on miraa, and cited other government organisations such as Kenya Airways and operators of the Standard Gauge Railway (SGR) for prohibiting it in its planes and coaches.
Senator Murungi said the President is working to support miraa farmers and wondered why Nacada was "oppressing the people".
James Mithika, a large-scale farmer, said a miraa research institute was long overdue, to support the crop.
"In the Sh1b Miraa Fund established by former president Uhuru Kenyatta Sh30m was set aside for the miraa research institute. The thinking then and even now was that miraa, having been anchored in the Crops Act, required a proper scientific study to identify the varieties, appropriate pesticides, fertilisers and farming methods that are ideal," said Dr Mithika.
This, he said, was to assure local and foreign consumers of the quality and wholesomeness of the product.
"The institute would also come up with proper packaging materials or methods that meet standards for consumables. The end result of such intervention through research, would be wide market acceptability, improved quality and quantity, credible information on the crop to counter the stereotype narratives and effectively improve income to farmers," Mithika said.
Related Topics