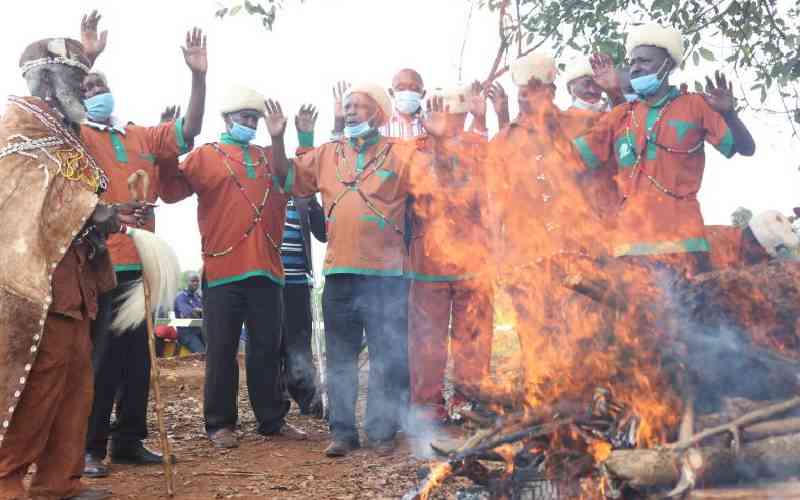 While statistics indicate that Christianity in Kenya is the predominant religion, there has emerged rebellion against it in Mt Kenya region, with locals trooping back to African traditional religion.
Mt Kenya is among leading regions whose inhabitants were recruited into Christianity but of late, there has been a turnaround with people, including the clergy, denouncing their Christian faith to worship Mwene Nyaga, the god of Kirinyaga.
Those who have denounced their Christian faith claim that Christianity is a western culture and that priests and pastors continue to inculcate the doctrine of foreign culture into Agikuyu community and to a large extent, African communities.
Ngarama Karanu, a Kiambu-based politician and businessman is one of the christians who abandoned the Christian god to serve the god of his forefathers.
Karanu, 60, said after spending years conducting research on Christianity, he made up his mind to trace his roots to the traditional way of worship after a revelation that 'christianity is a culture just like the Agikuyu tradition'.
The father of three claims that being God is about faith and his ability to secure the nation from any calamity, and that his god Mwene Nyaga is capable of doing this.
"I believe there exists a supreme deity, but differ with Christians on who he is between Mwene Nyaga and the god of the Bible," he says.
Karanu claims that Christianity is darkness and confusion that was left in the country by the colonisers and accuses his natives of abandoning their religious practices for the 'foreign god'.
The gospel of cultural renaissance is also sweeping the tides of Christianity and taking away the Christian shepherds who are supposed to be evangelising the gospel of Christ.
Waithaka Mbogo, who served as an Apostle at the Redeemed Gospel Church in Njoro, Nakuru, abandoned his religious duties and was ordained a seer (mundu mugo) in 2013.
He said his turning point came when a traditionalist healed his ailing brother who nearly died from an unknown disease.
"I fasted and prayed for years but the Biblical God did not respond to my prayers. When I was informed about a traditionalist who could awaken our forefathers' spirits to communicate with me about the problem, I rushed to him," he said.
"The spirits of the living dead (ngomi) spoke to the traditionalist and informed him that he had not provided a bull and a traditional brew to his uncle before he got circumcised and the spirits were upset with him," he added.
"The moment we provided those items, he miraculously got healed and was able to walk. I made up my mind to worship Mwene Nyaga."
Thiong'o Kinyanjui, who is known as Canon Reverend Peter Kinyanjui to Anglican Church of Kenya's faithful, said Christianity is a culture of the whites therefore he has since gone back to his true god.
He said after going through the Biblical teachings in theological college and understanding the Bible better through experience, he averred that his god cannot fit the definition contained in the Bible.
He claims that Christianity blatantly disregards the role the living dead plays in the African society by admonishing them.
Ironically, he says, the same supporters of foreign culture in the guise of a true god name Kenyan institutions and people after the dead of the white community.
"Churches and schools are named after the names from white community. In liturgy books we ask saints to pray for us but those in our community we refer to as demons (ngomi)."
While responding to the emerging issues, prelates want the clergy to devise a way of countering this.
According to Bishop Julius Karanu of ACK Diocese of Mt Kenya South, churches, regardless of their denomination, should define God in their community's context as there is no difference between traditional African gods and God of the Bible.
"We need to involve those spearheading the African traditional religion gospel through dialogue so that we understand that we are serving the same God," said the Bishop.
But to others like Reverend Joshua Mwangi, the church must remain focused not to entertain the worship of idols. "We should not allow those claiming to worship Mwene Nyaga to steal Christians' souls. The God we serve does not exist in Mt Kenya region but is omnipresent. They need to repent and sober up," the Healing Power Church preacher said.
Scholars, on their part, want the Kenyan church to accommodate and integrate the culture of Kenyan communities into Christianity, warning that failure to do so would spell doom to the future of the church.
Prof Peter Kagwanja says the whites integrated their culture into Christianity and then recruited Africans into their cultures and by so doing criminalised African traditions and their way of life.
"The cultural renaissance is taking shape in Mt Kenya because people have suffered in Christianity since the days of colonialism and are now paying for their mistakes of abandoning their way of life," said Kagwanja.
According to Kagwanja, the rise in suicide cases in Mt Kenya region, drugs and alcohol abuse, and murder incidents are not normal. They are as a result of people not adhering to their culture and traditions.
"Failure to give out goats after every stage of blessing the dead, paying dowry and other traditional processes have exposed our people to untold suffering. "Now people are seeing that problem and want to go back to their traditions. But when the church continues to criminalise culture as a barbaric way of life, that is why christians are denouncing their faith," said Kagwanja.
Dr John Mutuma, a Christian philosopher, says some priests are to blame for the mass exodus from churches. He says majority have led to people doubting God because of converting the church into business.
"Anyone who wants to get rich fast is establishing the church and to maintain the flock, the pastors are only preaching how their congregation will be rich. They no longer warn or caution them for fear of losing them," Mutuma said.
While preachers continue amassing wealth, Dr Mutuma says, their congregation continue suffering. That has led to many abandoning the church and begin to accommodate other beliefs including theories that God does not exist.
Related Topics