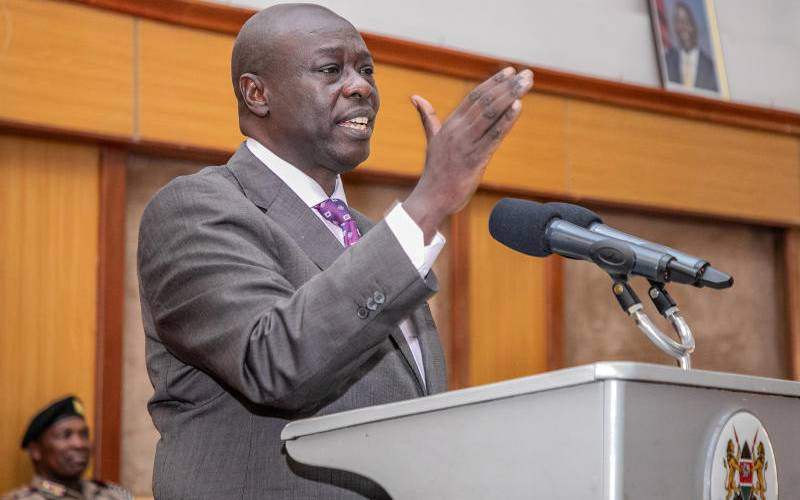 Deputy President Rigathi Gachagua has today directed all county governments within the Mt Kenya region to revoke all the licenses to bars and restaurants.
Speaking during the issuance of bursaries to needy students in Muranga, Gachagua directed the devolved units to only license one bar and restaurant in each town.
"I urge all the county governments from Mt Kenya region to go back to the round table and revoke the many licenses you have issued to bars and restaurants as they are destroying our children because you are looking for money to construct roads," Gachagua said.
He added, "When these roads are who will use them? Bars are more than shops and hotels. Only one bar and restaurant should be licensed in each town. All the others must be closed down and opened from 5 to 11pm."
Gachagua's remarks have however elicited mixed reactions from residents with some terming him as a master of double speak.
On January 8, 2023 while on Inooro TV, the DP hit at Nairobi Governor Johnson Sakaja for his decision to ban night clubs in residential areas terming the move ill-informed.
While calling for a consideration, Gachagua said such a ban would kill businesses which mainly belong to the Agikuyu community.
"The same county government that is closing bars today is the same one that issued them with licenses… Sakaja should call for a consultative meeting where they will agree on how to install soundproof in their clubs," he said.
During the electioneering period and after assuming power, Gachagua has been presenting himself as the Mt Kenya region defender in many circumstances committing to agitate the community's interests.
The National chairperson for bars Hotels and Liquor Traders Association (BAHLITA) Simon Njoroge hit back at the DP saying he needed to differentiate between war on illicit brew and fighting the entrepreneurs who are on legitimate business of beverages which include alcohol.
According to Njoroge, closure of bars and restaurants would lead to unemployment and would defeat the government's objective of encouraging establishment of industries in the country.
"Bar owners do not manufacture alcohol, the efforts should be directed on ensuring whether the products sold in our premises has met the required standards. We have been in record supporting government's efforts to fight illicit brews in the country," said Njoroge.
Njoroge admits that regulation of bars and restaurants, wines and spirits and distributors would be a great deal in ensuring that the already existing laws were being followed.
He said, a requirement of a bar and restaurant that has been highly abused was that which required an applicant to have a kitchen and selling food.
His sentiments were echoed by former Muranga Governor Mwangi Wa Iria who said Gachagua's unilateral statements could encourage monopolisation tendencies in issuance of licenses.
"There are national standards set for one to be licensed to operate a bar and restaurant and there are established laws on that matter, when one has met the standards, he ought to be allowed to engage in a legitimate business," said Wa Iria.
The former governor said the move would discriminate Mt Kenya business owners against other traders in other regions questioning the rationale for implementation of such a 'roadside declaration'.
However, Maragua Mp Mary Waithira said although she did not speak for the Deputy President, all what government is intending to achieve is to remove all bars from villages to shopping centers and to reduce bars.
"The idea is to reduce bars and at the same time, removing them from villages and from schools and where people live with their children. It can't be that bars are opened in environments where there are children," said the Mp.
Church leaders have also welcomed the move by the Deputy President saying desperate moves calls for desperate measures.
Murang'a Bishop's forum chairman Stephen Maina of the Full Time Winners Gospel Church said both the illicit brew and alcohol consumption was on the rise and that the government's directives was to save locals.
"Some bar and restaurants sell illicit brews and the idea to vet one bar and restaurant will ensure that only the businesses that sell legitimate beer will be licensed. The directive will see to it that more energy will be redirected to other meaningful activities as well as business ideas," said the prelate.
On his part, Murang'a Governor Irungu Kangata defended Gachagua saying the directives have been issued in good faith.
"We will adhere to instructions from the Dp Rigathi since they are made by a higher authority and good faith. The current bars were licensed by the last regime but its important as county will adhere to UDA policy ,as said by DP," said Dr Kangata.
In Muranga, the liquor licensing is yet to be conducted as the licenses expired on December 31and going by the governor, they shall only license one bar and restaurant in every town while at it, enforcing the Mututho laws which requires bars to open at 5pm and close at 11pm.
Related Topics