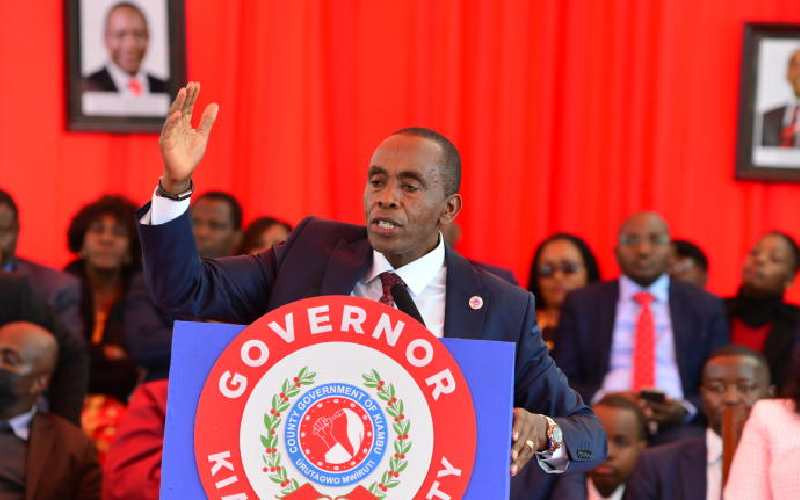 Kiambu Governor Kimani Wamatangi has released a list of key accomplishments his administration hopes to achieve in the first 100 days in office.
After being sworn in on August 25 Governor Wamatangi said he has focused on delivering results and addressing the most pressing challenges facing Kiambu.
In the plan 'Getting Kiambu Moving Again', the governor said preparations are already underway to deliver on his campaign promises.
"Completing some of the unfinished projects in education, health and addressing unemployment among the youth are priority," he told The Standard.
The fourth Kiambu governor said he has already put a transition team in place to identify immediate issues for his action.
Governor Wamatangi says the refined Kiambu People's Manifesto will inform the development of the County Integrated Development Plan 2022-27, budget prioritisation and most of the county policy documents.
Wamatangi said the first draft budget is already under development and will also include a push to increase allocations to all Counties.
He said that his leadership will instill integrity, transparency and professionalism in the County administration.
This he said will be achieved through a 100 per cent digitised 'Hudumia Wana Kiambu' platform which is set to be rolled out by next month.
The platform he said will be instrumental for his office in communicating with, and enriching service delivery for Kiambu residents.
"We expect to hold our first round of citizen's forums within the first 60 days to ensure that we continue getting direct feedback from our residents," he said.
On education, Wamatangi said he has rolled out the 'Leave No Child Behind Project'. This, he said, is meant to ensure immediate 100 per cent enrolment and child-centred quality education in Kiambu's 12 sub-counties.
The governor said the development plan will include equipping and upgrading of all Early Childhood Development Education facilities and launching of a free school feeding scheme.
"I want a robust ECDE department and that is why I will employ ECDE teachers under permanent and pensionable terms. They have been serving under contracts for a decade and I am focused on addressing their plight and ensuring the young children are nurtured properly," he said.
At the same time, Wamatangi said sustainable funding for affordable housing is another plan, as well as eliminate perennial water shortage in the county
"The first three months will also see the rollout of the Maji Nyumbani project which targets delivery of piped water to every household. It will also encourage water harvesting and storage using tanks and other reservoirs," he said.
The governor revealed that his administration will accelerate electricity last-mile connections in Kiambu's rural areas to ensure there is full connectivity in all homes and businesses over the next five years.
So as to address unemployment among the youth he plans to initiate 'Kazi Kwa Wote' project to drive the creation of 100,000 new job opportunities in social support services.
According to Wamatangi he is engaging regulatory authorities and private investors on the best path to establishing the Kiambu People's Bank.
In the long term the governor targets to get Thika upgraded to city status which will give birth to "Thika Industrial Smart City Metropolis".
Related Topics