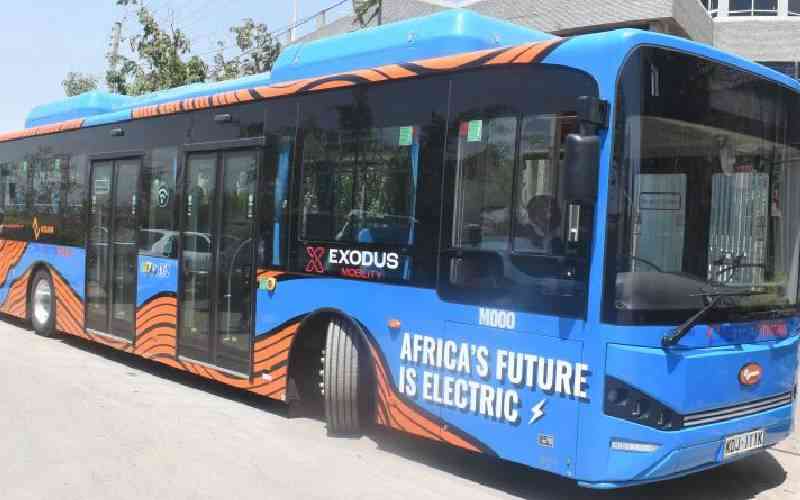 As the sun rises over the picturesque landscapes of Kenya, a new dawn is breaking, one that promises a brighter and more sustainable future.
Renowned for its rich biodiversity and vibrant culture, Kenya is now making bold strides towards a greener horizon by embracing the power of renewable energy. With its commitment to reducing carbon emissions and fostering environmental resilience, Kenya stands as a beacon of hope in the fight against climate change.
In recent years, the winds of change have swept across the Kenyan energy landscape, propelling the nation into the forefront of renewable energy adoption. One notable shift is the pioneering introduction of electric public service vehicles. These sleek, whisper-quiet buses gliding through the streets of Nairobi are more than just a technological marvel; they represent the country's determination to reimagine its transportation sector.
By gradually transitioning from traditional fossil-fuel-powered vehicles to electric ones, Kenya is taking a significant step towards reducing urban pollution and greenhouse gas emissions. All thanks to some top e-mobility start-ups such as BasiGo and Roam. Nairobi's public transport services providers like Embassava Sacco, Metro Trans, Super Metro, and Citi Hoppa have led on the adoption of electric buses into their fleets.
"The most amazing and smoothest ride ever! Good services, no loud music, clean and highly organised," quipped Spencer Lancusick, an upcoming rap artist in Nairobi.
Most Nairobi residents interviewed gave positive reviews on the eco-friendly buses. They agreed that given a chance, they would never ride on the diesel-fueled matatus.
Reportedly, the move towards e-mobility is influenced by Kenya's commitment to the Paris Agreement review in 2016, as its Nationally Determined Contributions (NDCs) aimed to reduce emissions by 20 per cent. Subsequently, various policies were put in place, with the transportation sector being a focal point, hence the prioritisation of electrification.
According to a recent study, a single motorcycle emits more carbon than a normal vehicle. That said, strategically planning to electrify motorcycles will go a long way to reduce emissions.
President Ruto recently promised to support the acquisition of 200,000 electric motorcycles. Furthermore, he stated that he would exempt the 16 per cent VAT tax on spare parts, batteries, and other components, thus reducing the cost of electric motorcycles by 16 per cent. This will encourage job creation through local assemblies.
Last week, the KCB Foundation and UNITAR offered to train 60 riders on the operations and maintenance of e-motorcycles under a financing arrangement between KCB Foundation and Ampersand. These riders were drawn from Nairobi, Machakos, and Kajiado counties. Moreover, in a bid to expand further, it is reported that Kenya Power has offered to install more charging infrastructure outside of Nairobi, depending on the demand.
As it stands, electric mobility or e-mobility will begin with the public sector. The lowest hanging fruits are the two-wheelers; motorcycles due to their high frequency, and the buses since they are more mass-transit and high volume. Most people import parts then they assemble them here in Kenya. A good example is BasiGo.
For the buses, the batteries are chargeable and are designed differently. They can even be custom-made for one's vehicle and they account for at least 40 per cent of the vehicle. One needs to consider a battery that charges quickly and keeps the power for longer.
One of the glaring challenges is the availability of batteries and charging stations. The charging time is quite long; two to three hours.
But what are the opportunities?
"People who will invest in batteries will reap great benefits. This will encourage battery swapping, just like at a gas station. Kenya as a country can spearhead electric bus manufacturing locally. This will include importing body parts and the engine, then assembling them here and selling them to neighbouring countries. This will call for capital investments in assembling the vehicles and creating jobs for engineers, electricians, other technicians, and sales executives, among others. Finances can come from banks, the government, business moguls, and other willing investors.
"Fully electrification is the solution, given oil costs will always go up. Transitioning is the best bet," concluded Daniel Ratemo, an Urban Planner and Economic analyst.
In a recent analysis using data from www.ceicdata.com, it was found that in Kenya, there are approximately 4,353,891 vehicles in total, consisting of 2,140,419 diesel cars and 2,213,471 petrol cars. These vehicles collectively contribute to significant CO2 emissions. Specifically, diesel consumption results in approximately 6.21 million metric tons of CO2 emissions, while petrol consumption contributes around 10.78 million metric tons of CO2 emissions. These findings underscore the environmental impact of the country's vehicular emissions and highlight the need for sustainable transportation solutions.
Environmental activists are impressed by the adoption of e-mobility in the transport sector.
"Transitioning to e-mobility will greatly reduce the carbon emissions into the atmosphere thus improving air quality. The hybrid did well, but going all-electric will be the ultimate solution," remarked Towett Collins, Executive Director, of One Voice Affinity Centre (OVAC).
Mr Kinyanjui, County Link Sacco Manager, acknowledges that going electric greatly minimises the daily operational cost of the buses. He cited being short-changed by conductors who can amplify a bus's fuel consumption to Sh 15,000 in a day on their daily report. However, he pointed out a lack of capacity among local mechanics.
"We are used to our local mechanics. If we tamper with the electric buses, we can only take them to the company, which seems like a process. However, I can try to purchase one and see how it goes," said Mr Kinyanjui.
Unbeknownst to many, electric propulsion has been in existence for some time. From golf carts and forklifts to overboats, electric push scooters, bicycles, motorcycles (with almost 30 companies, including startups, adopting electric motorbikes), and three-wheelers (tuk-tuks), it is notable that everyone is commencing with prototyping before commercialising.
One can safely say the battery is the most important component of electric vehicles. According to Moses Nderitu, BasiGo's Chief Revenue Officer, on battery technology, he emphasises getting a smaller battery with more power at half the price of what it used to be in the market 10 years ago. He also added that they are seeking a homogeneous infrastructure where all-electric vehicles can charge at any depot/station, regardless of their mother companies.
There's also a joke that has been going around taunting e-vehicles following the countrywide power outage. However, Mr Nderitu was quick to mention that e-vehicle drivers are trained to be keen on their power usage and charge their vehicles accordingly, similar to how people do with their mobile phones.
In Kenya, so far, only BasiGo has fast-charging Direct Current battery technology depots, ideal for commercial vehicle charging. Alternating Current (AC) charging is for home charging and slower public charging stations. Mr Nderitu is looking forward to battery-swapping technology for e-vehicles (similar to the motorcycle sector) for more efficiency.
The communities that live near the electric matatus routes had positive things to say about the e-mobility. They acknowledged that the buses are swift and quiet, with no noises and unnecessary hooting. Additionally, no trail of smoke is left behind like some diesel-fueled buses.
"Life can be better if we greatly reduce the petrol or diesel-fueled buses. They guarantee clean air," said Collins Oluoch, a resident of Nyayo.
According to Brian Omenyi, Coordinator of the Sustainable Energy Access Forum-Kenya, Kenya's adoption of electric vehicles as part of the revolution transition in the transport sector is a move that is going to help the country achieve its emission reduction targets of 32 per cent, as per the indices. He acknowledged that the transport sector is one of the sectors that have been contributing highly to emissions.
"Electric vehicles are more energy-efficient compared to internal combustion engines, which means they use less energy for the same distance, reducing overall consumption. They can be charged using renewable energy technology, reducing reliance on fossil fuels and promoting the integration of renewable energy into the grid".
Mr Omenyi cited challenges related to grid capacity during the rapid adoption of EVs present an opportunity to upgrade infrastructure for a more reliable and sustainable grid system. He added that the real challenge is in the distribution costs and upgrading of distribution lines and transformers since they are costly and may potentially affect consumers. However, upgrading systems can sustain the distribution of power to accommodate the demand.
It's imperative that the government supports electric mobility on mass-transit vehicles by providing tax incentives for new electric vehicles while increasing taxes on used petrol or diesel-fueled vehicles.
Related Topics