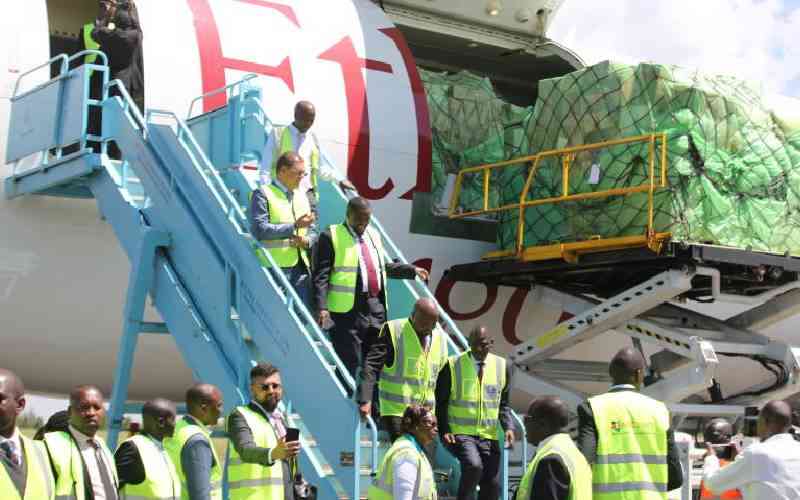 Details have emerged of how a renewed fight by Kenya Revenue Authority (KRA) against tax evaders at Eldoret International Airport saw tax collection shoot up from Sh200 million to a projected Sh4 billion per month.
This, however, came at a high price for traders in Nairobi and Eastleigh who had to go for weeks without imported goods for their shops.
Cargo operations at the Eldoret airport were also suspended following claims of under-declaration of imported goods.
KRA Chairman Anthony Mwaura told The Standard that for a long time, Eldoret International Airport was used as a conduit by cargo consolidators to under-declare tax due.
The revelation came after KRA issued an edict to have all cargo inspected manually item by item rather than the previous policy where tax was charged on the total weight of the consolidated goods.
"Recently, we pushed for the stop in cargo landing at the airport until we agree with the businessmen on verification of every luggage.
"We did one verification where Sh11 million had been declared and we ended up getting Sh323 million," said Mwaura.
He added that from five flights that landed during the go-slow by cargo consolidators, KRA raised Sh1.5 billion as opposed to Sh200 million that they would raise from 20 cargo flights at the airport.
"We have had an agreement with the cargo consolidators that they will now go through verification. We project to collect about Sh4 billion from the cargo in Eldoret alone."
KRA licenses consolidators, who bring goods on behalf of traders. Following the new directive, goods had to be inspected manually in presence of the consolidators, who kept off the busy airport.
A standoff ensued as KRA held the cargo at the airport, insisting that consolidators present themselves for manual inspection, while in retaliation consolidators declined to import more goods.
Mwaura said if the taxman had not been firm, Kenyans would have continued to lose money through fictitious declarations.
After more than two months, consolidators finally agreed to manual inspection which revealed shocking tax evasion techniques.
Immediate former KRA acting Commissioner General Rispah Simiyu in a TV interview cited an instance where an item initially assessed at Sh85,000 per kilogramme yielded over Sh700,000 after undergoing verification.
"When we realised this huge level of concealment and under-declaration, we decided to halt the release of some of of the cargo and went for 100 per cent verification," Ms Simiyu said.
Mwaura said he is looking to replicate the successful reforms to other tax sectors.
Earlier, Kenya Association of International Cargo Association Chairman Mohamed Sheikh Abdirahman said they had ironed out all the issues that led to the suspension of operations.
He said cargo operations were suspended following clearance challenges.
"Normalcy has now returned and we have agreed to facilitate trade, and not to frustrate it. We expect to do more in both import and export. "We have agreed with KRA and our operations will be strictly according to the law," he said at the airport.
"The suspension of flights due to clearance challenges had repercussions beyond economic concerns. It affected the livelihoods of many, disrupted supply chains, and highlighted the need for proactive solutions."
Related Topics