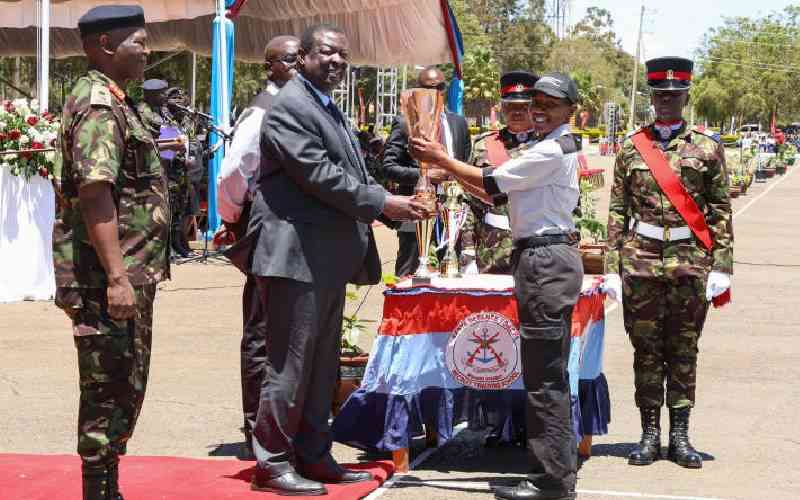 Kenya Revenue Authority officers with paramilitary training could soon knock on your doors to enforce tax compliance.
Friday, 1,400 officers, known as Revenue Service Assistants (RSAs), graduated from the Kenya Defence Forces Recruits Training School in Eldoret, and they have their work cut out for them.
The team of RSAs was charged with radical measures to transform tax administration that comprises revenue mobilisation.
During the graduation overseen by Prime Cabinet Secretary Musalia Mudavadi and KRA Commissioner General Humphrey Wattanga, the RSAs, who underwent a two-month military training, were told to be prepared to enforce measures that would see the taxman collect Sh2.7 trillion this financial year and Sh3 trillion in the 2024-2025 period.
RSAs will be tasked with expanding the tax base, through extensive market surveillance to identify non-registered traders, and continuous patrols to ensure customers are issued with tax receipts by traders.
The 1,400 trainees were recruited by KRA earlier and later reported to the Defence Forces Recruits for paramilitary training, in readiness for the ambitious assignment.
They have been training at the Defence Forces Recruits Training School in Eldoret since June 2023 in a KRA-KDF joint programme.
Mudavadi said support for the rollout of the Electronic Tax Invoice Management System (eTIMS) aimed at optimal performance of VAT revenue collection will be among the roles of the RSAs.
He said the RSAs will also be tasked with enforcement of excise duties through patrols to identify unregistered manufacturers of excisable goods, flagging out unlicensed factories, counterfeit goods, and fake excise stamps.
"The RSA training curriculum was a joint effort between KDF and KRA, with KDF conducting the security training component and KRA providing Domestic Taxes Department's experts to handle the tax technical training component. The training has been conducted for a period of two months," the Prime CS said at the graduation ceremony during the RSAs pass out in Eldoret.
Mudavadi asked KRA to inspire confidence in taxpayers to embrace voluntary tax compliance while embracing professionalism, enhancing efficiency, fairness, and transparency, and ensuring accountability.
He said the newly trained officers would persuade tax evaders to honour their obligations.
"Although taxes are legal and obligatory, and as the tax bracket is expanded, there are those to be persuaded to meet their tax obligations," said Mudavadi.
Mudavadi said the RSAs will engage in sealing tax evasion loopholes.
"But even as you engage in revenue collection and sealing leakages, you must also be respectful of the taxpayers," said Mudavadi.
Wattanga, the newly appointed KRA Commissioner General, said the officers will be deployed in different regions and will support the expansion of the tax base through initiatives such as online registration of trading businesses that are not registered with KRA, and data collection on landlords and other compliance programmes.
Related Topics