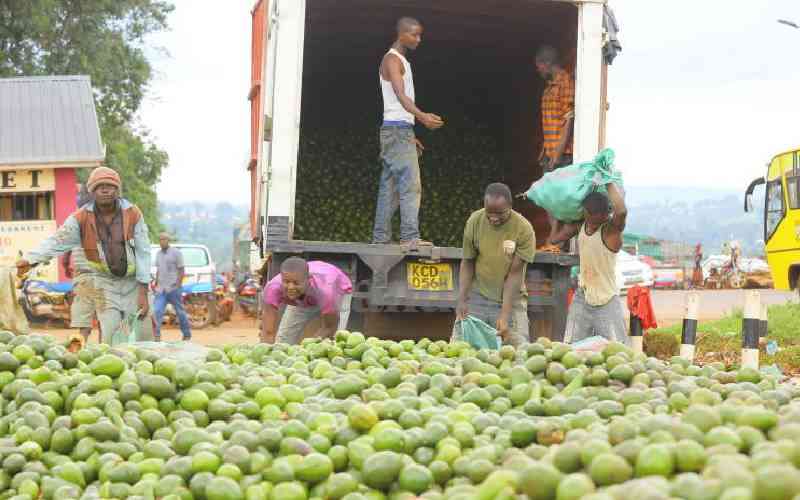 Avocado suppliers are uncertain about the regulations imposed by the regulatory body as the harvesting season draws close.
The dealers call for an exemption to comply with regulations published by Agricultural Food Authority (AFA) set to be implemented from March 24, for eight months.
In a seven-hour meeting held at Kalro headquarters in Kandara, the marketing agents pleaded with the Horticulture Crops Directorate (HCD) to allow them to operate for eight months as they prepare to comply.
There was acrimony in the meeting as the marketing agents protested the decision to bar them from transporting the fruits in small vehicles.
In the regulations, the marketing agents are required to transport the fruits in plastic boxes and not bundle them in pick-ups.
Avocado Marketing Agents Chairman Joseph Mukuria said the players in the sector were interested in complying with the law only if given time to organize themselves.
Peter Kuria, an employee on a farm, said transporting the avocado would require a truck as opposed to a Probox that carries 6,000 pieces and if packed in crates, can only transport 15 crates estimated at 300 kilograms.
"The players require ample time to buy trucks to be able to transport the fruits from the farmers to the processors. In the new regulations, a crate will carry between 80 and 100 fruits depending on the size," said Kuria.
HCD official, Sarah Ndegwa, said there was a growing concern about the quality of the Kenyan avocado in the international market.
Ndegwa said the debate on the introduction of the regulations has been a subject of discussion since 2018 in efforts to ensure Kenya's quality was not compromised.
Uganda and Tanzania, she disclosed, are set to overtake Kenya in production due to the intensive planting of the avocado trees.
"Transporting the avocado in crates is a good idea but the marketing agents are required to train their assistants in the field on how to care for the fruits so that they are not rejected," said Ndegwa, the HCD official in charge of Kiambu county.
Fresh Produce Consortium of Kenya Chief Executive Officer Okisegere Ojepat said the regulations if enforced, would help in tracing the origin of the avocado and protect the market.
The regulations, he said, will improve quality and ignore those harvesting immature avocados. "The law allows closing and opening of avocado harvesting seasons, and licensing of the players in the sector," said Okisegere.
In a circular by AFA, the avocado for export will undergo 100 per cent inspection, while the exporters engage with marketing agents who are licensed by the regulator.
"The exporters must engage licensed marketing agents failure to which their licenses will be revoked," read part of the circular by AFA Director Benjamin Tito dated March 13.
Related Topics