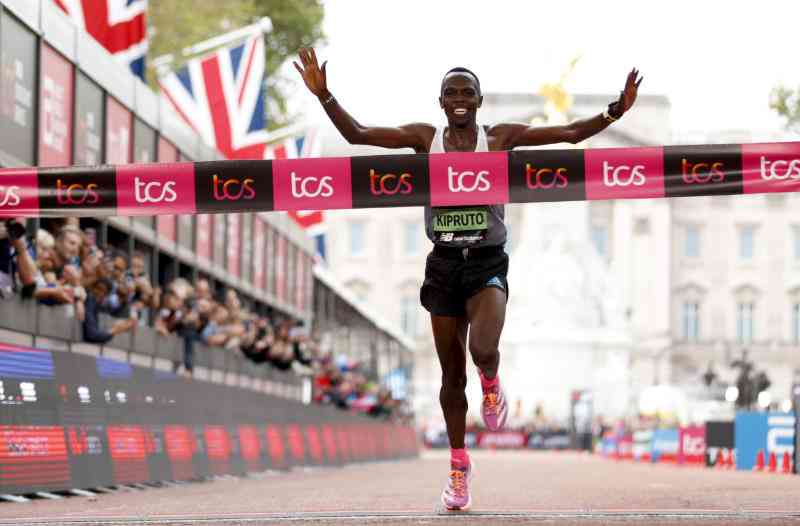 Amos Kipruto, the 2019 World Marathon bronze medallist is preparing for a historic race at the 2023 edition of the London Marathon, exactly one month from today. He will be defending his 2022 title.
And if he wins the World Marathon Major race set for Sunday, April 23, 2023, Kipruto, 30, will have joined the exclusive club of London Marathon's back-to-back winners.
The Tokyo and Berlin World Marathon Majors runner-up is eying his place in the history books when he lines up in the London 42km race next month.
He will be the third Kenyan to deliver back-to-back triumphs in London after Martin Lel who cruised to victories in 2007 and 2008 and course record holder Eliud Kipchoge who wrote his back-to-backs in 2018 and 2019, capping it with the 2:02:37 fastest time in the London course.
Kapsabet-based Kipruto says he is going to London with the lofty ambition of defending his 2022 crown and earning the prestigious back-to-back winner title.
In the quest to defend his title and write another chapter in his athletics career, Kipruto says he is ready to face one of the strongest fields assembled in the London Marathon.
"I am happy to return to the London Marathon on April 23rd. My main ambition is to run better than last year," Kipruto said from his training base in Kapsabet.
He will be contending with compatriot Kelvin Kiptum, the surprise winner of the 2022 Valencia Marathon and the fastest marathon debutant in history. He ran 2:01:53 in his debut.
Kipruto will also be joined by Ethiopians Birhanu Legese (2:02:48 PB) and Mosinet Geremew (2:02:55 PB) in his campaign to defend the London Marathon title, and he (Kipruto) says, he is preparing well for the blistering defense.
The fast field then means that the 2023 London Marathon will include four of the five fastest men in marathon history.
"London is an amazing city to run in. The course is good and I can't wait to defend my last year's title," says Kipruto.
He goes ahead to say: "I learned a number of lessons and together with my coach, we are doing everything to race better in the 2023 edition. We can't disclose much at this point, but everything is progressing well. The main focus is to defend the title and run a good race."
He says his long and easy long runs have been smooth ahead of the major London clash.
A week ago, Kipruto revealed the shoe he was going to use next month. "Just finished my first run with the new #ultraboost light! Let me tell you...It is not just the name! These shoes are super light with a perfect energy return!" he posted on social media.
Kipruto has finished second behind marathon record holder Eliud Kipchoge twice in his career; at the Berlin Marathon in 2018, and during last year's Tokyo Marathon.
Related Topics