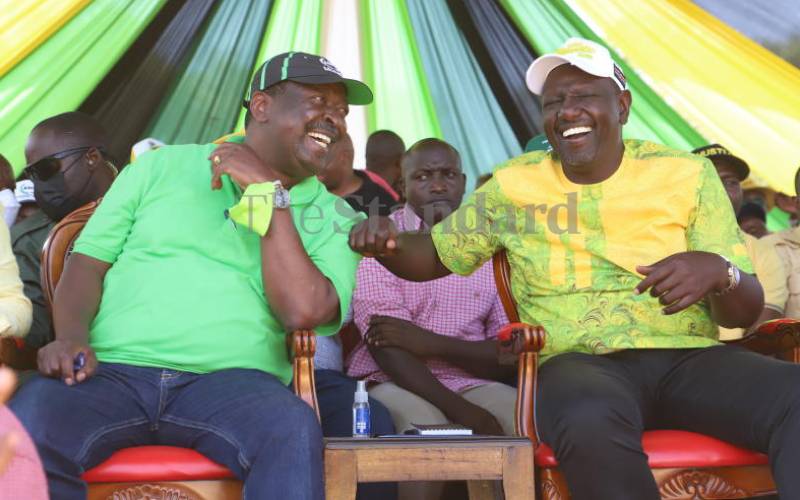 The kicks of a dying horse might still hurt, but only just. Musalia Mudavadi's uncharacteristic attack on President Uhuru Kenyatta during the Amani National Congress' National Delegates' meeting at Bomas of Kenya recently conjured an image of a floored pugilist throwing feeble kicks in the vain hope they could bring the opponent down.
Mudavadi's venting of the spleen on Uhuru, a man who has shown nothing but a soft spot for him, was unfortunate. Towards the end of 2012, it was in the public domain that Uhuru contemplated shelving his presidential ambition for Mudavadi.
For the intuitive, the subsequent 'mademoni' remark contextualised everything. Again, when it became apparent that Uhuru and William Ruto were working at cross purposes, the grapevine had it that Uhuru preferred Mudavadi as a successor. Unfortunately, destiny conspired against the son of Hannah.
Such impediments seem to have made Mudavadi bitter and, somehow, he blames Uhuru for his predicament.
Uhuru is a likeable, easy-going man in the eye of a storm. Like other global leaders, being president doesn't mean he always gets his way. In 2016 amid claims he was not doing enough to fight corruption, Uhuru quipped; "mnataka nifanye nini?" More recently, he acknowledged that Kenya losses Sh2 billion daily to corruption, yet he could only lament.
The de facto power wielders; the political chessboard masters are faceless individuals occupying the innermost sanctum of power beyond the acknowledged Deep State. According to American law professor Jon Michaels, Deep State only exists in less democratic societies with weak governance structures.
Often, Deep State takes the flak when things go south because its members are identifiable, and coalesce around the throne. They are mainly politicians and state appointees. However, those who call the shots are not politicians and hardly hang around the throne. Real power wielders are those who control the economy and the country's means of production. Those with the wherewithal to suffocate local industries just to get a chance to indulge in protected, members-only import business. They have no scruples.
Real power wielders are the people who sabotage the agricultural sector at will, frustrating farmers out of production, creating room that allows them to import maize when Rift Valley region can produce more than we need.
Mudavadi's lost cause was evident in the contradiction of attacking the government for incompetence, budgeting for corruption, harbouring cartels and placing the burden of foreign debt on the shoulders of Kenyans, then wholeheartedly embracing Ruto. Isn't Ruto the Deputy President of Kenya, an integral part of the government that borrowed extensively and actually 'budgets for corruption'?
Who does Mudavadi think he is fooling when Ruto can tell him, free of charge, that there is a shortage of fools in Kenya? Mudavadi pulled a fast one on his OKA colleagues, why should it rankle him that Raila pulled a fast one on him? Indeed, nobody has the right to choose friends for us, but was it necessary for Mudavadi to burn bridges to emphasise the point?
Mr Chagema is a sub-editor at The Standard
Related Topics